Great tax-free profits to be made.
Alan Green of Brand Communications interviews Paul Jayson (The Motorcycle Broker) about classic motorcycle investment vs classic car investment. Using sales figures from actual sales and the Coutts Passion Investing Index to seriously compare these two markets. It is clear that there are tax-free profits ready to be enjoyed from the motorcycle market, in spite of unprecedented growth in the motorcycle market. The growth experienced in the bike market since 2010 is because the machines were so incredibly undervalued. However the motorcycle market still lags the car market by about fifteen years and has a long way to go, so there are great tax-free profits to be enjoyed.
Examples of undervalued classic motorcycles
With Ferrari F40s making over £1 million and a Ducati 996 SPS Factory Replica Series 1 making only £37,000 it is easy to understand where these motorcycle prices are heading. They made 150 Factory Replica Series 1 and over 1,300 F40s. An Alfa Romeo 8C last sold for US$20,000,000 and the MV Agusta 750 Sport sells for around £135,000 then these machines will move rapidly into seven figures. The MV Agusta motor is more or less half an Alfa 8C engine in a motorcycle. There are about as many investment grade MV Agusta 750S in the world as there are Alfa 8Cs in the world. The 1974 Ducati 750SS green frame was a one year only motorcycle with 401 units produced. There are only around 120 investment grade pieces left worldwide and they are only selling for around £170,000 for properly restored machines. These are only a handful of examples that offer investors incredible future profits, there are many others too. The motorcycles were made in smaller numbers than the cars and, by their very nature, fewer motorcycles survive than cars in investment grade condition. Many motorcycles were stolen, raced, crashed, had replacement engines and were customised. There is a world of classic motorcycles waiting to be discovered that will deliver incredible tax-free profits. Prices are for genuine investment grade motorcycles only.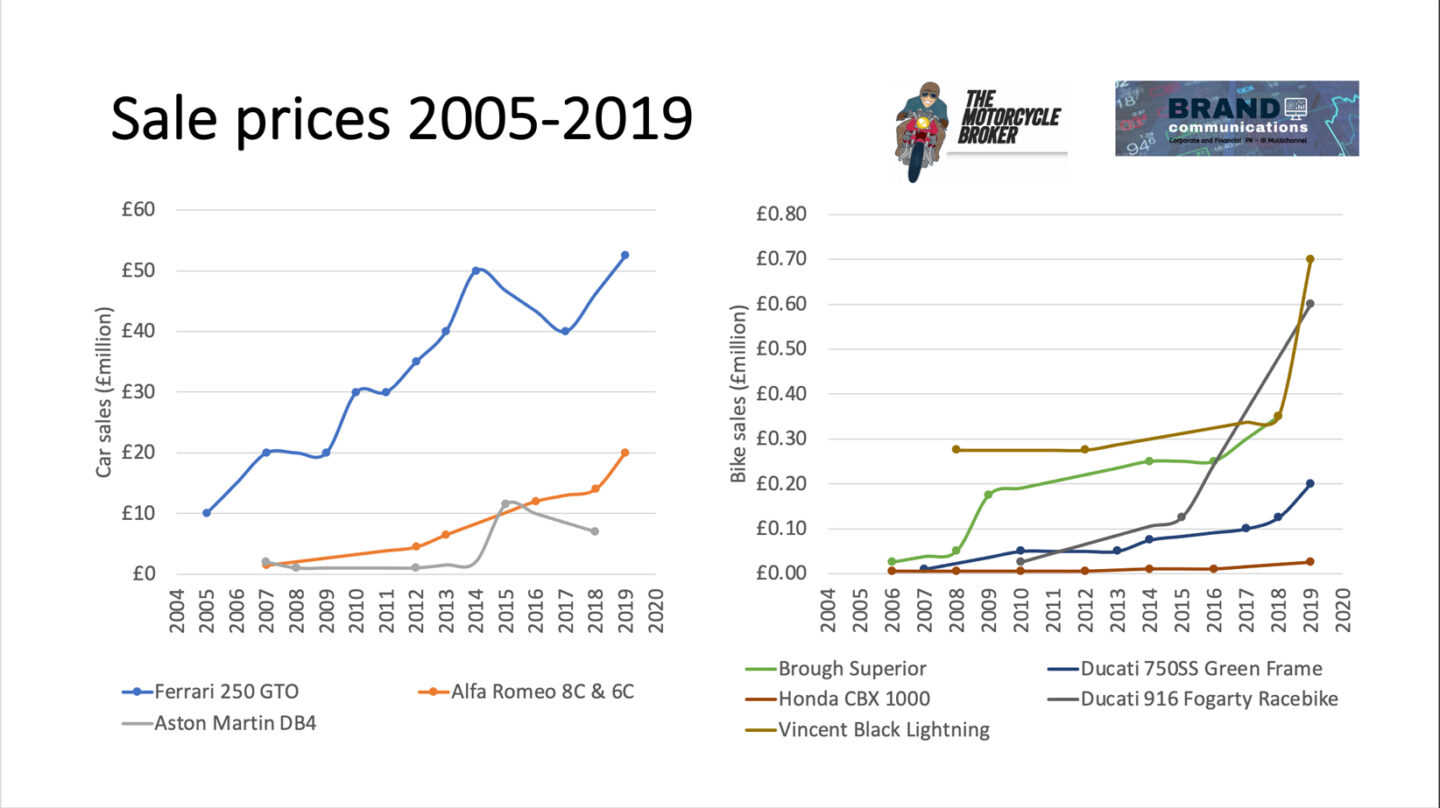 The classic motorcycle investment vs classic car investment market growth
You can see from the interview how under-developed the classic motorcycle investment vs classic car investment market is when compared to the classic car market. It is clear that the motorcycle market will follow the car market, as the demographic change that is taking place is creating upward pressure on prices. The global motorcycle market exploded between 1970 and 1983 because Japanese motorcycles provided cost-effective transport for young people who could not afford car insurance. I wrote in more detail about this in this article in 2015. The UK alone was selling 225,000-315,000 new motorcycles every year between 1975 and 1983 (source Motorcycle Industry Association https://mcia.co.uk). We could only provide sales data from 1975 as that was the first year that such data was kept and is available from. During the 1970s and early 80s, most people started life on a motorcycle. HP became available and motorcycle ownership meant that anyone with a job could ride a bike and gain their independence, no longer having to rely on public transport. Those young people who gained their independence in the 1970s and early 80s are now in their fifties and sixties, their children have left home and they want the motorcycles of their youth. This is a global phenomenon and not just restricted to the UK, which was a very small market. With China coming into the market, there will be even more pressure on prices.
Where to buy to your investment grade classic motorcycle
When it comes to tax-free profits, it's clear who will deliver the best profits when it comes to the classic motorcycle investment vs classic car market investment. You can buy at auction, but you're buying a motorcycle that is sold on-site, as seen and not running. You can try your luck on auction sites and various private advert sites, but you need to do your due diligence. Much of the due diligence required is not in the public domain. You also need full access to a workshop and printshop, as these machines are now about fifty years old. Their cellulose paint has degraded and is deteriorating more unless it's correctly treated. Very few people understand how to set up these motorcycles and if they are not correctly set up, they can be very problematic. At The Motorcycle Broker, we source an investment-grade classic motorcycle at a fixed price. You can see how much work we do to every motorcycle that we sell in this article here. We off a one-year unlimited mileage no quibble warranty, because once these motorcycles are set up correctly, they're very reliable machines and a pleasure to own.
If you want to understand the classic motorcycle investment market, or find investment-grade classic motorcycles, book a no-obligation Zoom call with Paul Jayson (The Motorcycle Broker). Email [email protected] Tel 01803 865166.