The Crighton CR700W rotary engine motorcycle has been a long time coming. With an unrivalled power to weight ratio of 220 BHP and weighing just 129 kgs, the Crighton is ready to win races. All of this power comes from a 700cc twin rotor engine developed through use in the extremely testing aeronautics industry. The past two decades of development in aeronautics has facilitated incredible development of these rotary engines. The rotor tips now last 1000 hours in aviation (that's about 200,000 miles) and the crank is now cooled centrally. Only twenty five of these racing motorcycles will be hand built by Brian Crighton himself, making these an instant classic motorcycle. With power to weight, quality and hand built precision, there is nothing on this earth like a Crighton.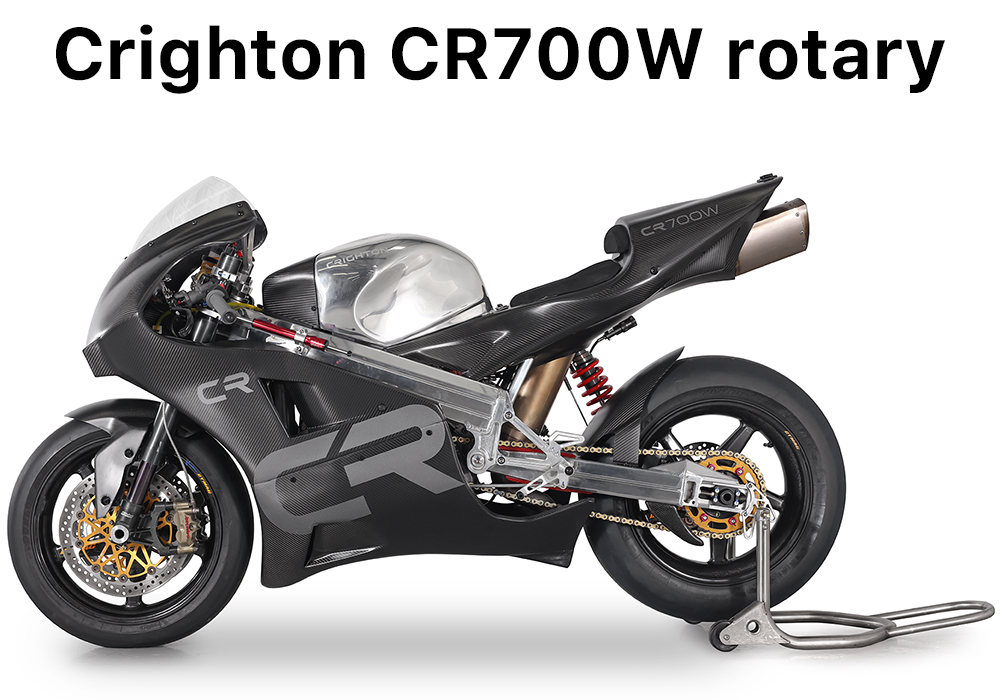 Race history
Race history already runs in the veins of the Crighton, as Brian Crighton was the creator of the famous Norton rotary engined racers of the 1980s and 90s. Since those heady days of win after win after win, not a lot has been heard of the rotary engined motorcycle…until now! Brian Crighton has been quietly perfecting these motors for use in the aviation industry, where longevity and reliability have been perfected. Since the perfection and enhancement of these incredible motors the great Crighton name now adorns one of the most fantastic racing motorcycles ever made. The idea was to build a handful of these motorcycles which are reminiscent of the heyday of the 500cc two stroke racers….only much more wild and yet controllable. With an unparalleled rideability and unrivalled power to weight ratio, the Crighton is set to win races.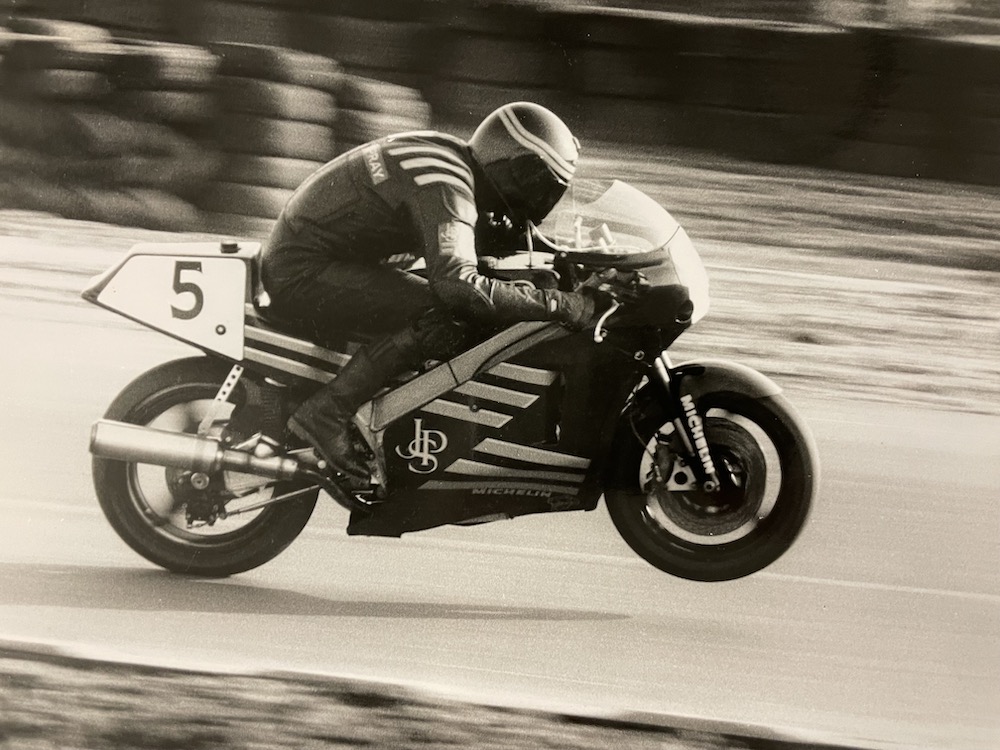 Unrivalled power to weight ratio
The unrivalled power to weight ratio is matched only by the quality of the chassis components. The frame is built by Spondon, just like the rotary Nortons of the glory days. The exhaust is a hand built and unique system made solely for this machine. It utilises a special design that draws heat out of the engine itself and is used to force the exhaust gases through the exhaust system. This design culminates in two feet long flames pouring out of the silencer on the throttle over-run. With carbon wheels, the finest Brembo brakes and a purpose built gear box, this machine is destined for instant greatness. The Crighton picks up where the 500cc two strokes of the early 2000s left off. This unrivalled power to weight ratio has more than picked up from where the unrideable two stroke 500cc GP motorcycles left and offers owners a machine which is rideable.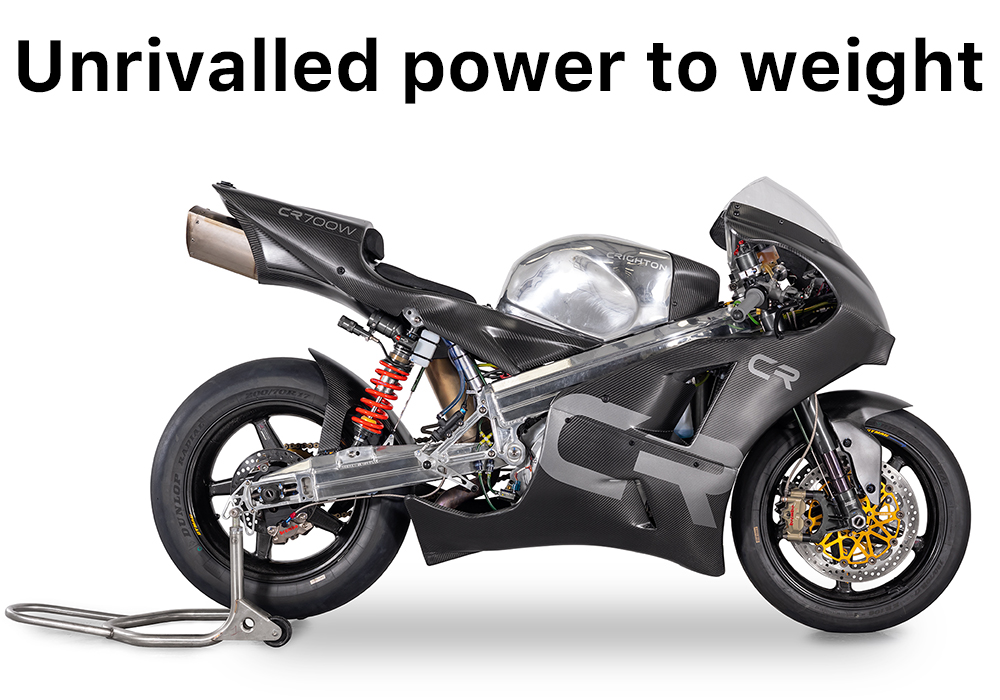 Exclusive racing motorcycle
The most exclusive racing motorcycle since the Britten and Norton rotary racing motorcycles of the 1980s and 1990s, the Crighton is destined for similar greatness. Only twenty-five of these machines will be hand built over the coming year, or so, and each will be hand built by Brian Crighton himself. After these twenty-five machines, there are plans for other high quality and exclusive machines, but none will be of this peak level of equipment and no more will be hand built by Brian Crighton. These are the pack leaders of this extreme and fascinating motorcycle brand who are destined for greatness. The majority of the the available twenty-five units have been spoken for already, but there is a small number still available through The Motorcycle Broker.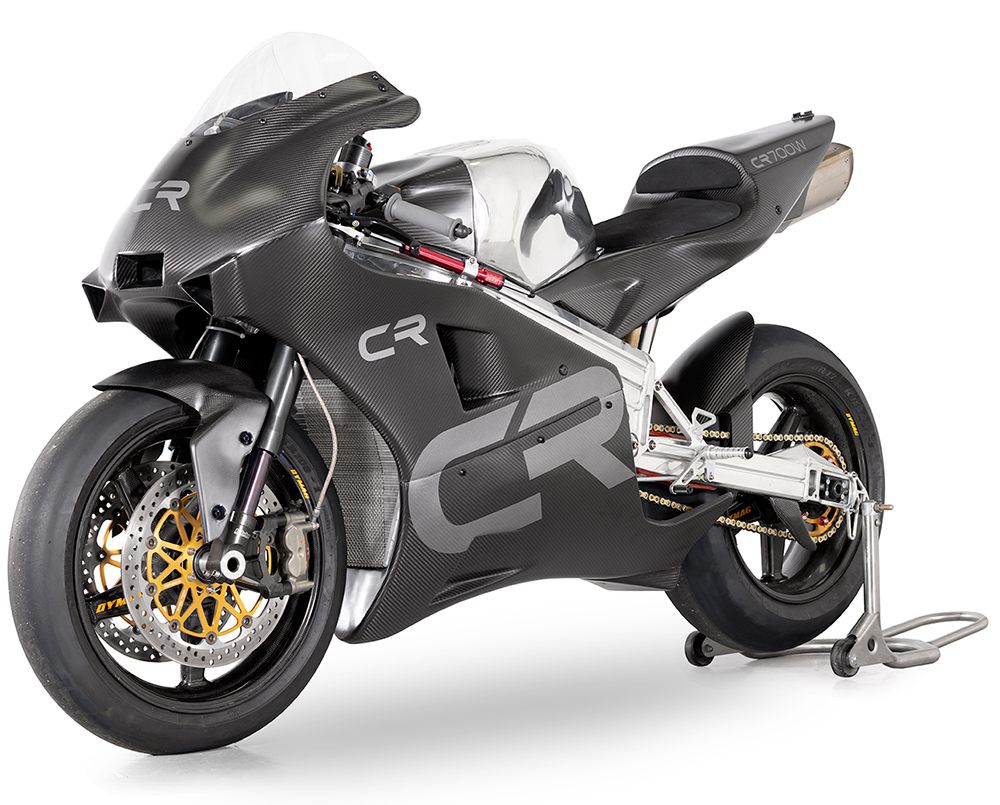 Order your Crighton Motorcycle now
Order your Crighton Motorcycle now through The Motorcycle Broker, the distributor for these incredible machines now. There's nothing in the world with this level of performance or this exclusive. The Crighton is destined to become one of the few modern classic motorcycles which will increase in value and deliver such exceptional performance. Brian Crighton has history delivering results from some of the world's most desirable motorcycles and now is your opportunity to enjoy ore of the success only his genius can deliver. We chose to get involved with Crighton Motorcycles right at the beginning because they are exceptional enough and have history on their side. The drive, ambition, desire and quality are all present to deliver results and a wonderful new chapter of motorcycling history which you can be part of.
History
History is on Crighton's side, as the designs from the rotary engine Norton racing motorcycles of the 1980s and 1990s have been developed into a motor which far exceeds expectations. The Norton rotaries enjoyed success beyond expectations and the Crighton is outperforming all conventional motorcycles and is ready to create history. Winning is in the Crighton's DNA and the development of these motors through use in aviation has really propelled them forward in leaps and bounds. The Norton rotary racers have become collectible in unimaginable ways and this history is carried forward by the Crighton brand. The Crighton is the only brand of new motorcycle that The Motorcycle Broker would think of being involved with because of the history of the evolution of these machines and because of the impending success of this incredible motorcycle brand.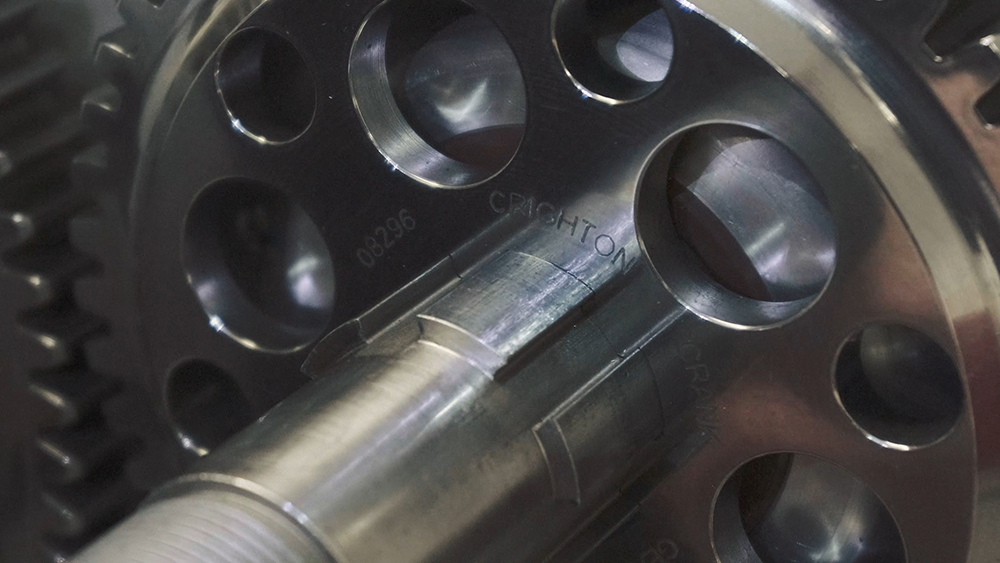 Hand built like a real racing motorcycle
Each of these twenty-five Crightons are hand built like a real racing motorcycle. Factory racing motorcycles are all one-off, hand built and the Crighton is no different. This is a rare opportunity to own a hand built racing motorcycle, just like the factory riders use every season. Collectors can only buy factory racing motorcycles if they were a factory rider, or from a factory rider and now you can buy a factory racer from the manufacturer. Since the 1970s and the dominance of the Japanese and Italian motorcycle manufacturers, it's not been possible to buy such a machine. Crighton are offering their customers the chance to own the factory racing motorcycle, hand built by the man himself.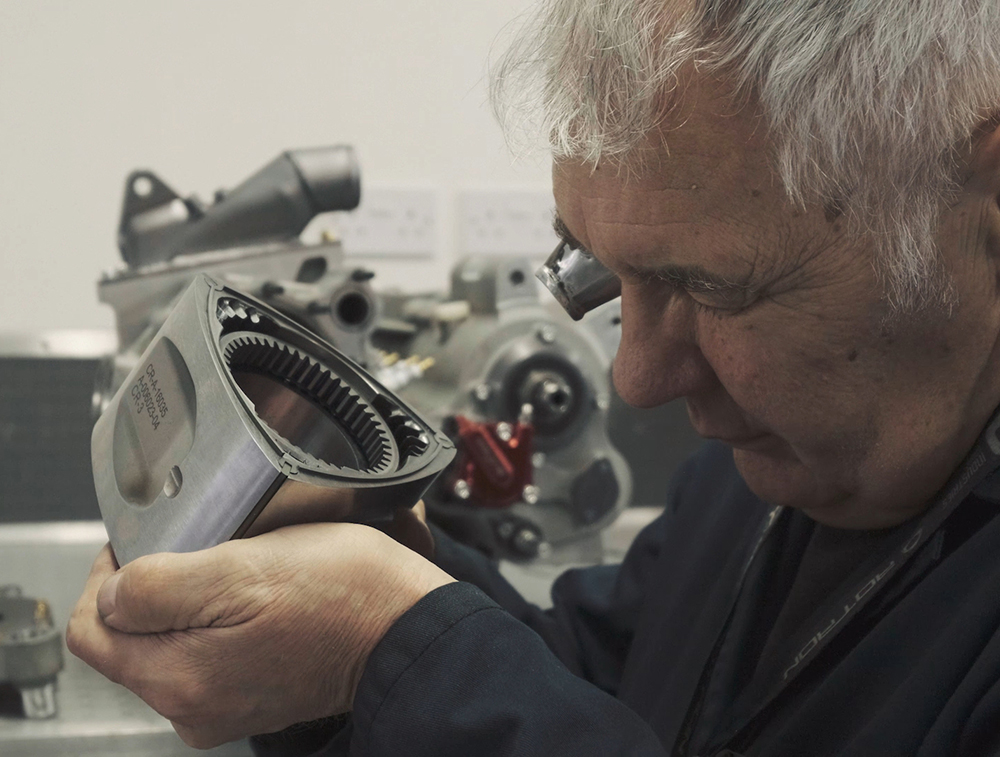 Rotary engine evolution
The rotary engine evolution has been really quite staggering since Brian Crighton's involvement in the early 1980s. He has propelled these motors forwards in leaps and bounds like no other engine has developed. In a very short time he spotted the potential to race these engines while he worked for Norton. He created a TT winning motorcycle in a shed from a police motorcycle engine and now he has developed them into a reliable motor capable of seeing off any piston engine motorcycle over just a few decades. For these motors to be used is the aviation industry is a testament to Brian's commitment, vision and capabilities as an engine designer. The Crighton motor has come a long way since the days of Norton and is ready to take on the world.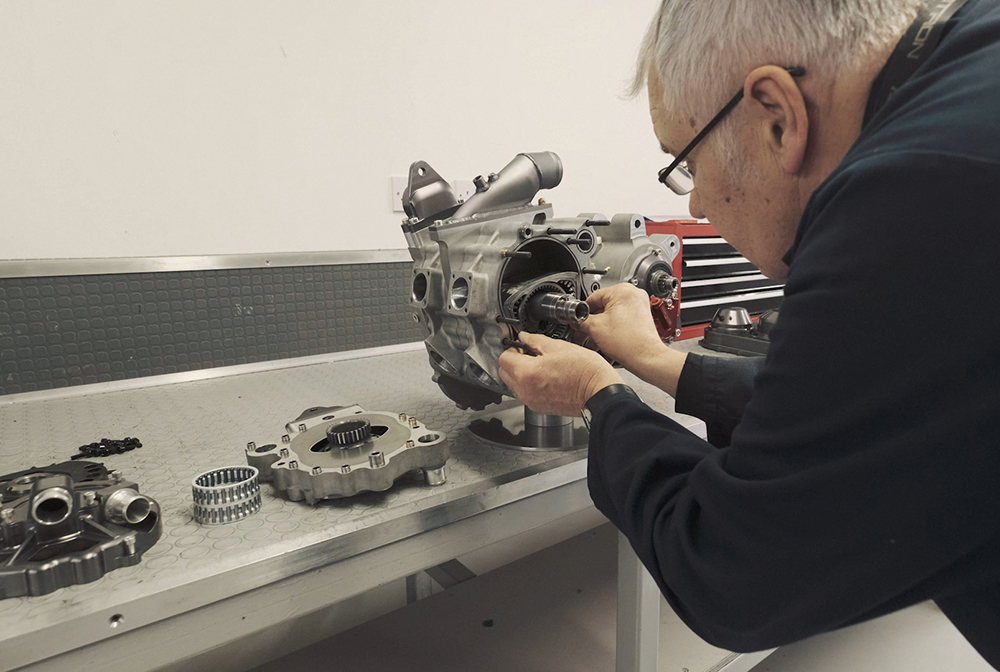 The green rotary engine
The green rotary engine is a vision of the future, as they run very well indeed on hydrogen, so they are an internal combustion engine for the future. Quite a few motorcycle manufacturers have already taken steps to make their internal combustion engines run successfully on hydrogen as they are not wholly convinced by the electric revolution. Watch out for high tech manufacturers using superchargers as they are heading along the hydrogen route. Manufacturers also realise that the internal combustion engine won't be killed off easily from two wheels if it can run cleanly and cost effectively. Hydrogen will have to be a part of the electric revolution and there's no reason it can't be used with internal combustion engines.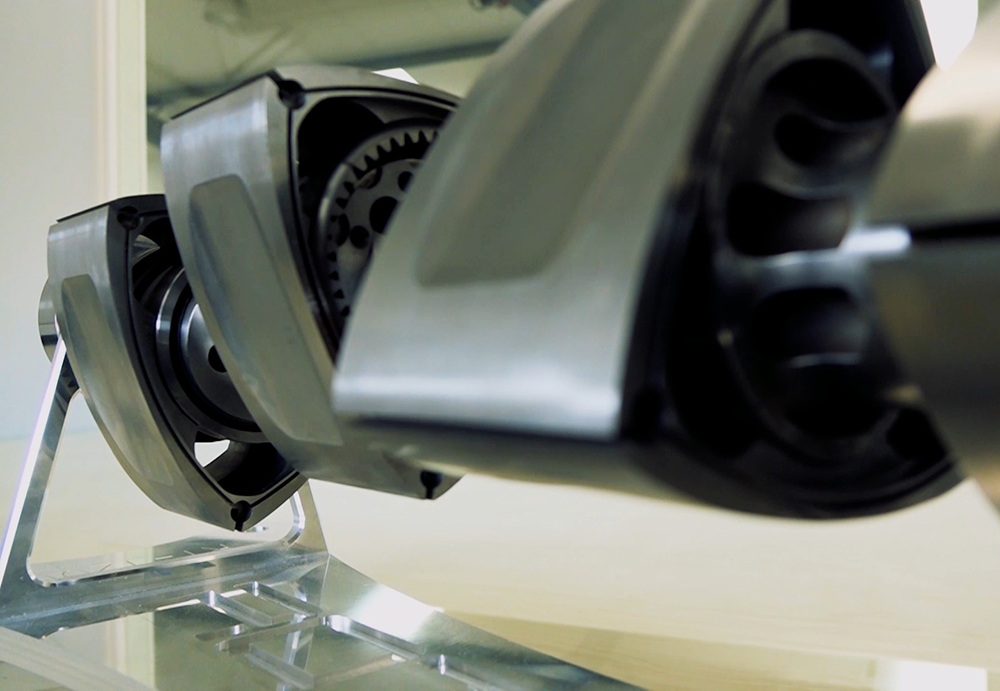 The Crighton will deliver joy and future profits
The Crighton will deliver joy and future profits, because it is a brilliant design with a great history and a successful past. All of the old issues surrounding rotary motors have been fully addressed and the technology has moved forward at an astounding rate. Everything has been designed to win races and with the rider at the forefront of each and every thought. You can order your Crighton through us here at The Motorcycle Broker and we can arrange a factory tour for you to really understand these incredible machines. You can read up more about these great machines here and you can email us to receive your electronic PDF brochure to your phone or via email. There is nothing on this earth like a Crighton.