Return on investment for classic motorcycles is not linear. They do not go up in equal increments years on year and each model goes up at different rates at different times. We usually take an annual snap shot and try to give investors a feel for how the market works and bring clarity to the classic motorcycle investment market. We have a blog for each year with predictions for the future which have historically been incredibly accurate.
Firstly, has Brexit damaged return on investment
Return on classic motorcycle return on investment has proven to be robust through very troubled times. If anything, Brexit has strengthened the market for investment grade classic motorcycles. Machines which are not investment grade are not selling as well as well as before, but the real investment grade ones are increasing in value. You can read more about it in this article about Brexit's impact on classic motorcycle values. Since writing this article, investment grade machines are starting to rise in value at a far faster rate than the pound has been weakening. Please note that all ROI figures shown are for investment grade pieces only. Anything other than an investment grade classic motorcycle will not perform anywhere near as well as these figures.
What have customers actually made in terms of profit?
I started The Motorcycle Broker because a friend asked me to find him motorcycles worth up to £30,000 in 2010. He paid £27,000 for a 1979 Laverda Jota, a 1969 Honda CB750K0 sandcast, a Ducati 916 SP, a Honda CBX1000 and a 1976 very special Ducati 900SS. In 2017 his collection is now worth at least £187,000 and all of his profits are completely 100% tax-free. I purchased a machine in my own private collection for £13,000 in 2012 and sold it for £43,000 in 2015. So you can see that the model works and produces very high returns and is clearly one of the best investments around. These machines will continue to rise in value due to demographics, as you can read in my article about classic motorcycle price drivers backed up by hard data and facts.
Note that all graphs are percentage increase for each year only
I have taken these percentage increases from actual sales at auction, from my own business, and from sales by private treaty and the data is true data from actual sales. Sometimes a year is showing 0%. That may be because the machine in question is taking a breather, which is how the market works. It may also be that no machines of that type sold that year. Some years no Green Frames or MV 750Ss sold anywhere in the world because they are so rare. I have ignored some of the distorted high prices paid at Mecums auctions over the last three years because there was one buyer there from China who paid insane prices and some of the machines just weren't right. However, it's not long until this becomes the norm, as China enters the market.
ROI Charts
There are many factors to this, Brexit did have a bit of an impact towards the end of last year, yet it is also driving more investors to tangible, but all things considered both Covid and Brexit have only really increased demand for investment grade classic motorcycles. You can see an analysis of these classic motorcycle ROI charts by reading this article. There is a shift in demographics whereby the people who remember British motorcycles as daily transport are dying, so there are less people to buy them who remember riding and owning them. This is causing the more common British machines to become less desirable, because they built loads of them and exported them worldwide. I'm referring more to triumph Bonnevilles and Norton Commandos when I refer to such machines. However, The Brough and Vincents will always appreciate as they are the Picassos of the classic motorcycle world. Export markets are picking up for these, so prices will become stronger in the coming years, especially now that China can import such machines.
Annual and cumulative ROI for Brough and Vincent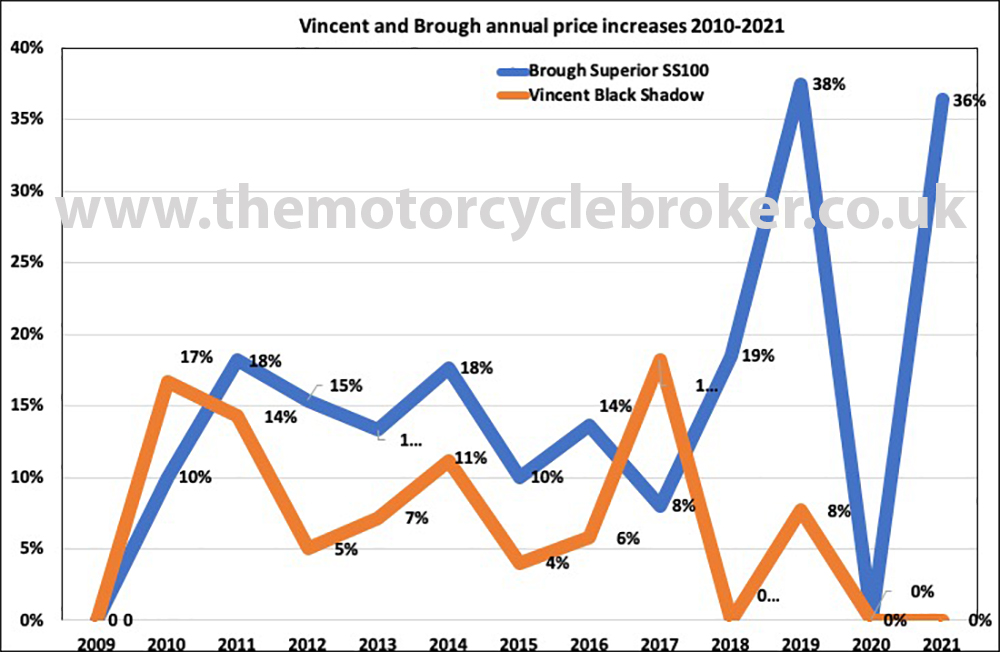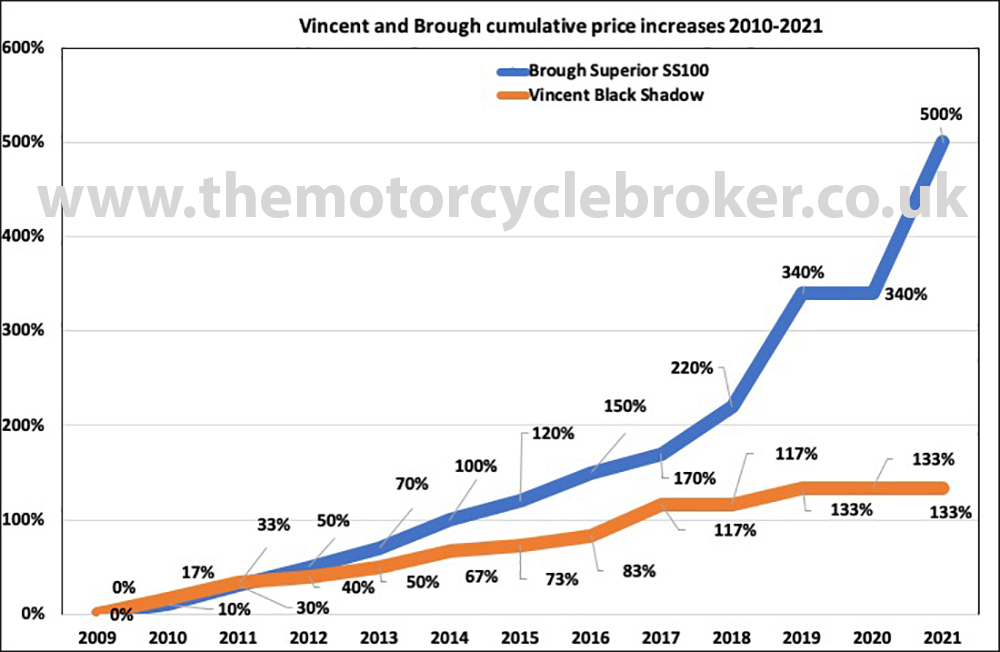 Annual and cumulative ROI for Honda, Kawasaki and Laverda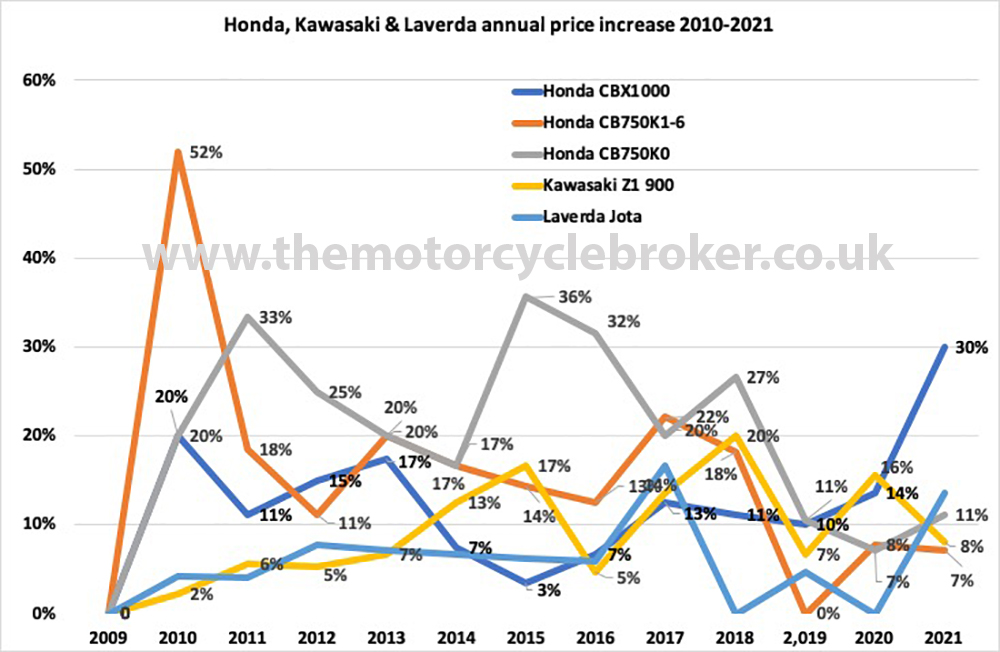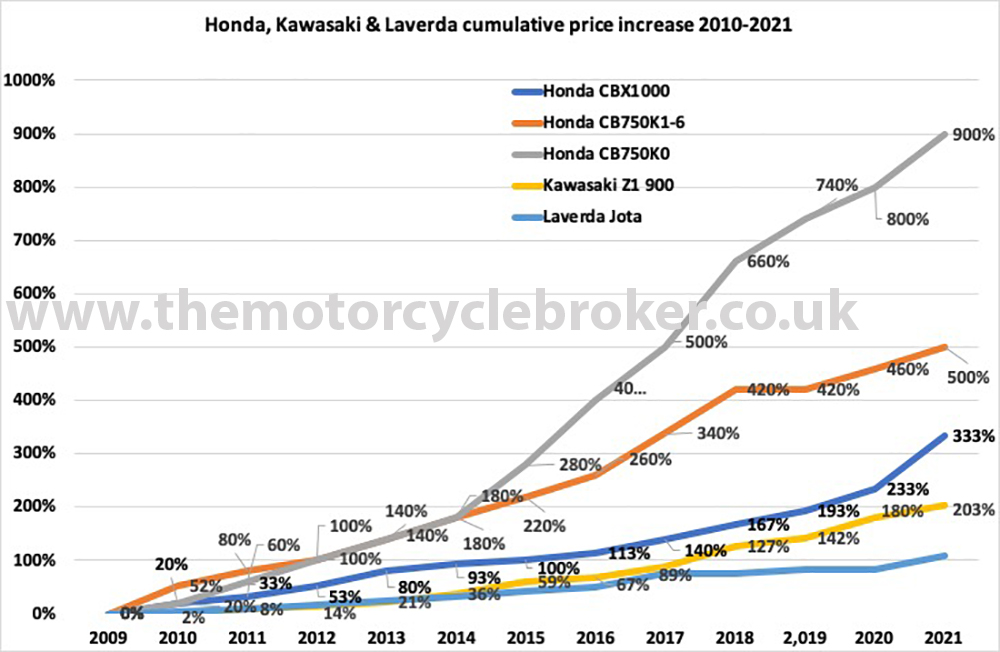 Annual and cumulative ROI for Yamaha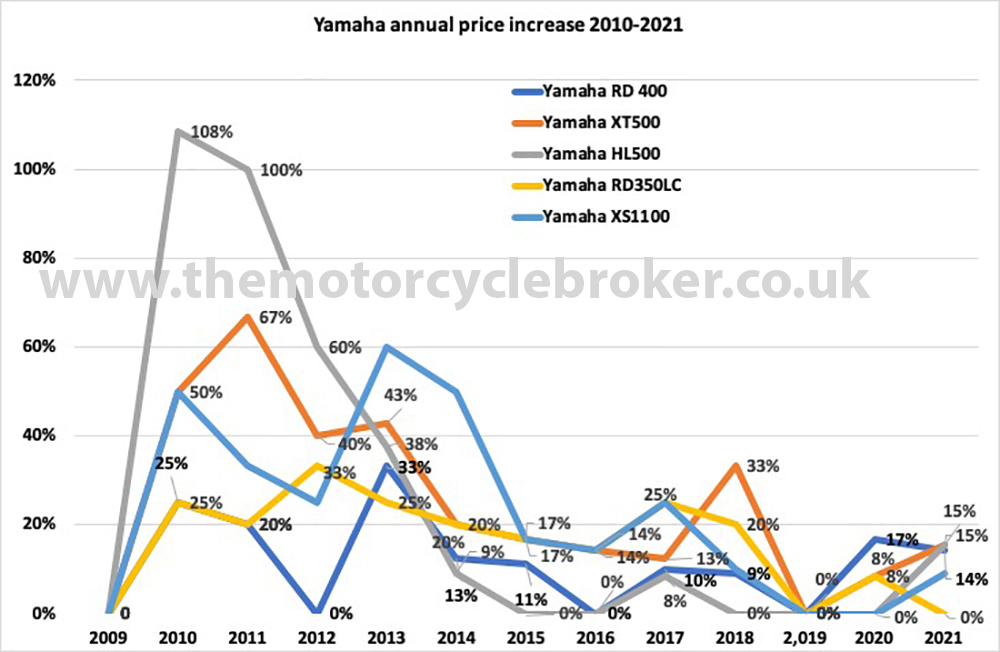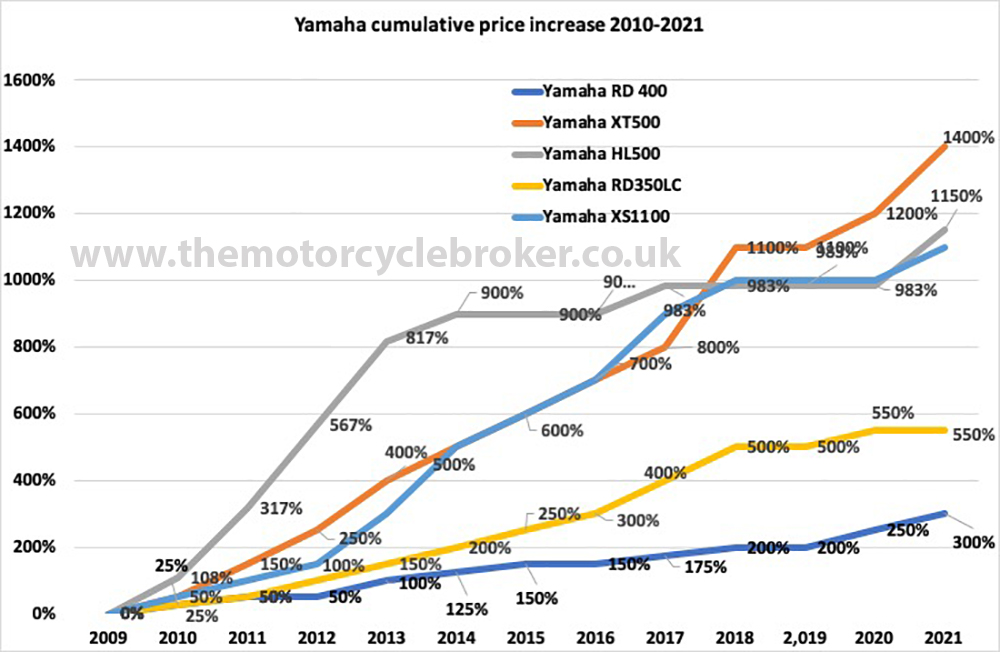 Annual and cumulative ROI for Ducati Bevel Drive series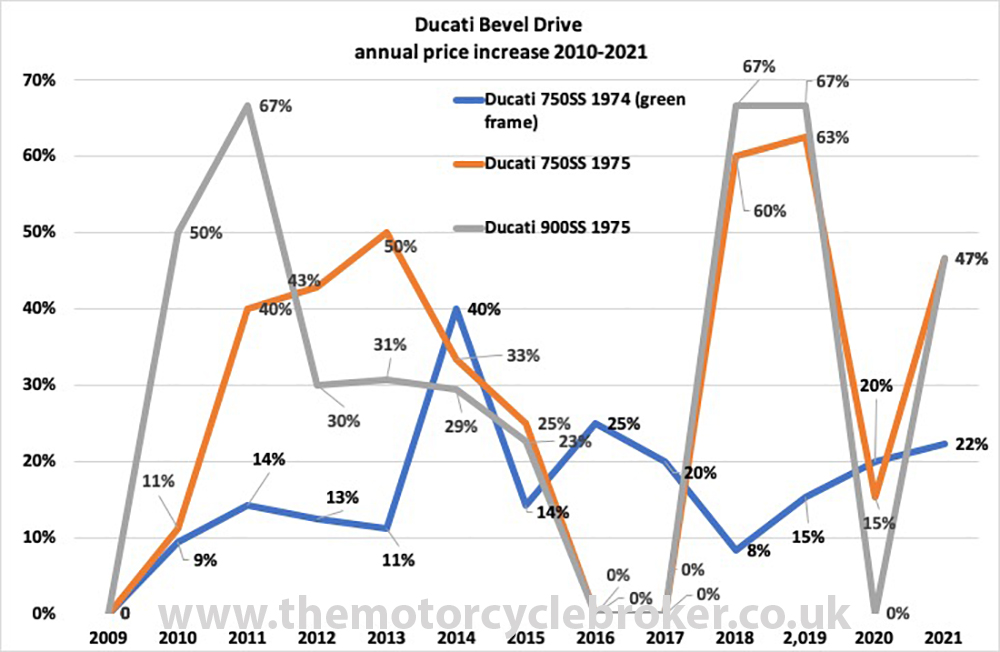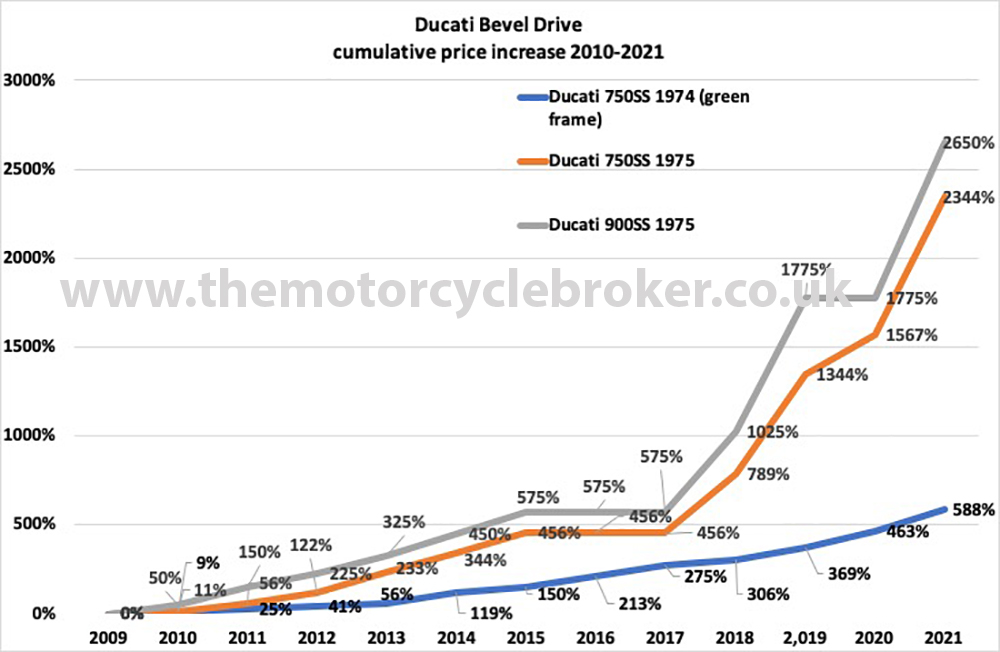 Annual and cumulative ROI for Ducati 916/996 SP/S series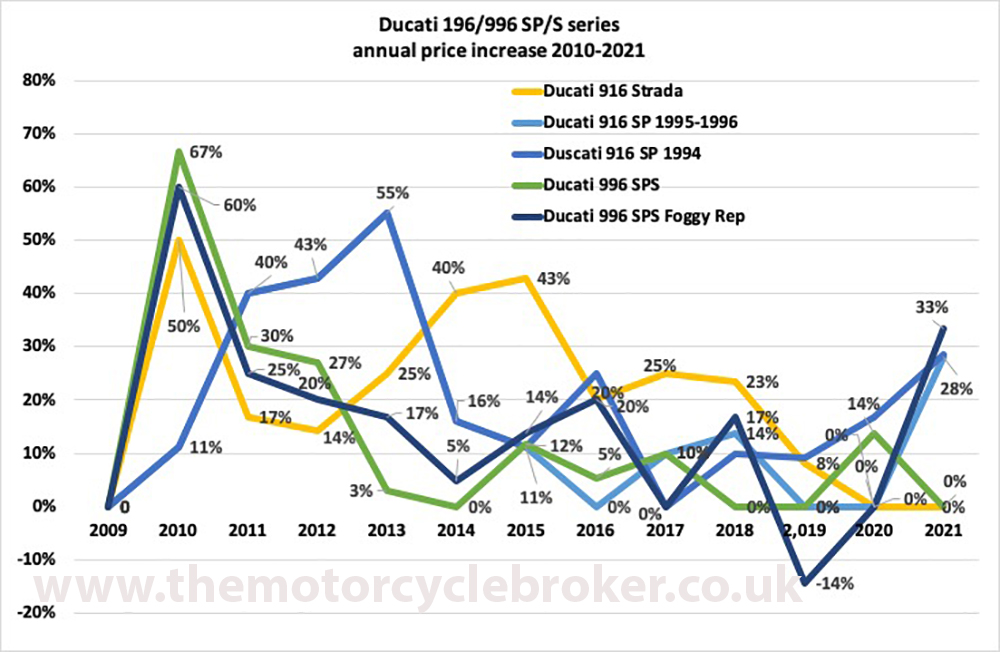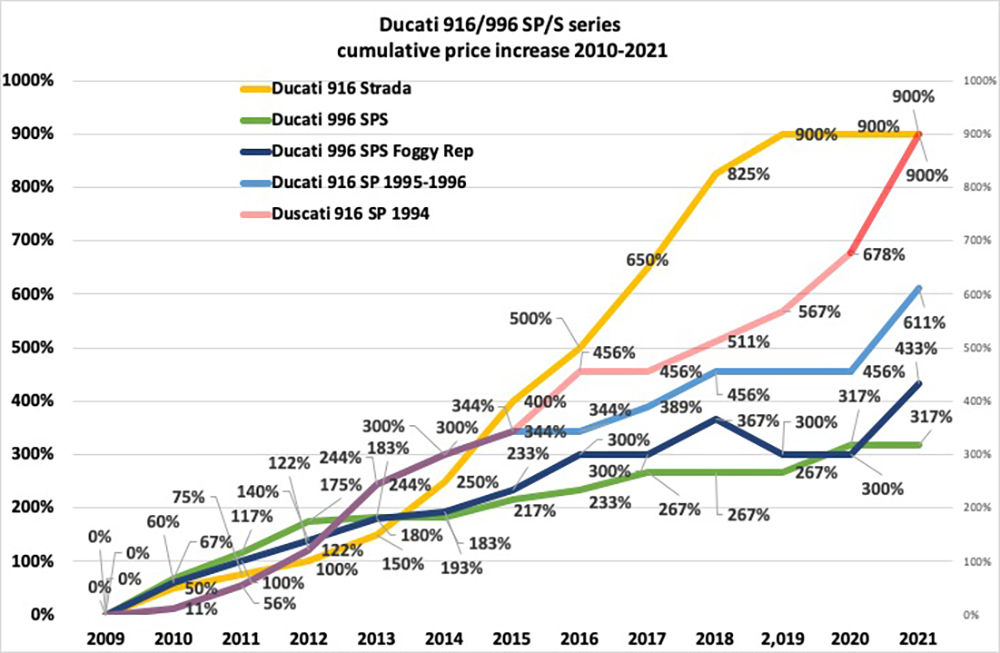 Annual and cumulative ROI for MV Agusta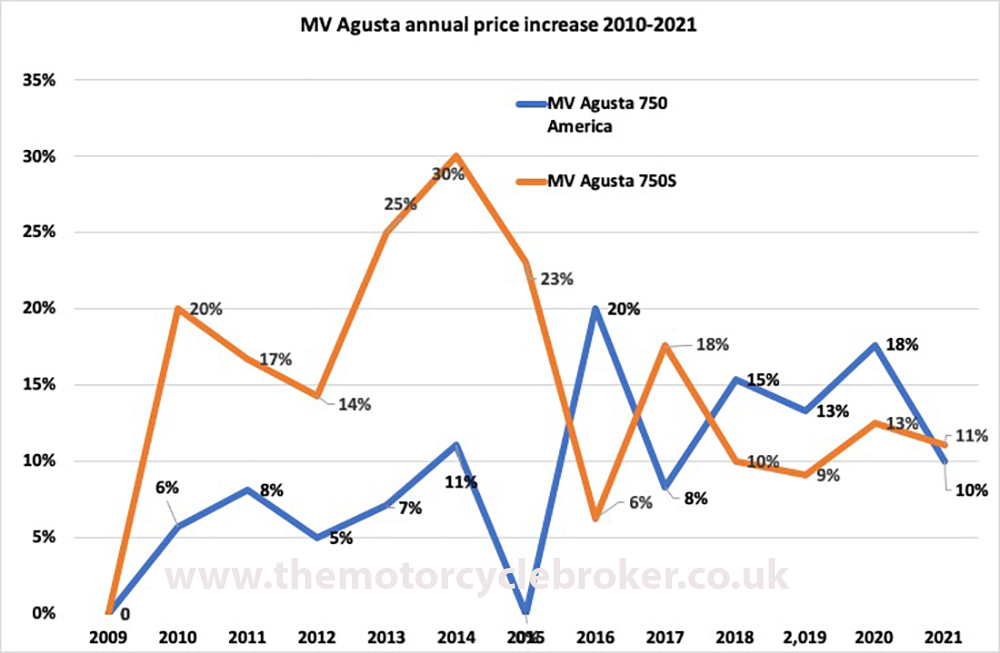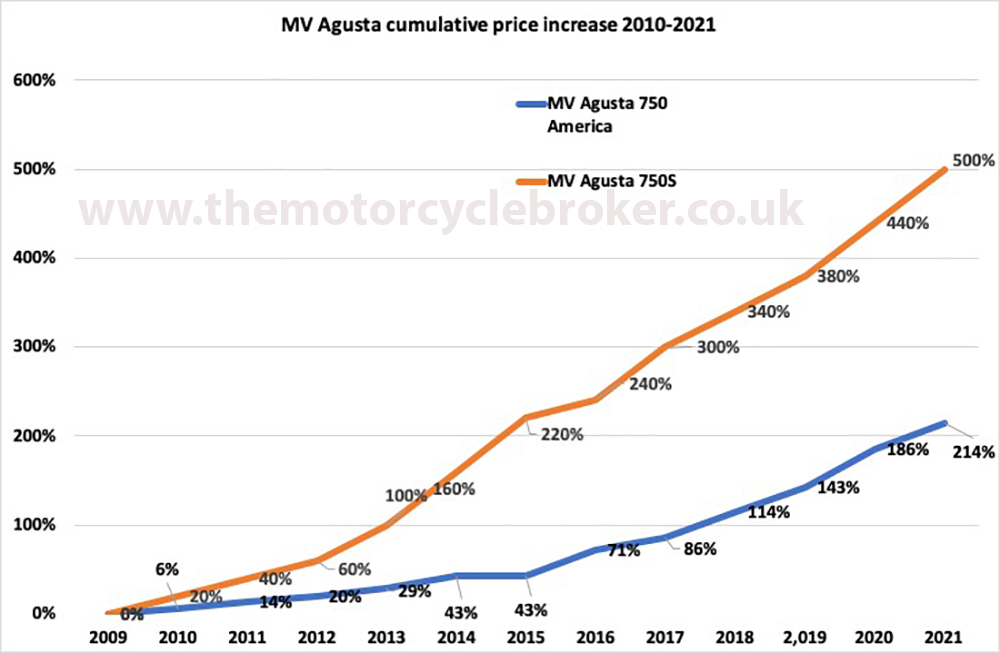 Have any customers lost money buying from The Motorcycle Broker?
No. Not my customers. However I always point out that if you think you're going to make a fortune in a few months or a year, then don't do it. The market doesn't move like that. This is a five to ten year project to realise proper returns. Machines increase in value, have a breather for a while and then increase in value again. They do not just go up on a daily basis. You can see from the ROI charts how the chart will drop to 0% for a while. That is the investment taking a breather. Profits are not linear day on day.
Do classic motorcycles really offer better returns than London property or mutual funds?
If you buy the right investment grade classic motorcycles, they are genuine and in the right condition, then yes many do. Just look at the example the cumulative return on investment charts. Classic motorcycles are less hassle than renting property and loads more fun to ride and own. They are far more interesting than a share in a mutual fund and they attract no tax liabilities whatsoever. Many of these classic motorcycles would sit beautifully close to a picture by Van Gogh and many people keep them in their living rooms as rolling art.
Classic cars and classic motorcycles
Just look at classic cars to see where classic motorcycles are heading. You can fit five classic motorcycles in the same space that one decent sized classic car takes up. In 2008 Chris Evans bought his 1959 Ferrari GTO for a record £5.6M. He reportedly sold it a few years ago for £18M. No wonder he's smiling, he tripled his investment in a few years and all of it, every penny, was a tax-free investment! Just like a classic motorcycle. There are many reasons why these baby boomer classic motorcycles will rocket in value over the coming years, and are already offering fantastic tax-free returns.
Some ROI figures of established classic motorcycles
The return on classic motorcycle investment is showing that of the strongest emerging market motorcycle brands is Ducati. Above is a chart to consider for this powerful brand. There are very good reasons for this and I believe, along with other classic motorcycle experts, that this trend will continue and there is still plenty of room for far greater growth. Some models are predicted, by classic motorcycle analysts and classic motorcycle experts, to reach £250,000 within 10 years. I wrote this last sentence in 2015 and already some Ducatis have reached that magic marker. They will now move onto seven figures and will be the Ferrari GTO of the classic motorcycle investment world, but only investment grade examples.
The Honda 750 KO Sandcast in the chart above is demonstrating that some of these Japanese and Italian machines are just beginning to realise their true investment potential. This last sentence was written at the end of 2017 and in February 2017 a prototype Sandcast sold for £161,000, which required a full restoration. This has put the Honda Sandcast on the map. Beware with Honda Sandcasts, motors can be fragile and so few examples are investment grade. The Honda CBX1000 6 cylinder has risen sharply too, as investment grade examples have become very hard to come by. Like the Sandcast, very few are investment grade and the wrong machine will damage your portfolio severely.
There are signs in the charts, to those that truly understand this market, that there is an explosion in prices coming. That last sentence was written by me at the end of 2017 and what an explosion it's been for MV Agustas and Kawasaki Z1 900s. The correct MVs will follow the 1974 Ducati 750SS into seven figures over the coming years and we will not recognise prices. The Laverda Jota is just having a breather….for now, but they require a lot of work due to age.
These Yamaha machines have a long way to go to realise their full investment potential. Understanding this market is the key to understanding what will rise, having analysed the previous sales data that these charts offer. Also, due diligence is absolutely vital to make sure that you have an investment grade machine.
These are figures from genuine sales.
These return on classic motorcycle investment charts are from actual sales either at auction, or off-market private sales. The prices only apply to proper investment grade examples. I have only shared data on certain examples, and not only the best performing examples. These charts are only to give people interested in the market a feel for the history of sales in terms of ROI.
Emerging market off road classic motorcycles.
Many people invest in classic moto cross and trials motorcycles for numerous reasons. One driver pushing collectors towards competition dirt motorcycles is that DVLA are becoming more demanding about motorcycles which are kept on a SORN. Many collectors are becoming weary of the bureaucracy and like dirt bikes, because there is no record of them with DVLA. They are also incredible fun to ride.
One of the under-estimated brands of the dirt bike world is Bultaco and Montesa and I believe that these machines will explode in price once old memories are stirred. however they have been performing respectfully enough.
I think you will agree that classic motorcycle investment is one of the best kept secrets to high return tax-free investing. To understand more about this exciting, tax-efficient, high return and fun way to invest,call The Motorcycle broker on 01803 865166 or 07971 497615.