The Motorcycle as Art is a project we've been having playful fun with since about 2016, as you can see in our Allen Millyard interview from back then. It took off further this year when we realised that our photographers are damn good and that we're test riding motorcycles for hundreds of miles at a time. We do so much test riding to shake down the motorcycle and make sure it's really truly ready for delivery, as you can read here. Recently, during these test rides, we'd stop at local businesses which are unique and not part of a chain. We photographed these lovely old machines in front of these unique businesses, in most cases, with the business owner in the photo.
Here are some of the examples of The Motorcycle as Art from artists, art museums, Allen Millyard the artist, Britten Motorcycles and some of the motorcycles we have supplied at the bottom of this page. We like what's in this content and we hope you like it too.
Guggenheim Museum New York
Guggenheim Museum in New York ran a very successful art exhibition called The Art of the Motorcycle in 1998. This really started to bring a focus onto the motorcycle as art. The pinnacle of this particular exhibition was, I have been told, the Ducati 916 and Britten Motorcycles. Again I have been in touch with the Guggenheim but can't get a response to my questions or permission for using their images, so when they do come back, I'll update this.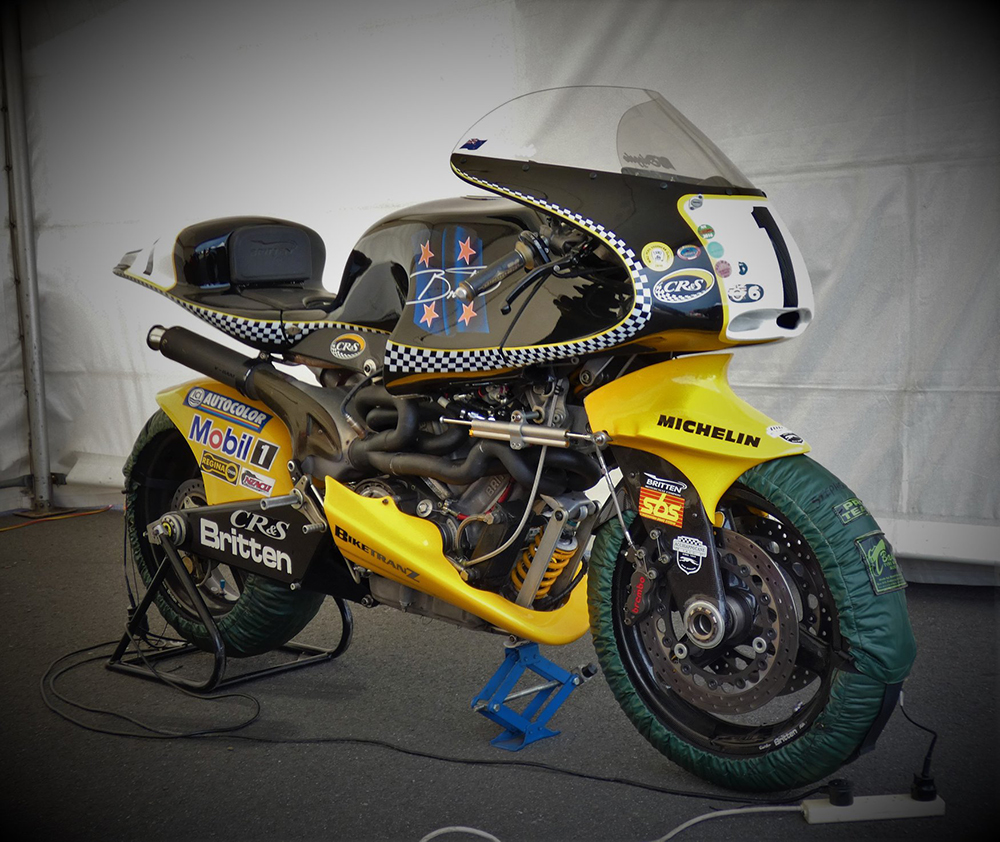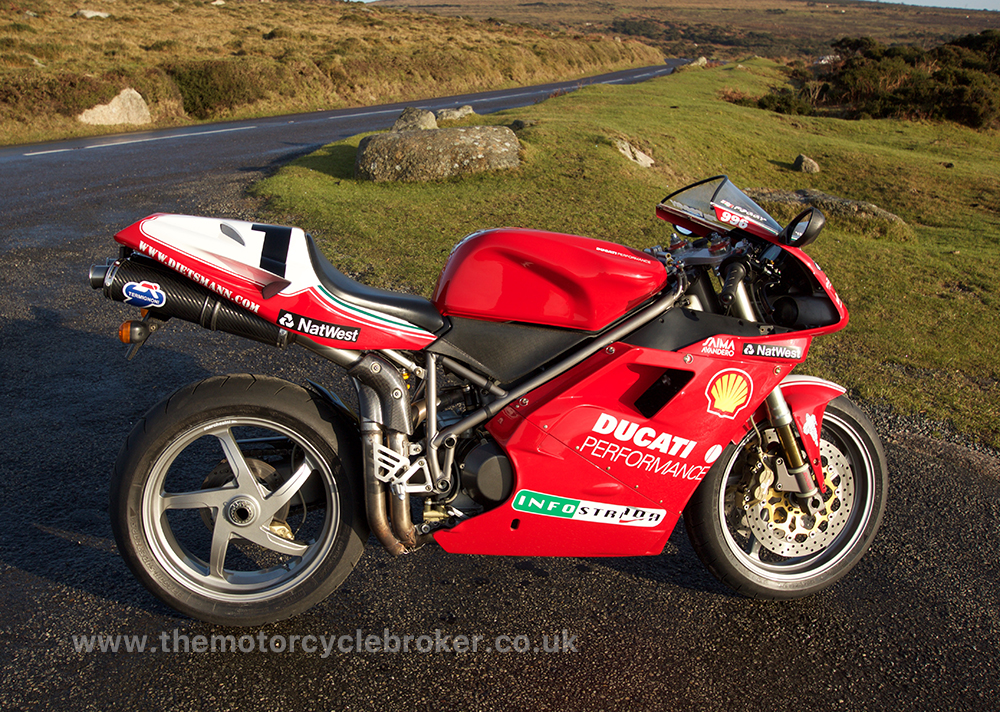 Britten Motorcycles
Britten Motorcycles were the brain child of John Britten from New Zealand, where these astounding motorcycles were built. I interviewed Craig Roberts, who now looks after some of these machines and knew John from the early days. Many people believe that these incredible machines were built by John single-handedly by John Britten in his tiny garden shed. This is not the case, Craig told me that john was brilliant at inspiring people with his infectious vision. A vision that would otherwise be deemed impossible, but for John's visionary enthusiasm and will. He was great at attracting the right people to create a great team and his vision was to win and to dazzle. That is why the Brittens ended up looking like……like…..like…..rolling art.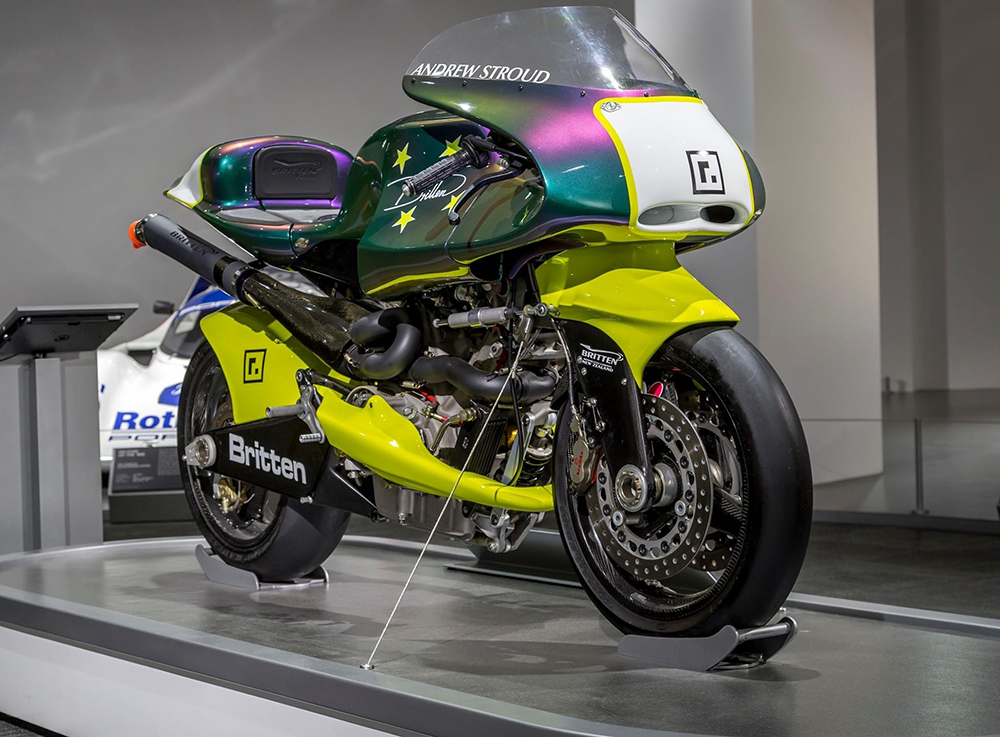 Long evolution
These machines had a long evolution that went unseen, which you can read about here as I'm not talking about the history, I'm talking about the motorcycle as art. Another really great article which offers great insight into this legendary story is this article written in 2015 here. Classic motorcycles as art always includes the story and the story is as much art as the motorcycle itself. Brittens sell for in excess of £1,000,000 and with most of these machines they are stewarded towards ownership that keeps the story alive, as much as possible. Seven out of fourteen Brittens are on public display and nearly all emerge when required whenever possible. The heartbeat of this story is still very strong through the ownership of these stunning machines.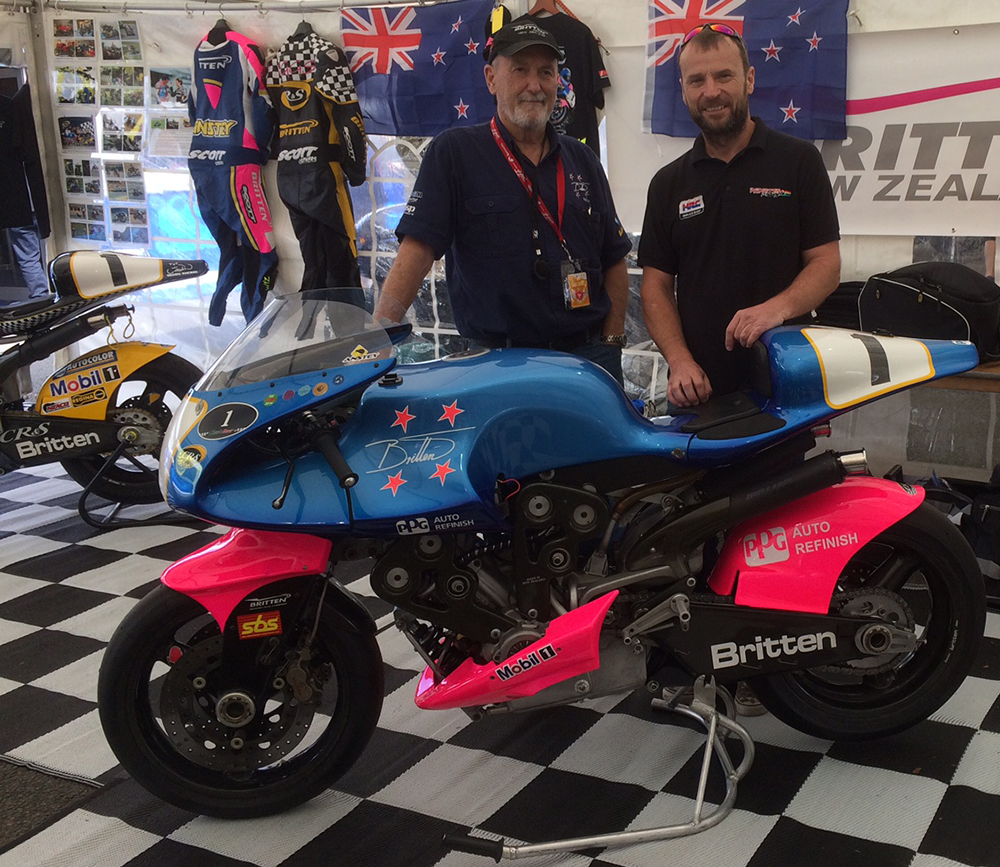 Engine
The engine started out as a bevel drive Ducati 860, either a Darmah or GTS, which belonged to John's good friend Mike Brosnan. Mike built the first bike and John designed the bodywork, which later found its way onto the Aero D One. John wanted a New Zealand powerplant, so he took a Denco 500cc single cylinder speedway motor and had the manufacturer create a 1000cc twin out of it. These single motors were mated to an entirely new crankshaft and crank case. The Brittens had trouble finishing races, as valves had a habit of eating into cylinder heads and belts would fail at times. The single, large belt was later replaced by two smaller ones, one per cylinder, and this seemed to cure the belt issue. Craig told me that they were really only good for 60 laps, or one and a half hours of riding, before performance dropped off or they ground to a halt. But when they were performing as they should, they delivered 12,500 RPM of pure joy.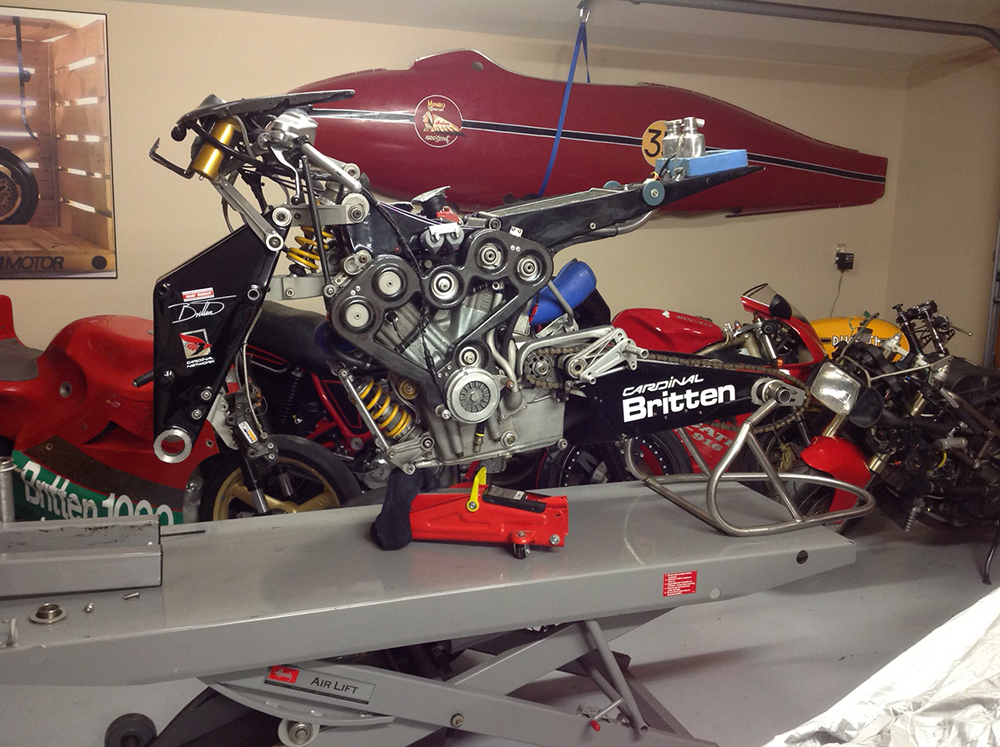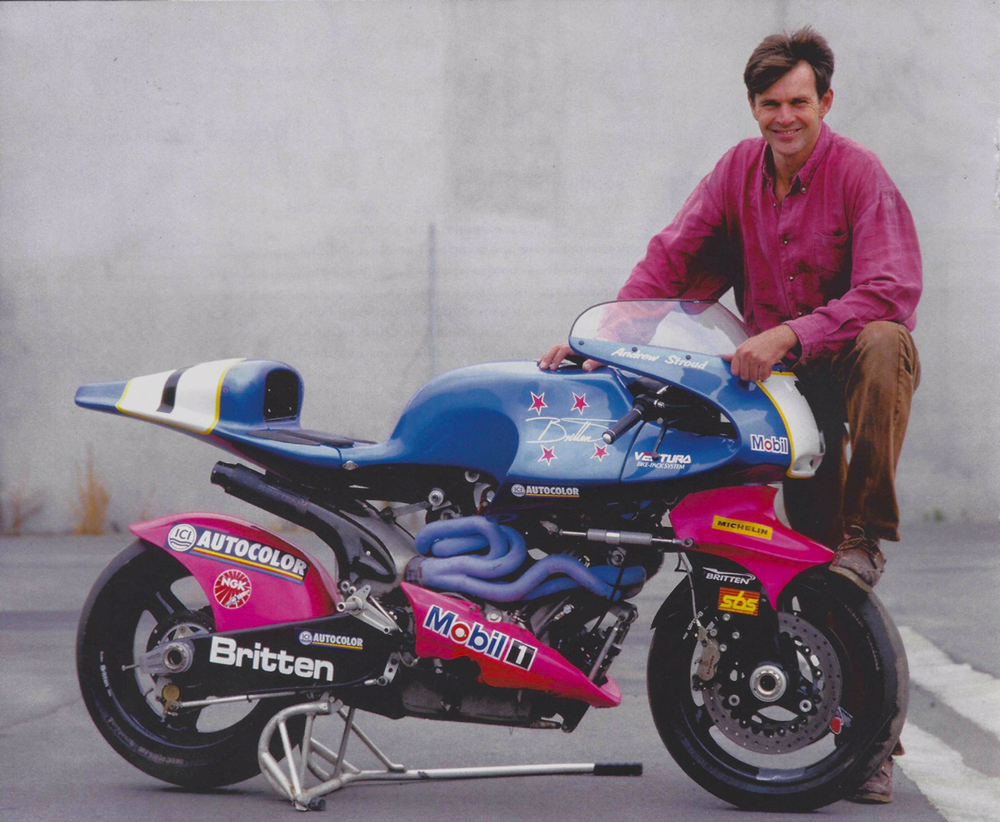 1980s Brittens
The early 1980s Brittens started out looking like a 1980s design mash up of a Quasar and a BMW scooter attempt, as you can see in the picture below. This caused handling problems, which were cured at the side of a race track with a hack saw, but that engine had serious potential.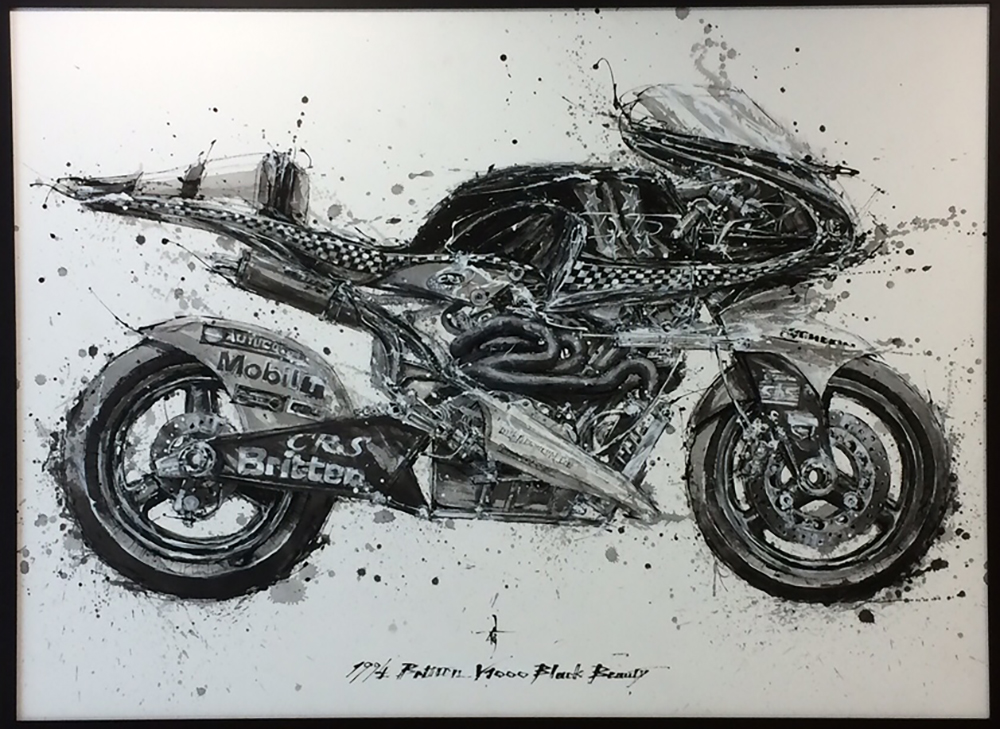 John Britten
John Britten made his own carbon fibre wheels and body work from a skeleton he created himself that you can see below. He took the idea of using the engine as a stressed frame member from the Vincents of old and hid the radiator under the seat. He created carbon fibre double wish bone front suspension. Each motorcycle had a unique hand-built exhaust which was initially claimed to be impossible by an exhaust builder, due to the taper. Undeterred, John made it himself and showed them how it was done, completing it at the same time as the exhaust builder worked out a way to achieve the desired result. They sprayed these intertwining exhausts in bright blue VHT rattle can paint. Those exhausts looked like blue octopus tentacles intertwining with each other, again separating the Britten into an aesthetic of its own.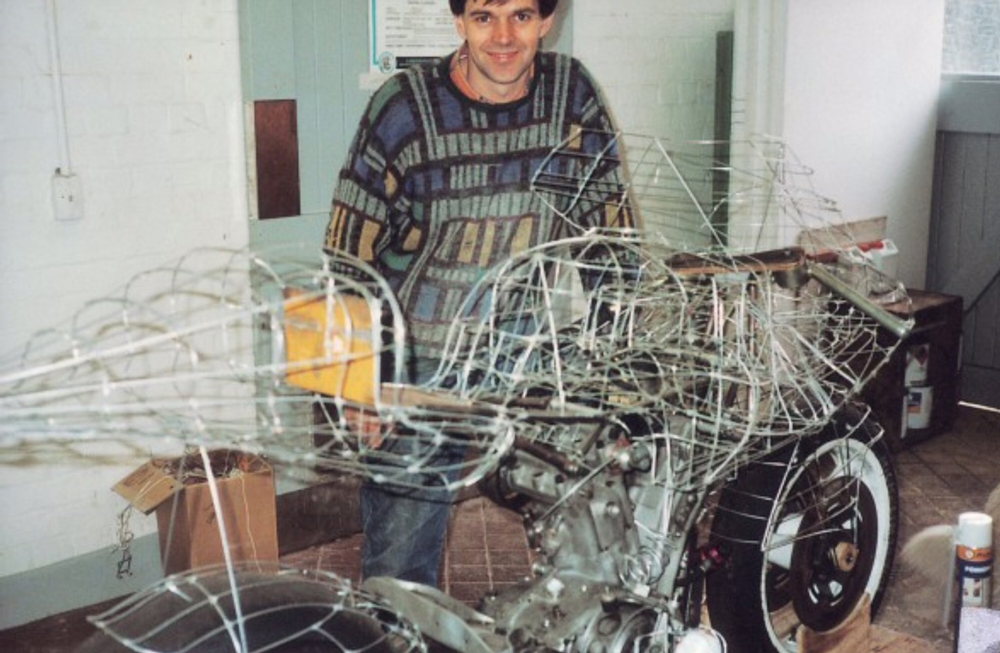 Wanted to dazzle
John said he wanted to dazzle, as well as win and he certainly did with his paint schemes carried out by local artist Bob Brookland. John found a glass starfish, as you can see in the picture below, and he wanted this as a colour for his machines. He was clearly a colourist whose unique designs created works of art through his use of colour and also, less intentionally, through his astounding design. You can really see this if you click this link. Read this article as it really does tell you so much about these wonderful machines. Craig told me that they had to repaint the bodywork due to the fluorescent pink paint fading, as it does. The Te Papa Museum were anxious about losing the body work of their Britten, but Craig wisely pointed out how stunning this machine is naked, so they have been displaying it that way for some time now and the visitors love it. Read the article and then scroll to the bottom of the page where it says View the Britten Bike slideshow and click that. You will see what a work of art this motorcycle is beneath its incredible body work.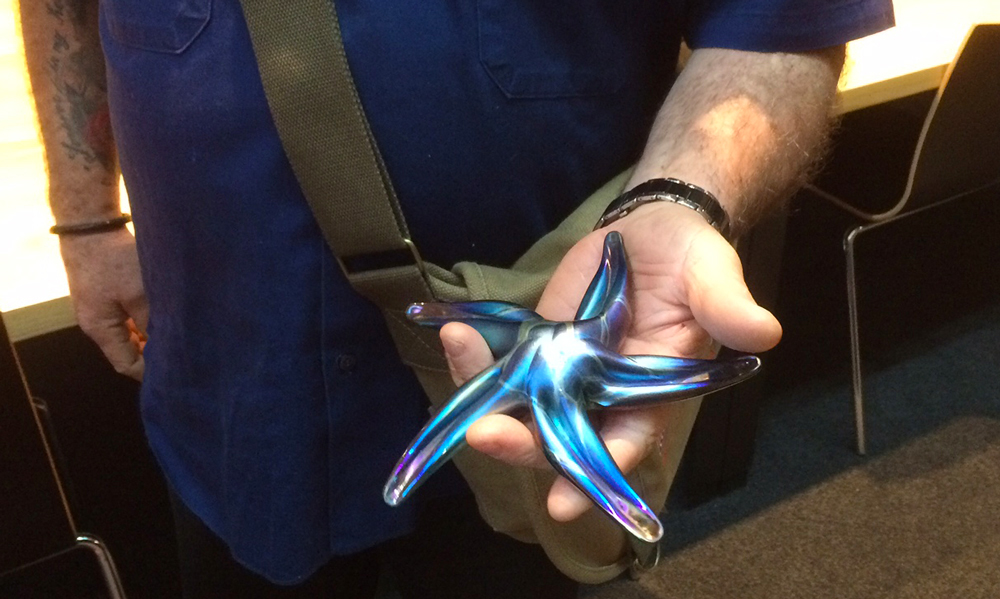 Stunning motorcycles
There is no doubt that these stunning motorcycles are rolling art with a story stalked by death, giant slaying, success, victory and the creation of the world's most beautiful racing motorcycles. These are the realisation of one man's dream that went on to become a complete team's dream. The realisation of this vision was built with sweat, imagination, determination and not accepting the limits that the rest of the world set on the status quo, so creating their own limitless world for themselves and for us. This is what art is about, these machines are form and function. They are legendary in every respect and should be exhibited in art museums alongside their inspiring story- which is art itself.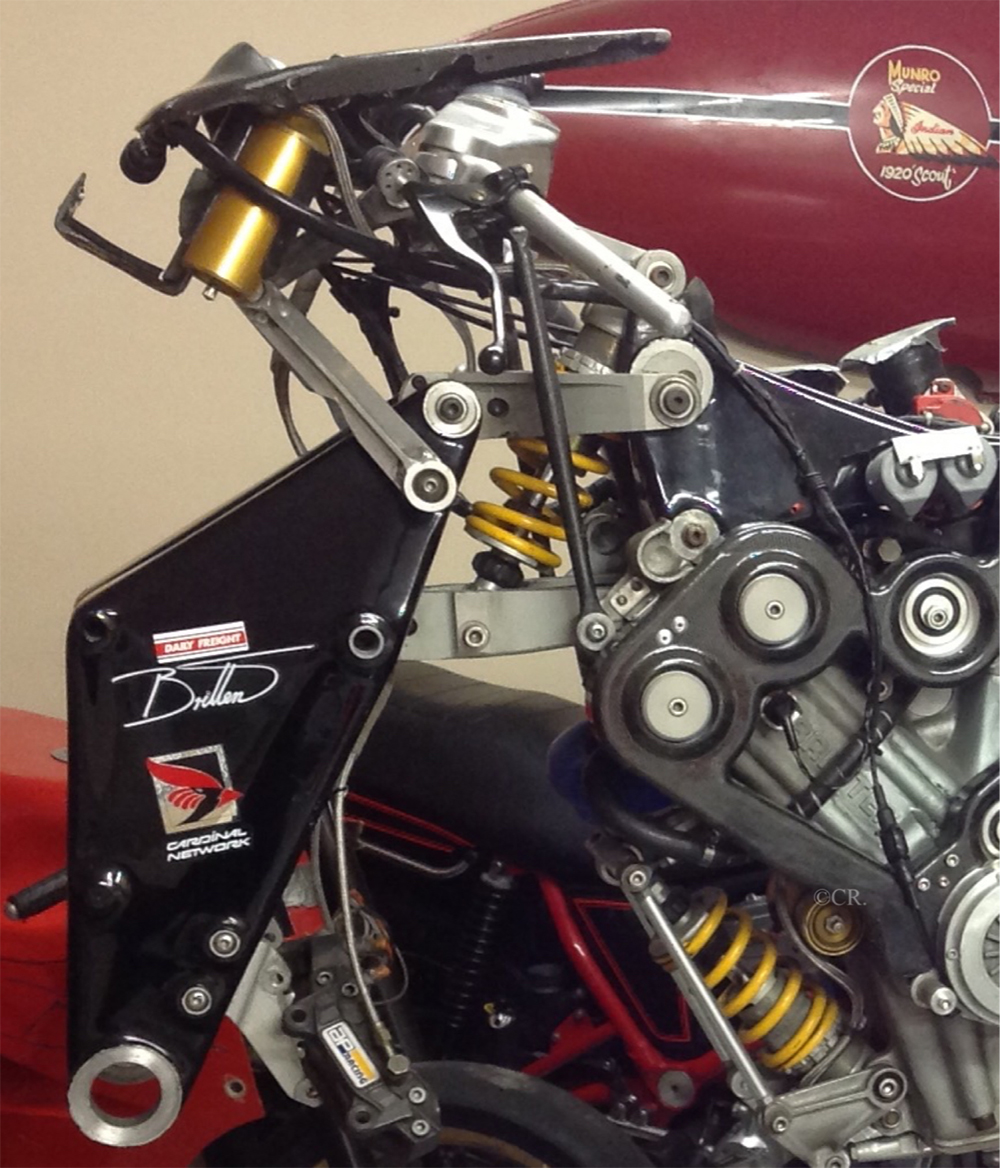 Allen Millyard artist
Allen Millyard is an artist, nestling here with Andy Warhol, Jack Armstrong, The Guggenheim Museum and Britten Motorcycles. Allen Millyard is a unique person who creates rolling sculptures which are works of art and fully functioning motorcycles. Like all great artists he has created a structure for himself to operate in and the limitations that the structure imposes on him forces a creativity that is clearly art. Allen's whole modus operandi is to create motorcycles that are wildly different from a production motorcycle, but that look like a production motorcycle or a prototype. For example, in the early 1970s Kawasaki bought out the H2, a two stroke 750cc three cylinder motorcycle known as the "Widow Maker". Allen decided he would make four and five cylinder versions of this iconic classic motorcycle in the mid to late 1990s and that's what started his incredible journey.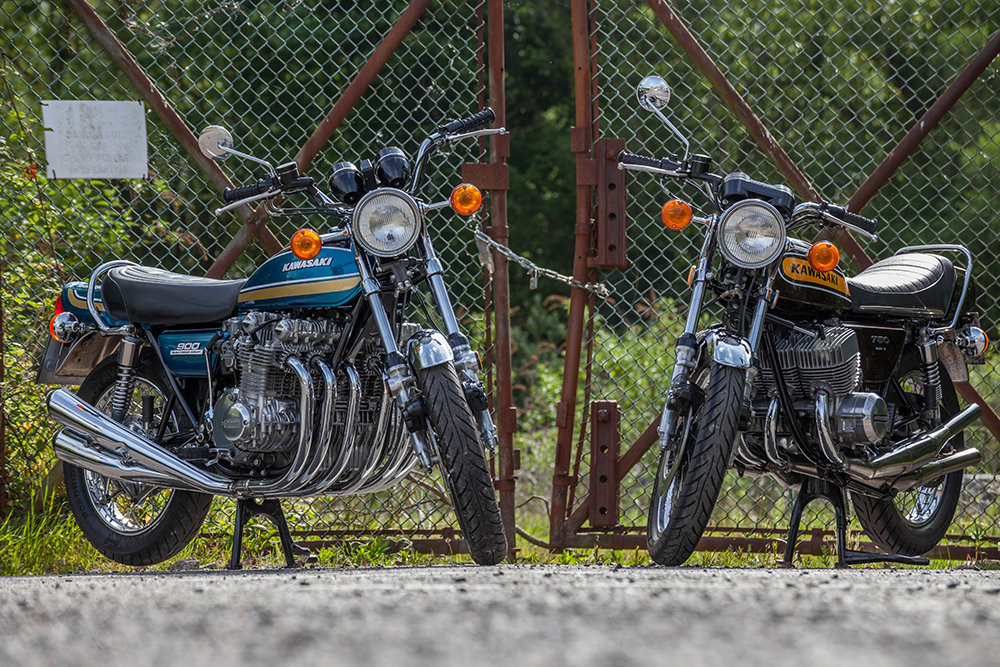 Incredible machines
Since those early days, Allen has built a range of incredible machines which have earned him his own section of the Barber Motorcycle Museum in the United States. He built a Kawasaki Z900 and grafted another complete bank of cylinders onto it, creating a V8 1600cc machine. He accepted a challenge to build a Kawasaki Z1300 six cylinder, increasing it to twelve cylinders and 2,300cc. That was more than a challenge, as the task was almost impossible, due to the engine design but Allen didn't let that stop him. Since then he has made 6 cylinder Kawasaki Z900s, a four cylinder liquid cooled two stroke Kawasaki with Yamaha liquid cooled barrels grafted on for a top end and numerous other machines. The way his creations ride is far more than the sum of their parts, which is surprising and enchanting in equal measure.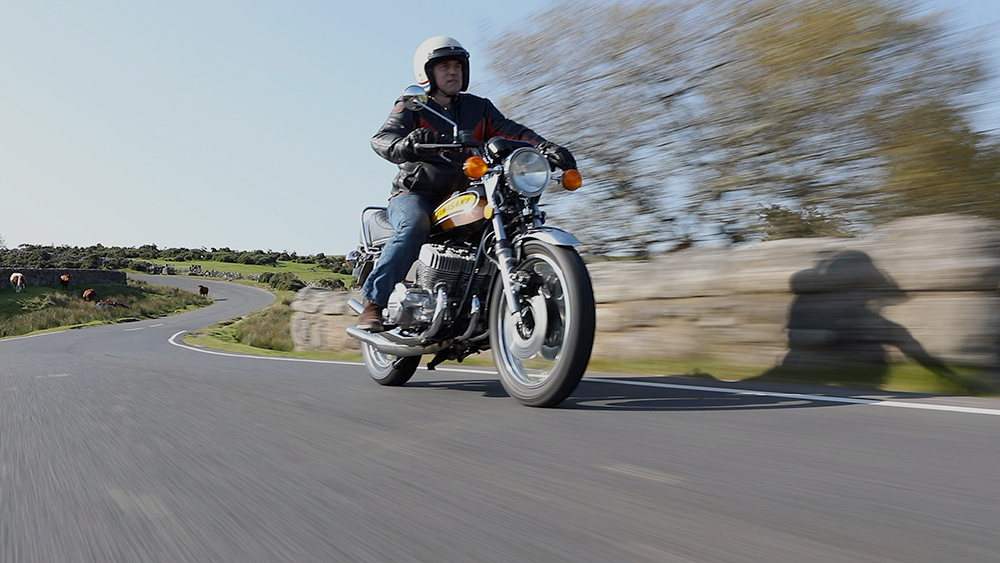 Two wheeled artist
Allen has become recognised as a legitimate two wheeled artist, especially because he does not use CAD or draw anything, he just sees it in his mind and builds it. Furthermore, he doesn't have great big CNC machines, he uses hacksaws, files and a barbecue to heat the aluminium up so he can weld it. He also acquired an old, a milling machine and a pillar drill all sourced from a secondary school. He does farm out his paint and plating, but the rest is all his work. He has an incredible mind that sees things in 3D and once he has the vision he can figure out how to do the job.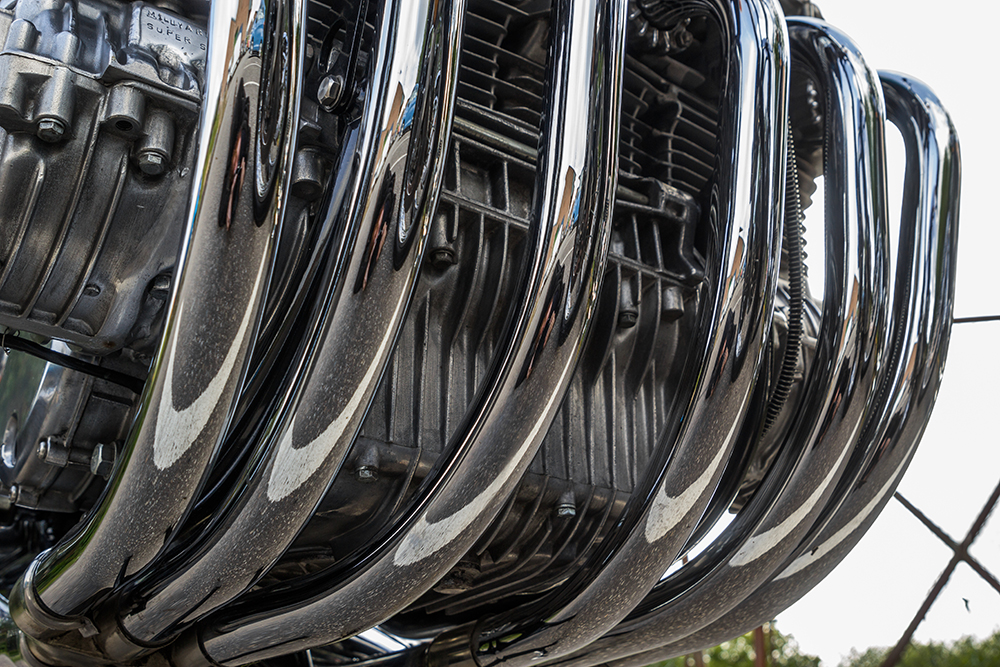 Allen Millyard Interview
Below is the Allen Millyard interview I made with him in his garage back in 2016, where we discussed his art work and his processes. We hope you enjoy it.
Chrysler Tomahawk Motorcycle
While watching a Chrysler Tomahawk "motorcycle", one of ten motorcycles built using the Viper V10, 8 litre motor crash at Goodwood at the first corner he thought he could do better. The Tomahawks appeared to have no radiator so it seemed unlikely for them to last very long if they're used. Dodge also made all owners of their ten machines sign a document promising not to ride them. It was a strange looking machine with fur wheels and seemed impossible to ride. This set up Allen's challenge in 2009, how to build a motorcycle around the Dodge Viper V10 8 litre motor. Of course, he built the machine and has put 10,000 miles on it and ridden it at 207 MPH at an airstrip.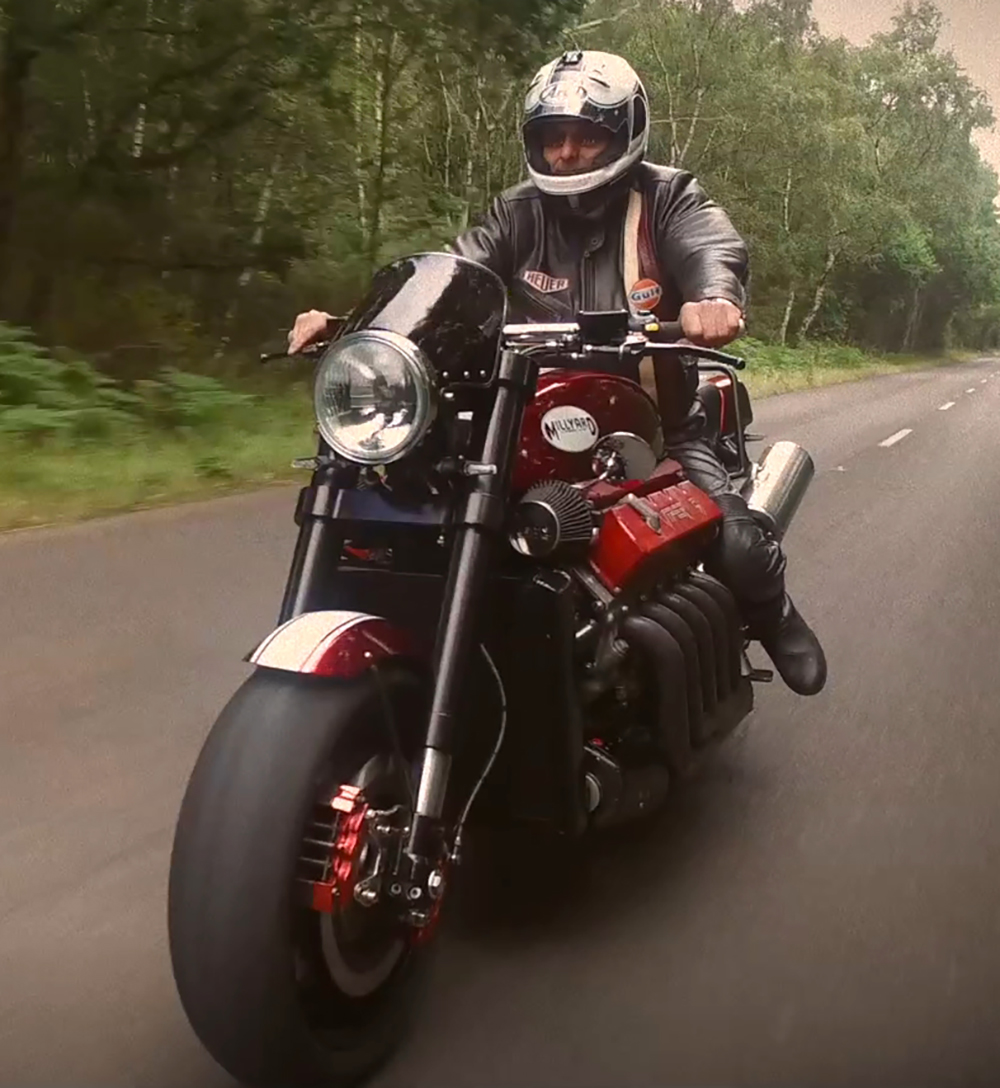 Salòn Privé
Having won Salon Privé, he was asked what he was going to build next and, without thinking he said, "The biggest V Twin motorcycle ever". He went home, bought a pair of Pratt and Witney aircraft cylinders from a radial engine which together delivered 5 litres of cc and decided to build a Chitty Chitty Bang Bang bike. He created the Flying Millyard with stamps on many of the components just like a production bike would have had if it was built in the 1920s.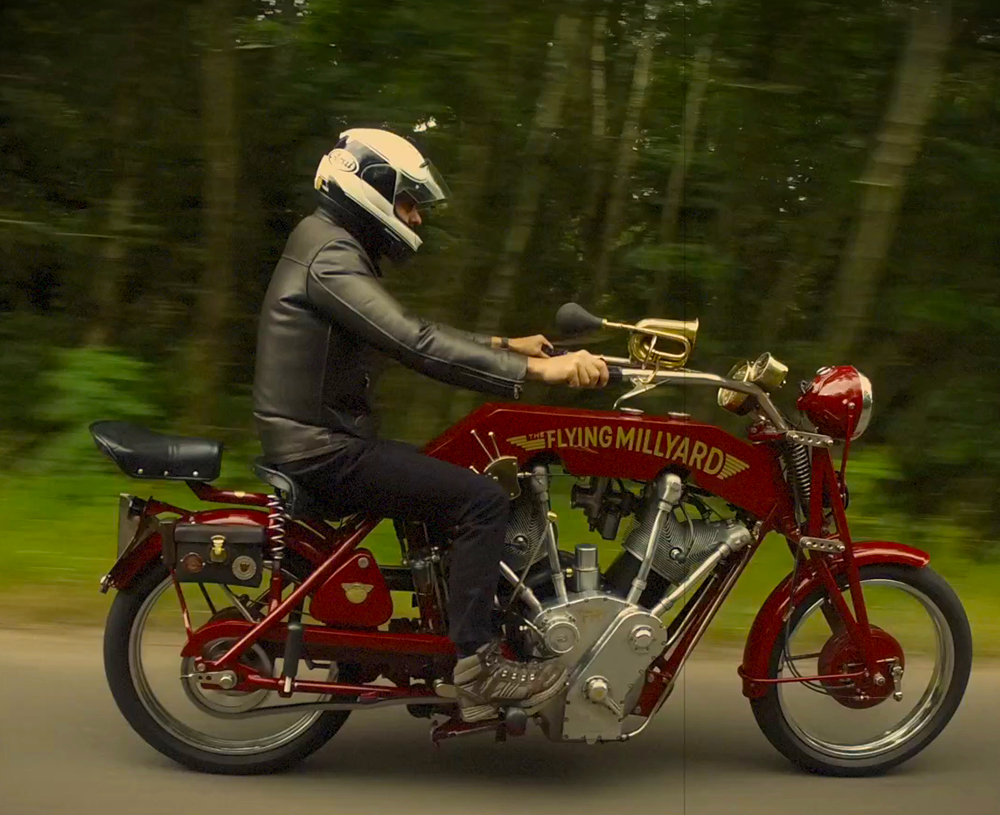 Allen Millyard is an artist
Allen Millyard is an artist at heart who builds working motorcycles that are art in the form of sculpture. They are as important as Damien Hirst's "Shark" set in formaldehyde and many more people have seen Allen's wonderful creations as the open road and motorcycle events are both his galleries. He has a highly popular Youtube channel with over 200,000 subscribers and is a regular on television in Henry Cole's The Motorbike Show and other shows of Henry's. He has become a celebrity but he is an artist at heart and should be recognised and respected as such.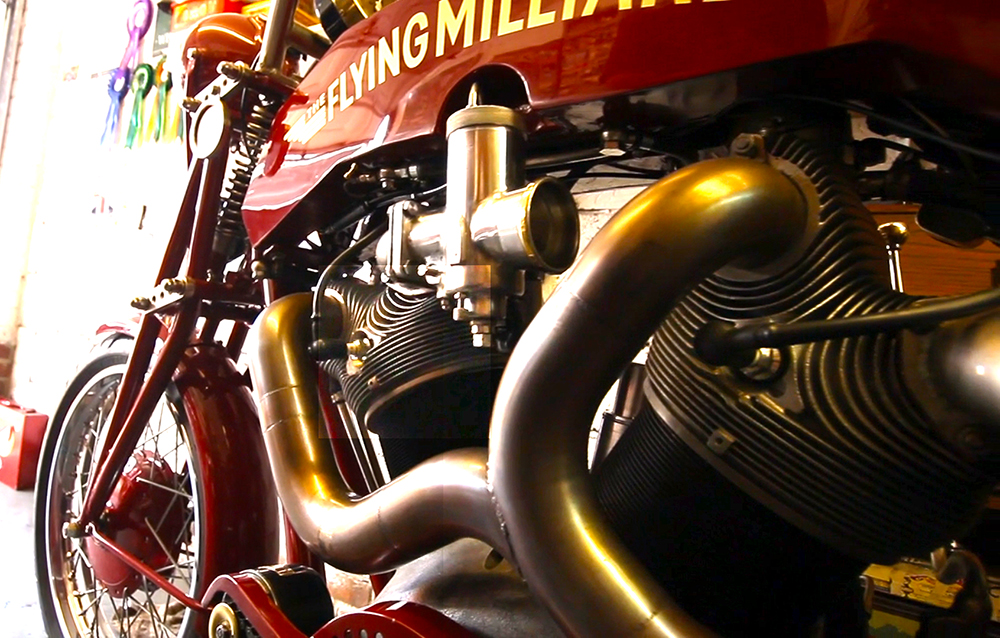 Incredible engineer
Allen is an incredible engineer, but he is so much more than that, he is a true artist who is driven to create his heart's desire at any given time. That urge changes over time with his moods. He's done the big engine motorcycles for now and, at the moment, he's into building medium capacity motorcycles with many more cylinders than they left the factory with. Every time he sells a motorcycle through me, a little bit of his heart breaks as each machine has a part of Allen in it, just like any artist's work has a part of them in it. No one knows what Allen will do next, because he doesn't know either. He just gets an uncontrollable urge to build a machine and then he works out how.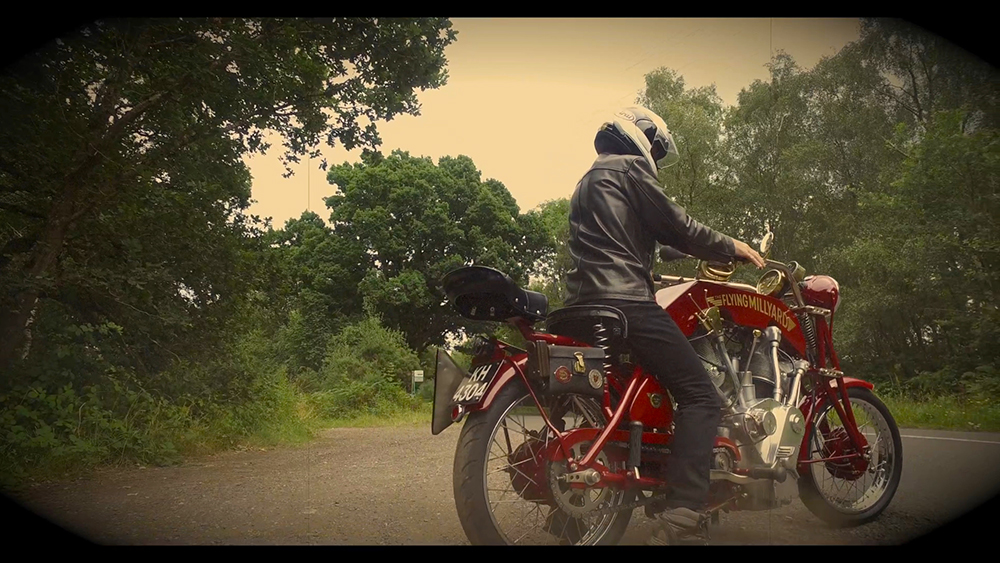 Dodge Viper motor
He told me how he bought the Dodge Viper motor and couldn't work out how to build it up into a motorcycle. He bought a pair of tyres, put the motor on a block in the centre of his miniscule garage and then propped the tyres up. He moved them nearer and farther from the motor until he realised he had got them in the right spot for front and rear wheel. He then realised he now knew how to build the entire bike, because he has this incredibly visual 3D mind and could see the entire bike from those three pieces of the bike. That is the work of an artist.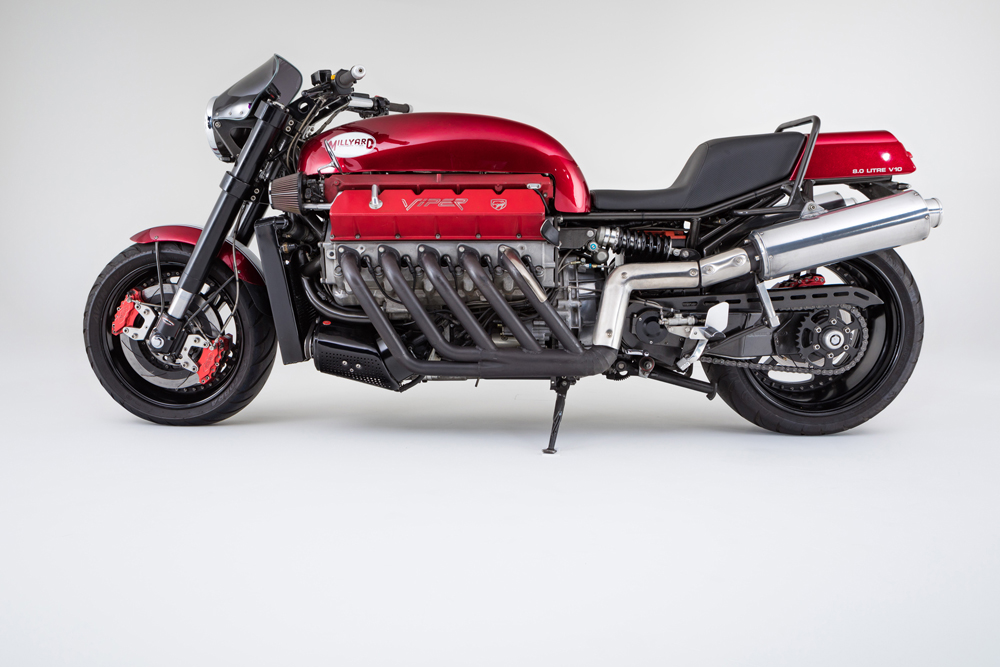 Allen Millyard
Although Allen Millyard is a remarkable engineer, he is far more than this and it's clear that his work is art. He finishes a motorcycle and then gets an urge to build another and he knows exactly what to build when the moment is right for him. He can be found riding his creations all over the country, riding them to shows and politely listening to, and answering, questions from all of the astounded bikers who come across him. It's now high time he's recognised by the art world for the creativity he expresses through two wheels.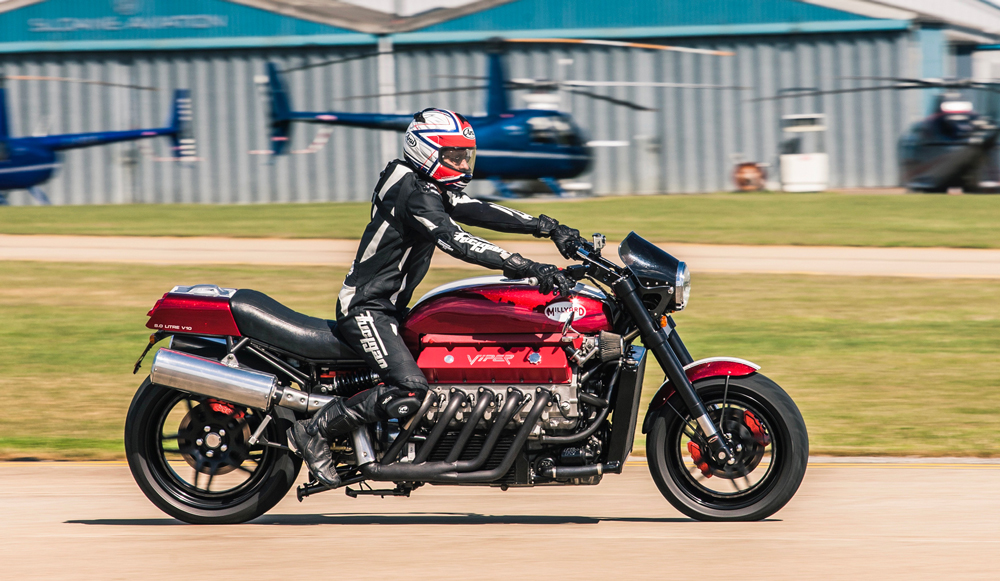 Damien Hirst
Damien Hirst started spin painting and sold some of these paintings for quite a sum, but he also painted the body work to a functioning Harley-Davidson Softail Crossbones. The bike was auctioned for charity on 23rd of April 2009, as you can see in this article here and you can see a picture of the bike. Spin painting is a fun way of applying paint by climbing a ladder and dropping paint onto a rotating canvas which is turned by a motor. Unfortunately there appears to be no way of finding out what this Harley sold for, and boy have I tried. There appears to be no public record of it, friends of friends work for Hirst and even they can't find out. It's almost as if the motorcycle never existed and perhaps it never got any bids? Could it be that some ultra, ultra high net worth who lives in a Bat Cave underneath Park Lane in London paid hundreds of millions of dollars for this one-off Hirst masterpiece which rotates on a Lazy Susan in his lair? Could it be that no one bought it, because there just wasn't any interest? Could it be that details won't be released for another 30 years because one of Boris Johnson's children bought it and gave his DNA? No one knows. Nevertheless, Damien Hirst did paint a Harley and no one knows what it sold for.
Andy Warhol
Andy Warhol appears to have started including motorcycles in his work some time in the mid 1980s. I've tried to research this further, but information is very difficult to come by. I have also tried to get permission to use his images, such as early work on The Last Supper, a motorcycle with sidecar screen print and a Honda CB750 Custom with the words "We ship worldwide credit cards accepted". He featured in a photo with two bikers on a chopper in 1981 on the West Side Highway. Right now, there is an exhibition of Warhol's art about cars at the Petersen Museum as you can see here. The exhibition features his own Rolls Royce which he couldn't drive and was chauffeured around New York City by his friends such as Mick Jagger, prints of Mercedes Benz he was commissioned to deliver by Mercedes themselves. Warhol also made a film called Biker Boy in 1967 which, although not a great success, clearly shows his interest and curiosity for motorcycles. I would love to know more about Warhol and motorcycles and will add images and further information as I can acquire it. In the meantime put a search of Andy Warhol motorcycles into images and you'll see plenty.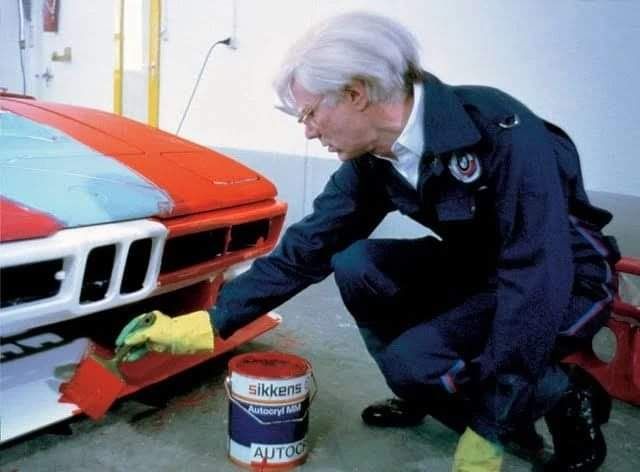 Jack Armstrong: artist
There are few artists with greater pull on the desire of art collectors than Jack Armstrong. He was friends with Andy Warhol, Jean Michel Basquiat and Keith Haring in the 1980s. He taught David Bowie and Michael Jackson to paint and his art has created its own style, Cosmic Extentionalism (or Cosmic X). His art has become the most expensive art in the world by a living artist and is hunted down by the greatest heavy weight art collectors. Jack Armstrong created and painted his Cosmic Starship Harley-Davidson twenty years after a conversation that inspired the idea with Andy Warhol himself, you can read a bit about the machine here where it is featured on Wikiart.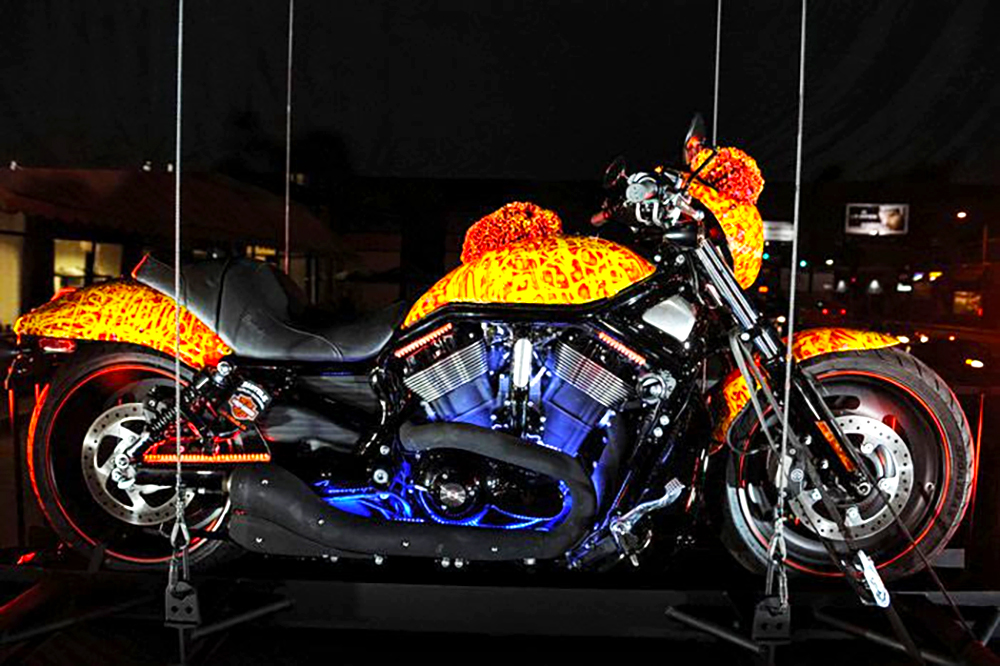 Cosmic Extensionalism
Cosmic Extensionalism, or Cosmic X, is a new and unique style of art created by Armstrong himself. What is Cosmic Extensionalism? How did Jack create this new way of expression? What does this have to do with motorcycles as art? Read on and have faith.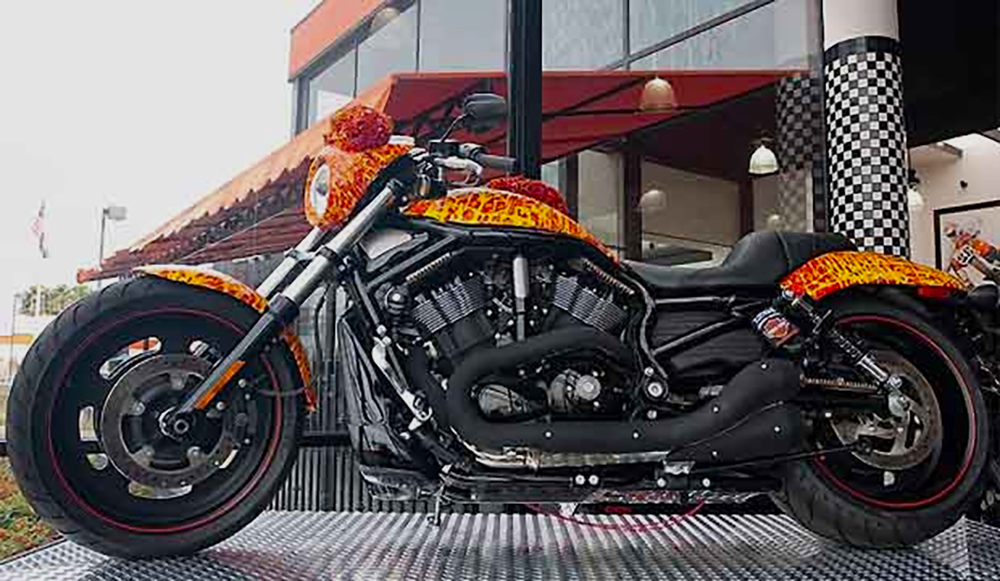 Phoenix rising from the ashes
A phoenix rising from the ashes of his own work, Jack founded Cosmic Extensionalism, or Cosmic X in 1999. He vowed to create a new style of art in 1994 when he repurchased all of his NYC art and burned it. Cosmic X is a genre of modern art created by Jack five years after he burned his previous works. He is the art while he creates it, it's about the loss of self/ego. This is evident in all spirituality, Buddhism teaches us that everything is one and nothing simultaneously. In ancient Greece acting was a spiritual practise, making actors revered at that time. The hyper real acting movement of The Method encourages the actor to transform into their character while playing the role. The art and the artist are one. As such, the viewer/perceiver of that art becomes the art and the art becomes the viewer/perceiver of that art. This is not some "spiritual waffle" just look at The Observer Effect where the existence of things changes when they're observed.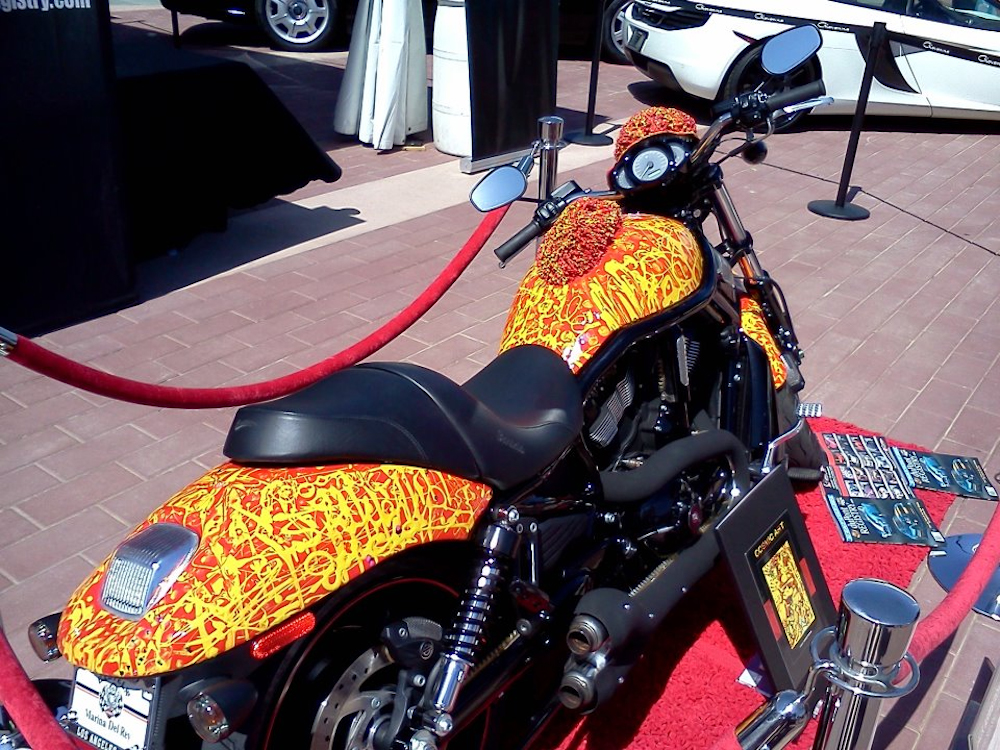 DNA provenance
Armstrong's DNA is present in every painting and object he creates. When you buy an Armstrong artwork, you are certainly also buying a piece of the artist himself. He will leave a piece of finger nail, hair, spit or finger prints present in all of his paintings and works. This gives Cosmic X art the ultimate provenance as it makes his work impossible to forge, unlike many other famous forgeries of art work, as you can see here. His Cosmic X series consists of only one hundred pieces and it's a conversation with the universe. He is the antithesis of Warhol's Factory which churned work out, as his work is a long process he undergoes for each individual piece. He is in dialogue with the universe and it expresses itself through him and his work. Many great artists, actors, writers, musicians explain their work as getting out of the way to channel something through them and this is clearly how Jack works.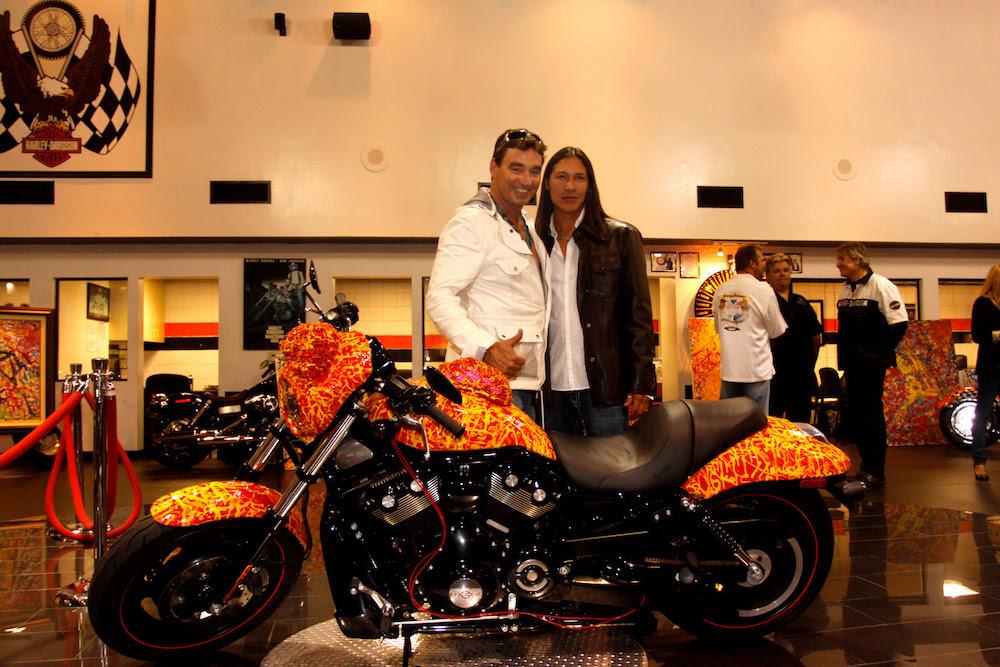 Cosmic Harley swapped for a high value painting
The Cosmic Harley was swapped for a high value painting by Jack himself. After the sale in 2012, Jack remained in contact with the owners of the Cosmic Harley. They had fallen in love with his art work and were especially keen on a painting he called Star Key #733. The painting was a $50,000,000 piece and Jack was wanting to bring the Cosmic Starship home again so he swapped the painting for his favourite sculpture and the prodigal artwork returned home to Jack Armstrong, as you can read in this article. I asked him why he swapped a $50,000,000 painting for the Cosmic Starship Harley-Davidson and he told me that it's the Mona Lisa of Motorcycles. He felt for such an iconic motorcycle, known in countries all over the world, he wanted it to be on display in a private collection or to be seen by the public. The Cosmic Starship had the bodywork removed and had been languishing in a vault for ten years and Jack couldn't bear it not being on display. He said, "How can the Mona Lisa of motorcycles not be displayed?"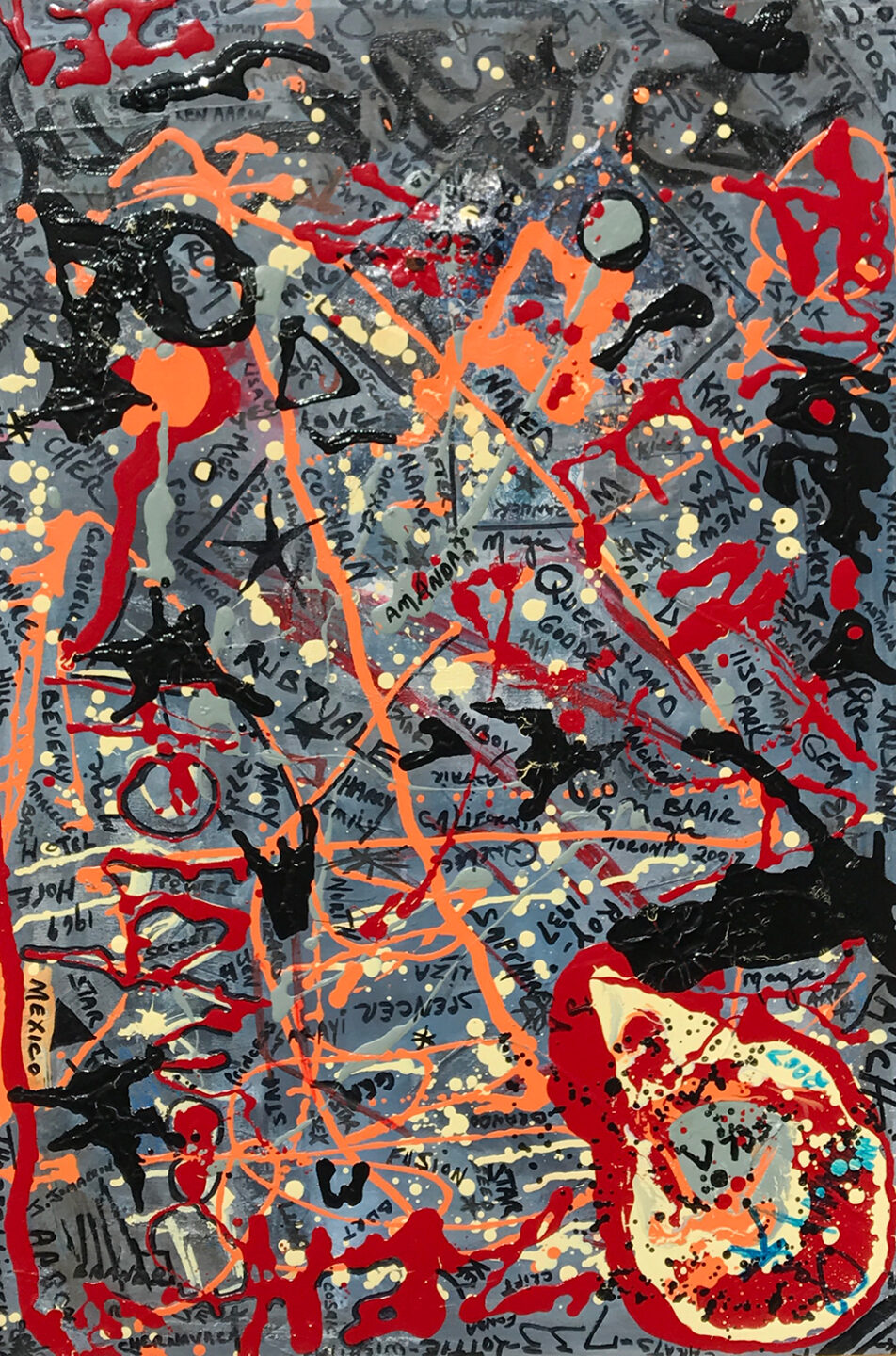 First
Jack Armstrong is the first artist to have been involved in a two year Digital Retrospective of his work on giant screens in Times Square NYC, shown every fifteen minutes, twenty four hours a day between 2018 and 2020. After seeing Armstrong's work in the Digital Retrospective Jack Ma, founder of Alibaba, commissioned an unnamed painting for US$90,000,000. He also bought another painting called The Cosmic Firebird for US$30,000,000. One of the richest women in the world, Alice Walton daughter of Sam Walton the founder of Walmart, owns two Armstrong pieces valued at $50,000,000 each. There is no other artist alive who fires up art collectors like Jack Armstrong, everything he touches attracts collectors who want a piece of him.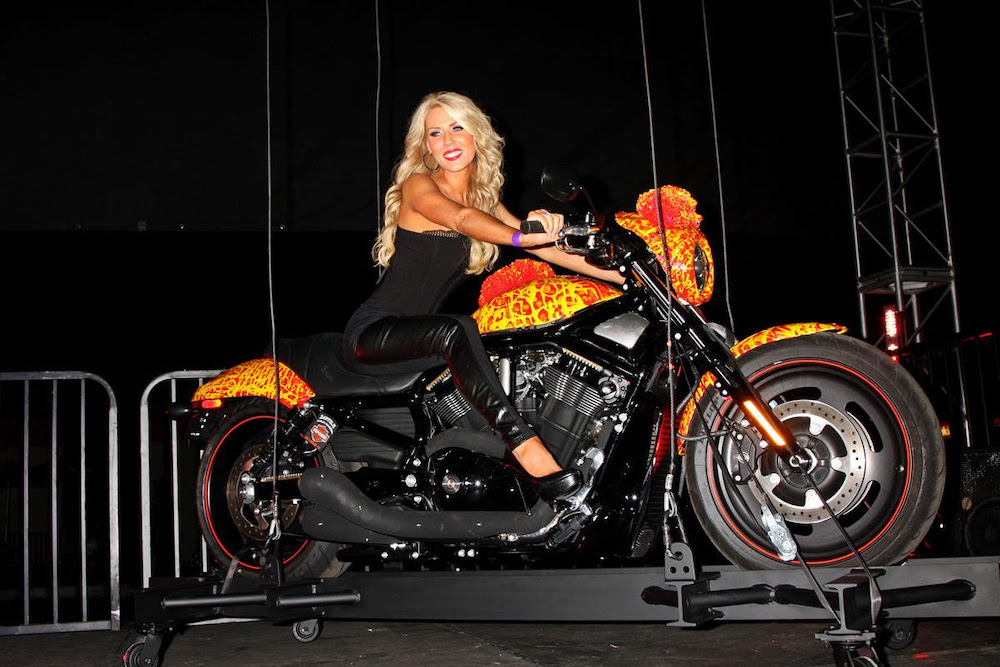 Unusual media
No other artist has expressed themselves on such unusual media as, cowboy boots, a bicycle and now a Harley-Davidson V Rod. These works are unique and are strolling, cycling and rolling thunder works of art. These are the rarest Jack Armstrong works of art as they are 3D objects with a purpose and not just a painting, but a painting all the same as the objects are his canvas. Jack's work speaks to collectors and his personality matches his work. He is out there sharing his work at every turn and making the world take notice because he has something to say.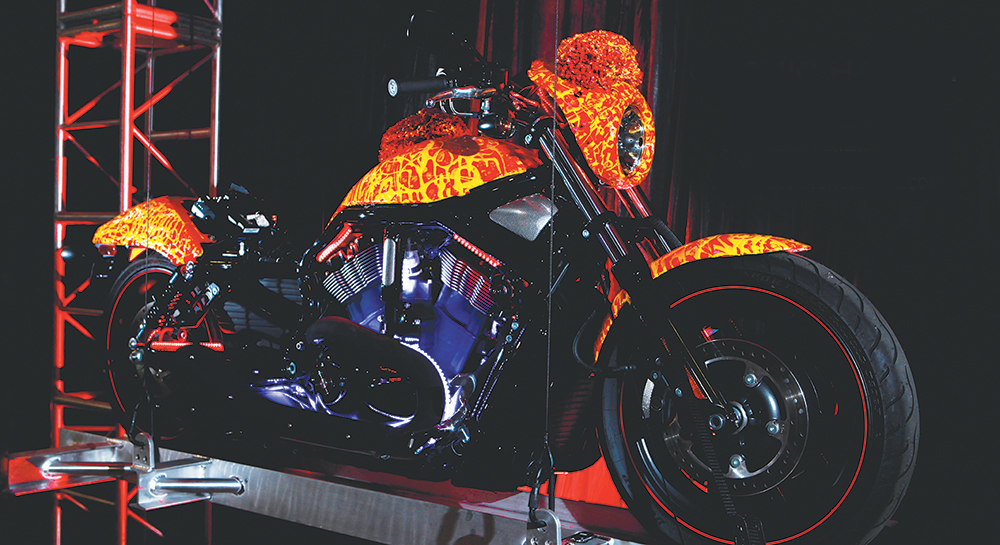 Most famous example of the motorcycle as art
Clearly, the Cosmic Starship Harley-Davidson is the most famous example of the motorcycle as art. This piece has been featured worldwide in many, many publications in South America, all over Europe, the USA and the Arab nations. The bike was featured in The Life of Luxury and on the cover of Ultimate Motorcycling, which was formerly The Rob Report. Even Damien Hirst, it seems, could not achieve anything close to the US$3,000,000 Jack Armstrong achieved in 2012, which makes this the most expensive example of the motorcycle as art. Armstrong's tenacity to do business his way, without using art dealers or auction houses, only working directly with buyers seems to have paid off. Armstrong is a brilliant self publicist who always gravitates towards the least ignorable route to publicity, as you can see in this short video of his launching of the Cosmic Starship Harley-Davidson. It assures the buyer that they are buying a genuine piece from the artist and he issues a certificate to prove the provenance. The motorcycle is entered on the Dupont registry and is registered through a US title to the artist and has recently been featured on the front cover of Ultimate Motorcycling here.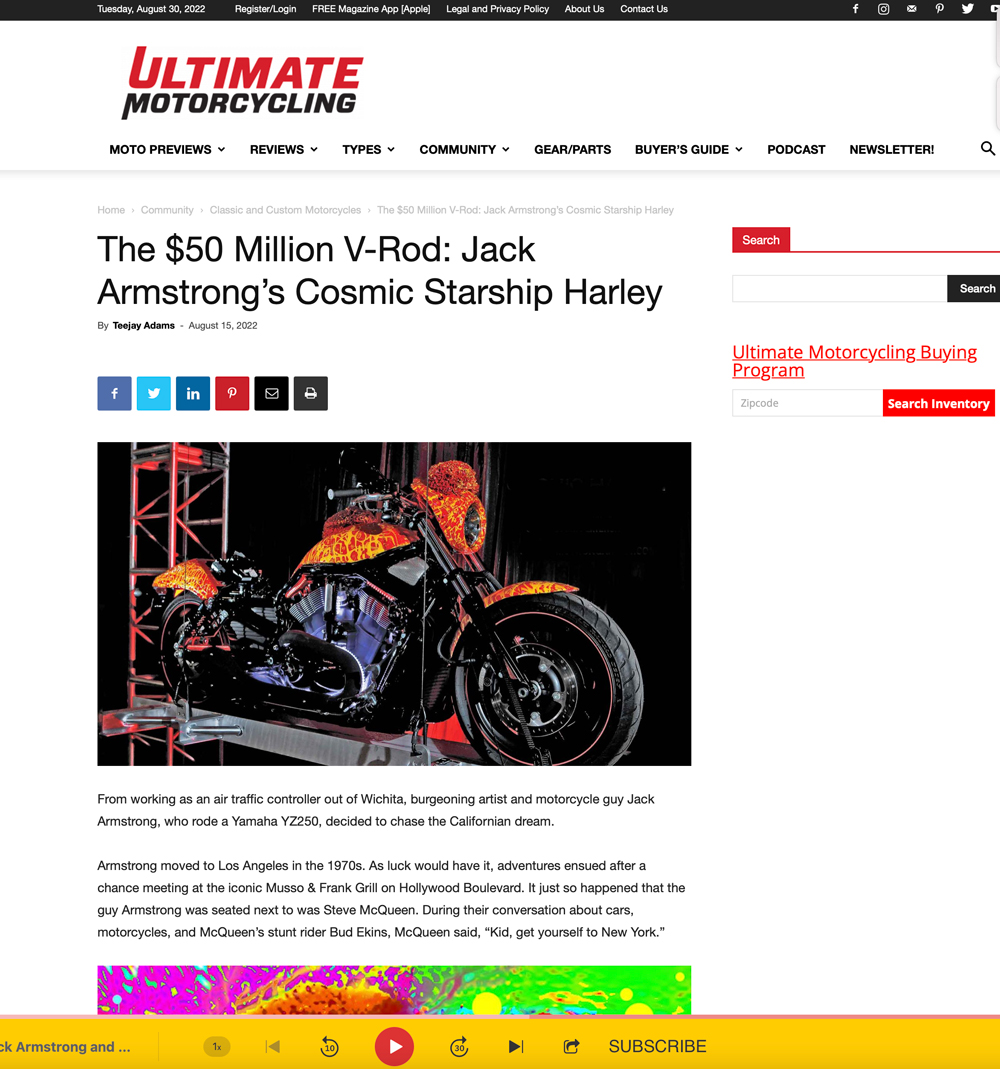 Warhol connection
The Warhol connection is well documented and Armstrong used to ride his Harley-Davidson around New York with Warhol on the back in the mid 1980s. During this spell, Warhol was producing a lot of work featuring motorcycles, they seemed to be springing up at every opportunity in his work and consciousness. After a ride through the city Warhol asked Jack what he was going to do and he replied that he was going to make a million dollar Harley. Warhol replied that Jack is the last wizard of art and Warhol's words became one of his iconic paintings. Only twenty odd years later did Jack bring that dream into reality by creating the Cosmic Starship custom Harley-Davidson motorcycle. It was always conceived as a space craft, something moving through the universe and it became his canvas. It's as much a piece of art as his paintings are which sell for over US$100,000,000 except it is the only motorcycle he has ever painted. Warhol bestowed the last wizard of art title on Jack Armstrong because he respected him and he respected Jack's work.
Andy Warhol's soup can and Jack Armstrong's Harley-Davidson
Andy Warhol's soup can and Jack Armstrong's Harley-Davidson have a lot in common. You can see in this article in The Huffington Post This Harley-Davidson is Jack Armstrong's Campbell's soup can, it's his canvas and his painting that rides and rolls. No other living artist has lit up the world with such a real and yet ethereal piece of work as the Cosmic Starship Harley. It is the realisation and manifestation of a dream that came directly from a conversation with Andy Warhol himself. As Freud said, "Only the realisation of a childhood dream can bring happiness". I'm sure Jack Armstrong doesn't care whether the Cosmic Starship is a childhood or adult dream he realised, it's the realisation of a dream. Whoever owns this piece of Armstrong is buying the realisation of a dream cooked up directly from a conversation with Andy Warhol. In the interview below I speak to Jack Armstrong, The Last Wizard of Art, about Warhol and the inspiration for this Cosmic Starship Harley-Davidson.
Jack Armstrong interview
In our third interview with the artist, Jack Armstrong below, he tells us how the Cosmic Starship Harley-Davidson came about from a conversation with Andy Warhol. In these interviews he tells use tells us how the dream of creating this art work took twenty five years to realise. He also elects The Motorcycle Broker to accept offers for this piece of work. We hope you enjoy these interviews, the second Jack tells us about the great times he enjoyed with his friends Warhol and Basquiat as well as others..
Armstrong sets his own values
Armstrong sets his own values for his paintings, as he doesn't really use dealers or exhibit as such. In 1984 he turned down the opportunity of a solo show of his works offered to him by the renowned art dealer Leo Castelli, the most powerful art dealer in NYC https://www.newyorker.com/magazine/2010/06/07/leo-the-lion . I'd love to know how and why that happened. He has always represented himself and set the values of his work himself. Setting these values himself, rather than being told what they're worth, is entirely faithful to the Cosmic X mindset. Jack Armstrong clearly dances to his own tune and trusts his work like no other living artist trusts their own work. Or is he trusting the universal presence he experiences when he works?
What is Cosmic Extensionalism?
What is Cosmic Extensionalism, or Cosmic X? It is a new style of art which was originally founded by Jack Armstrong himself. He was inspired by an ethereal experience he had with the famous gem stone known as the Black Star Sapphire of Queensland The stone is believed to have magical powers. At the time he destroyed all of his previous works. Cosmic X is a genre of modern art styles, as are the famous genres of "Cubism" by Picasso or "Pop Art" by Andy Warhol. It was originally founded as an organic art movement and is singular by comparison. Cosmic X requires the artist to become the art itself. This requires a unique state of mind to be reached, connecting to a universal presence which Armstrong believes exists in each being. It is this connection which creates the art, not the artist.
Most expensive paintings by a living artist
Jack Armstrong produces the most expensive paintings by a living artist, as you can see in this article here. His Cosmic Starship Harley-Davidson certainly represents the most expensive Harley-Davidson ever sold when it went for US$3,000,000 in 2012. However, Jack's art has seriously increased in value since then. This Harley is a rolling Jack Armstrong painting and is unique, there's nothing else like it in the world. Perhaps had Warhol had the inspiration to have made a motorcycle a rolling painting, he'd have sold the world's most expensive motorcycle which would be setting bench mark values today. Jack Armstrong beat him to it, making him The Last Wizard of Art.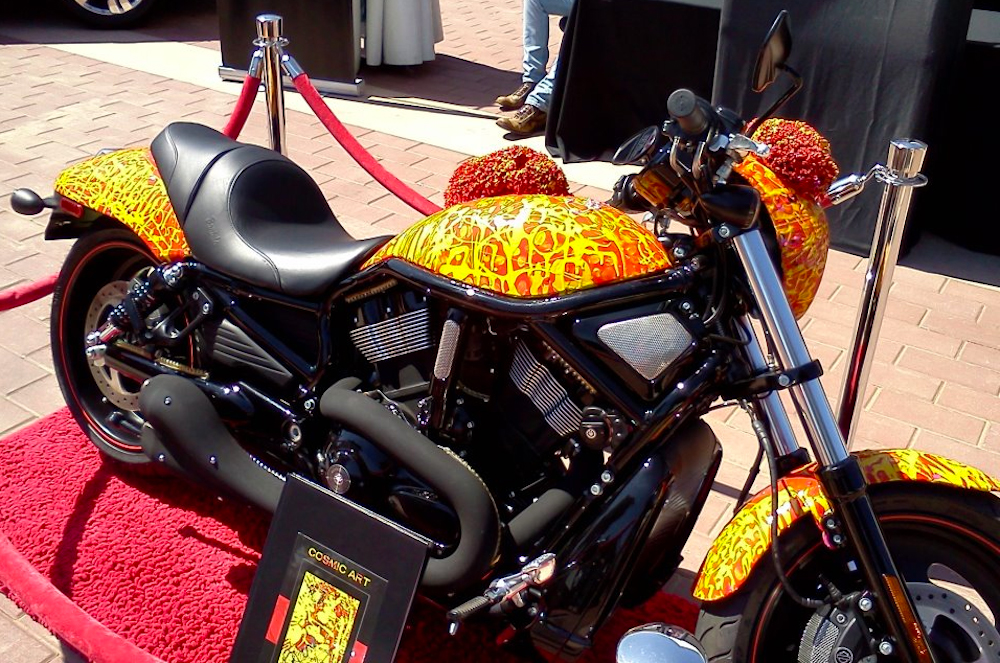 Rolling Jack Armstrong painting
This is a rolling Jack Armstrong painting and also a sculpture that rides. Jack opted to keep the Harley-Davidson V-Rod standard, because his work is enough, there is no other rolling Jack Armstrong painting in the world. Customising the machine further only complicates things if the owner wants to ride the motorcycle, like a giant sculpture that doubles as a rolling art gallery. It's like Andy Warhol painting your car, what value would that have today? Warhol did in fact paint some BMWs in the late 1970s which competed at Le Mans and now reside in the BMW museum, if they wanted to realise their true value they would have to raise their profile a bit, but they have a value that is nothing to do with the cars to a Warhol collector. If Warhol had painted a car that's for sale, or a motorcycle, what value would they have today. Would either one sell for more than his US$195 Million "Marilyn" painting here?
The Motorcycle as Art
Here are a few examples of what we believe the Motorcycle as art is about. As far as we are concerned, these mostly older machines have something above function in the way they're presented. Why did Ducati make the round case motor so beautiful when it would have been much cheaper to have made it look like an ugly block? Because the designers had a sense of the aesthetic and it was about form and function. This is something that has been, arguably, lost in design today where function triumphs over form. Below are examples of motorcycles that we believe are functioning demonstrations of The Motorcycle as Art. We hope you enjoy these images, many were taken during extensive road testing machines we have supplied prior to delivery.