The Brough Superior 11.50 saved the famous brand from an early demise. The great depression ran between 1929 and 1932 in Britain and luxury motorcycles were not at the forefront of anybody's mind. About 30% of Brough's machines went for export and the UK market just wasn't thinking about buying the Rolls Royce of motorcycles. George Brough needed to secure some industrial contracts and the police were who he targeted. He used the depression as leverage to negotiate a great deal to secure supply of John Alfred Prestwich's new 1100 cc side valve motor. The 50 in the 11.50 title referred to the overly optimistic horse power. These were great motors for powering a sidecar outfit which made it popular for use by the police or for families who could no longer run a car.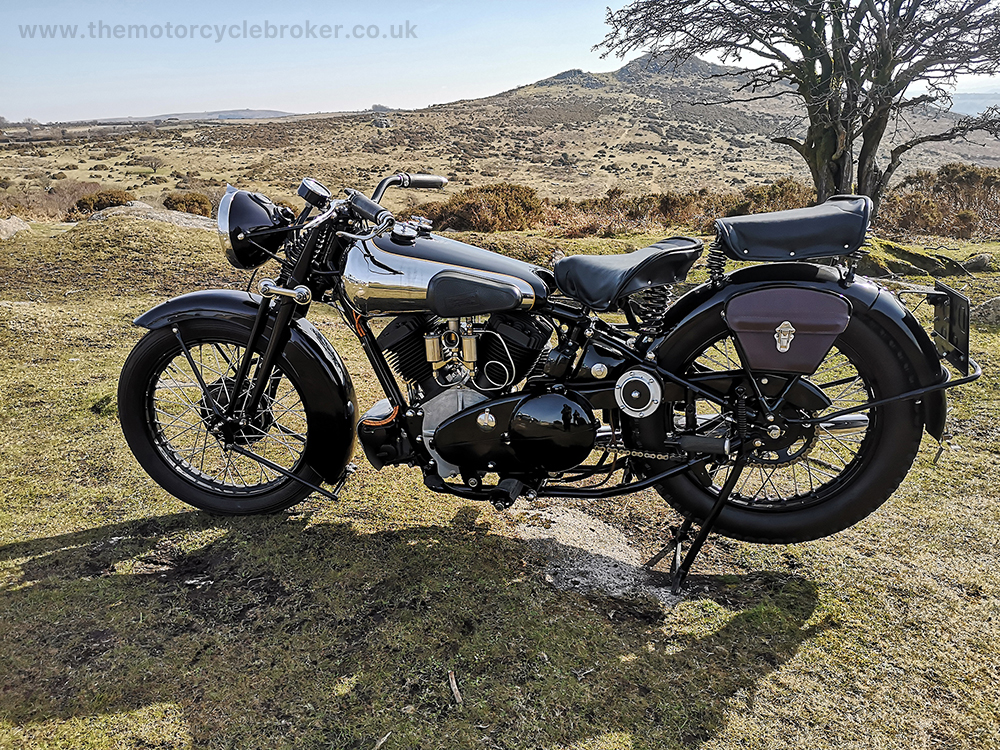 Rare British motorcycle
The Brough Superior 11.50 is a rare British motorcycle, as only 308 were ever built. Brough only made 283 of their iconic SS100, which makes this an under the radar Brough Superior. These machines came with their soldered together, hand beaten petrol tanks, just like the SS100. There was the choice of rear suspension or hardtail frame and most of the police machines were attached to an enclosed sidecar. This example we sourced for our client was originally supplied to Sheffield police with a sidecar in 1937 with three other identical machines. When classic motorcycle buyers think of Brough they usually think of the SS100 or the SS80, but the Brough Superior 11.50 is a rare British vintage motorcycle indeed and is worth a look.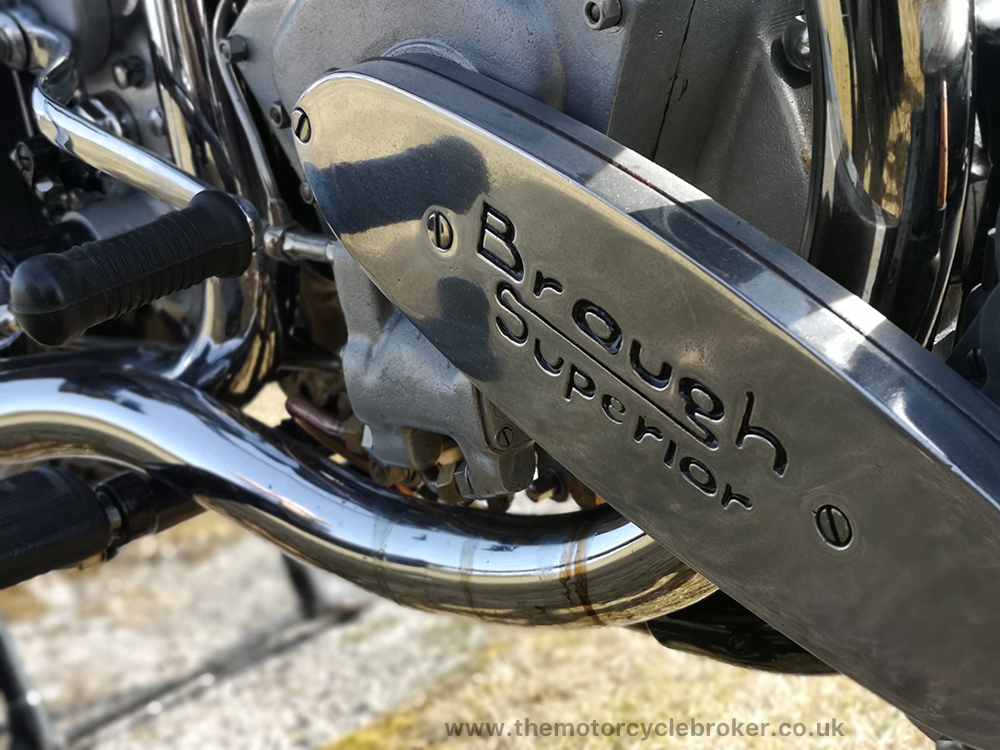 Documented history
This Brough Superior 11.50 has more documented history than any other example we have ever come across. No one knows when Sheffield police de-commissioned it, but it was bought by a gentleman who worked for George Brough and was also a friend of his, in the 1950s. It has factory records and retains the original motor and so many of the original parts that cannot be sourced today. As good fortune would have it, we exhibited the motorcycle at the 2022 October Stafford show where it was awarded 3rd for the best British motorcycle built before 1960. While we were displaying the machine an 89 year old gentleman came up to me and showed me a black and white picture with himself by the bike. He told me that he was the owner between the 1950s and 1961 when sold it for £15. He was the friend who George Brough who worked for him, so the history has been really filled out by a complete coincidence.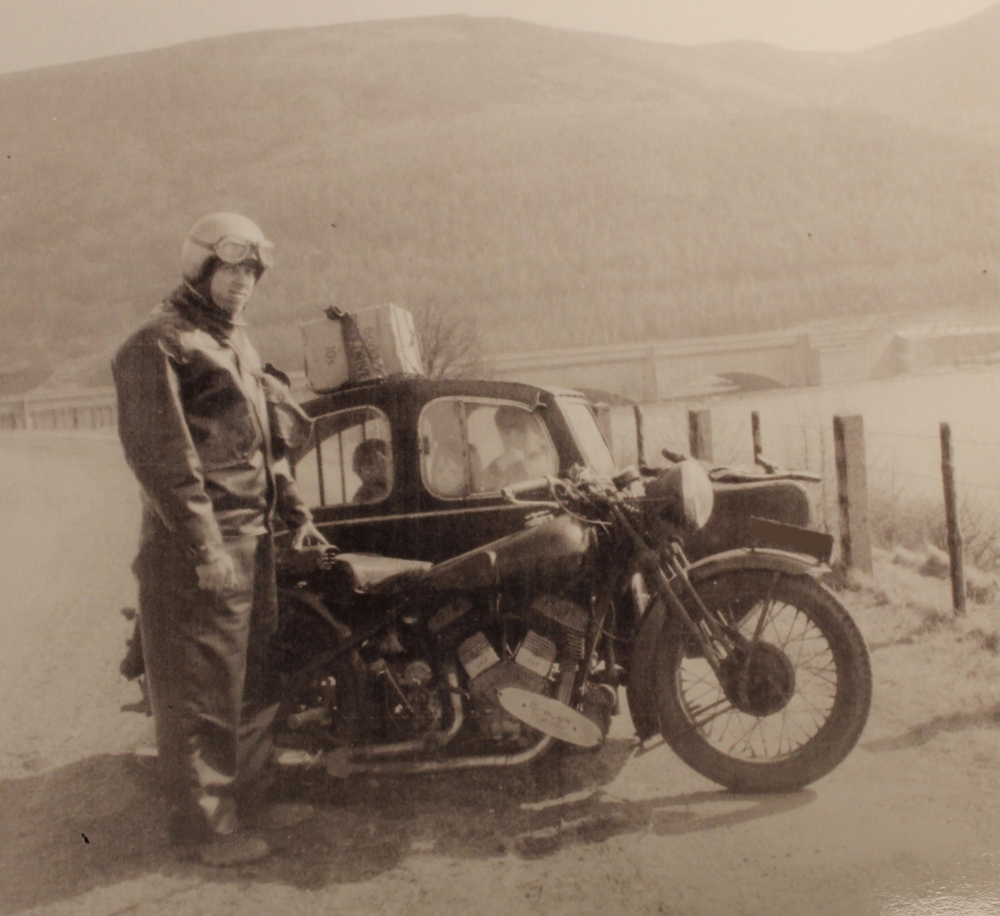 Riding the Brough today
Riding the Brough today is quite a mixed experience in truth. It starts easily from the kick start, due to the low compression, and delivers an almost steam train chuffing sound. The cloud of white smoke that accompanies the symphony also invokes images of steam trains. After a minute or two the smoke calms and the chuffing continues with the mechanical sound decreasing as everything expands. These machines were built for when there was practically no other traffic at all on the road, so brakes were just not that important. On today's roads the lack of an effective front brake makes the Brough seriously challenging to ride. The rear brake does help, along with the engine braking, but riding anywhere that you need to reduce speed quickly is more than scary. The big side valve motor is a complete joy to ride and the Brough Superior certainly has that Rolls Royce feel, especially with the luxurious sprung saddle. However, riding these machines anywhere in modern traffic is a serious challenge, until you hit somewhere like the deserted small roads of Dartmoor is hard work, challenging requires insanely large braking distances.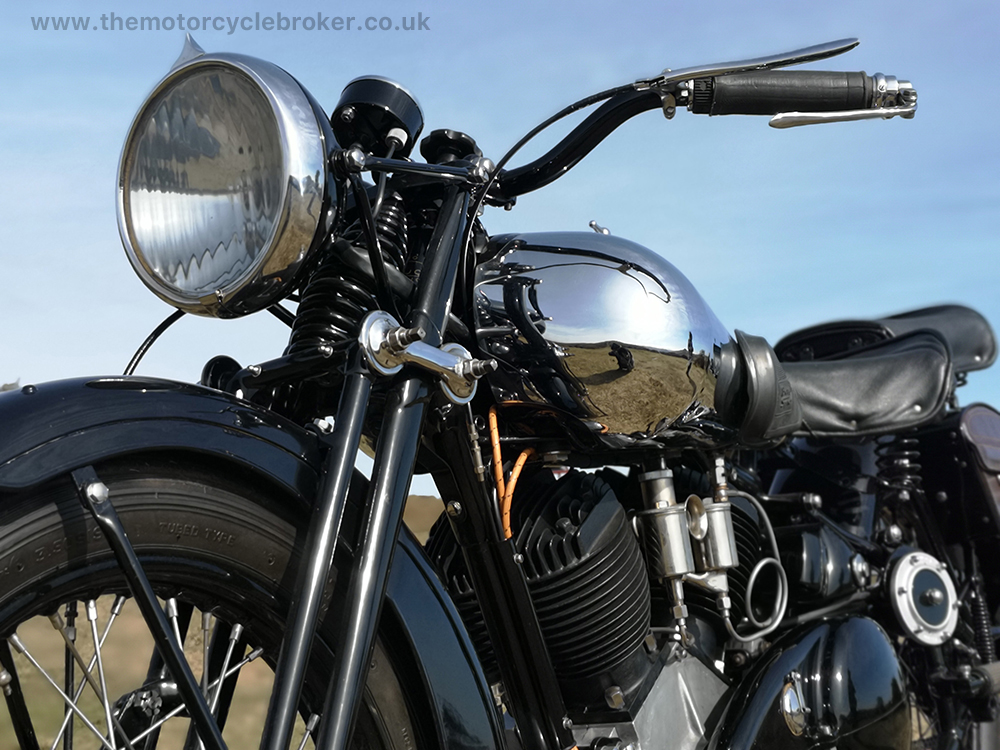 Rolls Royce of motorcycles
The Brough Superior certainly is the Rolls Royce of motorcycles, certainly for its time. There are luxurious touches all over the machine, like that hand beaten petrol tank with shaped scallops which would have taken an age to make. The neat saddle bags look perfect and the top of the headlamp bezel are all things of beauty and elegance which serve no motorcycling purpose. The machine glides along with the dignity of The Flying Scotsman and turns effortlessly with such a low centre of gravity. Getting it on the stand is definitely always a two-man job, so these machines would have been leant against a wall when parked up after being ridden solo in their heyday. Both sprung saddles make all day riding a pleasure, rather than a pain and contrast starkly the modern sports motorcycle of today. Everywhere you cast your eye over this motorcycle there are little details which just scream out luxury, even down to the rear light built into the rear number plate.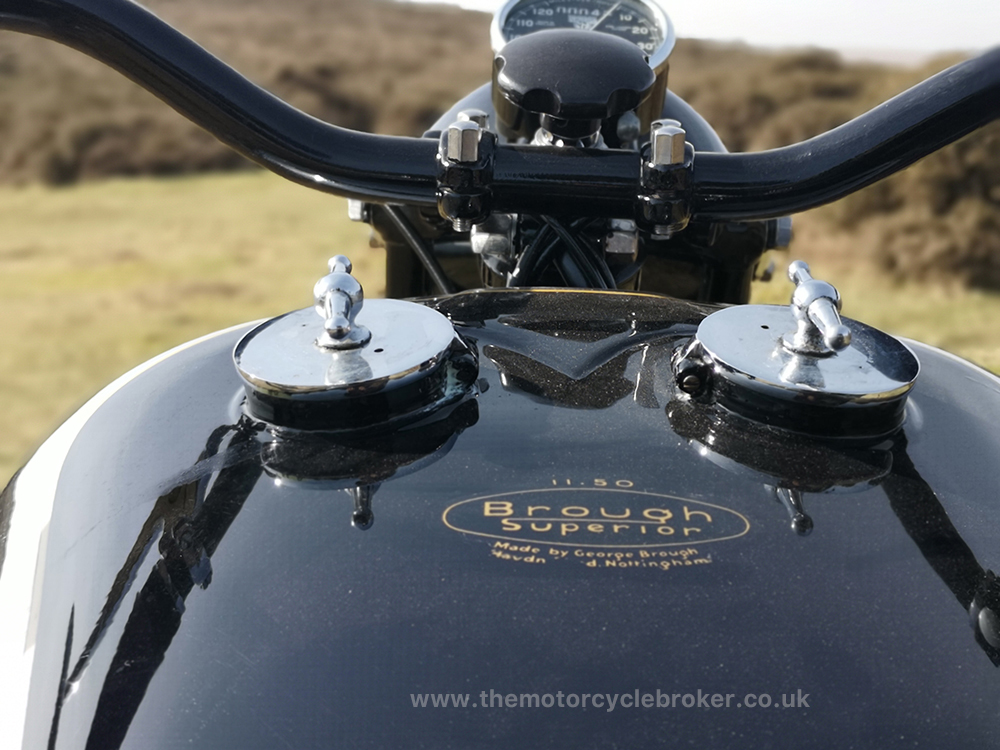 Brough 11.50 is a superior investment
The Brough 11.50 is a superior investment because it is not yet so well known as the SS80 or the SS100, so prices are still quite low for a very rare Brough with a very large motor. These machines are very rarely ridden today because of their value and because they're challenging to ride on modern roads with modern volumes of traffic. There are riders in the owner's club who ride to France and back and thoroughly enjoy themselves. However, navigating the M25, the home counties, any town or city may be a great challenge, but it certainly won't be enjoyable for anyone which is not partial to some level of masochism. Our roads have transformed into places which are now relatively hostile to slow, lumbering old vehicles apart from our more remote beauty spots where machines like the Brough really do deliver great joy. In today's upsidedown world the Brough brings some right way up common sense and delivers incredible profits that you can rely on. If you are interested in finding an investment grade Brough Superior vintage motorcycle, contact The Motorcycle Broker.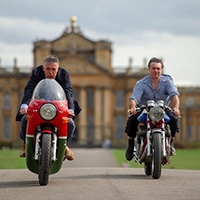 Latest posts by Paul Jayson
(see all)