Investing in a Ducati 916 SP or 996 SPS is a wise move, especially now. Here are some classic motorcycle investment hard facts and data. When Ducati released the 916 Strada in 1994, the world of motorcycling was rocked to its core. Suddenly the ripped up rule book was set on fire and trodden into the dirt by the Italians. The Strada was the Monoposto standard machine and customers were going to have to wait to get the very limited edition SP (Sport Production) model. I was working in the grey market sourcing these machines, at that time. Stradas were retailing at £12,000 (a new Fireblade was around £8,500 if memory serves me correctly). If you could find a 916 SP, which no one could, they were reputed to be £15,000. We sold these 916s faster than we could buy them, back in 1994, and demand for the elusive SP was insatiable as well.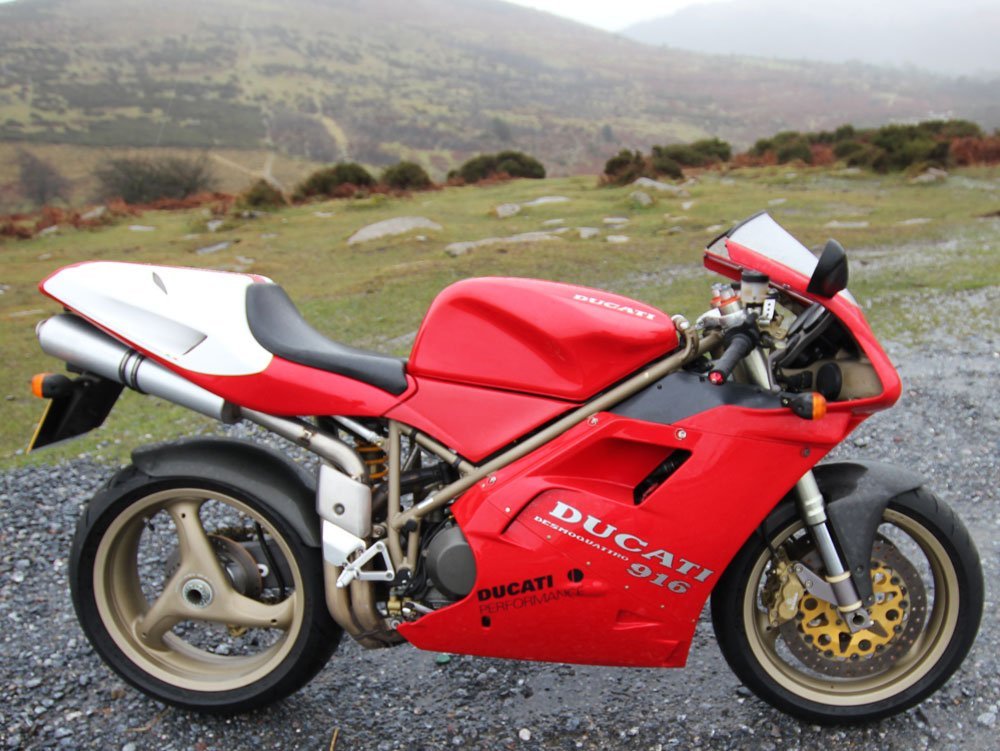 The motorcycle as art
What made these machines stand out, apart from the revolutionary styling, was their immense handling and the way the power could all be put onto the tarmac while exiting most corners. The 916 won the World Superbike series several times, piloted by Carl Fogarty in iconic style. In 1998 it was centre stage in the art exhibition, The Art of the Motorcycle, at the New York Guggenheim. Racing heritage, iconic wins, the underdog prevailing against the might of giant Japanese motorcycle factories AND featured as art at the Guggenheim? What more heritage could a classic motorcycle want?
Masterful design
The design of these machines was truly eye-popping. With under-seat exhausts, a small frontal area, with two small lights, a single sided swing arm and grills. Grills in places never seen on a sports bike before. Grills either side of, and below, the super-stylish headlights. Real cooling grills in the rear seat unit, which had a touch of the Ferrari F40 about it. The styling of this motorcycle just doesn't age and is just seminal. The Ducati 916 SP and 996 SPS are the Ferrari F40s of the classic motorcycle world.
Investment grade 916 SPs are incredibly rare
In 1994 only 310 916 SPs were produced. They were not numbered on the fork yoke at this point, but they had two injectors per cylinder, instead of one, an Ohlins shock, a few carbon fibre parts (if you were lucky) and many trick motor internals. Very few SPs made it to the public, in '94, '95 and '96, as so many were bought up by race teams. They were raced, destroyed and modified beyond recognition. So the first of the three SP series is a very rare bike indeed today. The total number of the 916cc motored machines, over the first three years of production, was just 1198 machines. To put that in perspective, Ferrari produced just 1,315 F40s, making the first three series of the 916 SP rarer than an F40.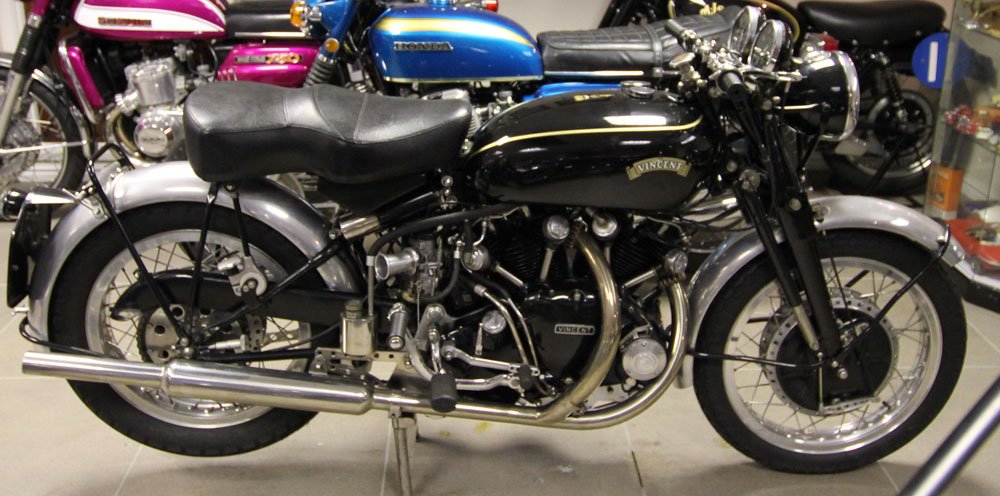 Ducati 996 SPS rarer than a Vincent Black Shadow
1997 saw the introduction of the 916 SPS, with the 996cc motor, and Bologna produced 908 pieces for 1997 and 98. Of those 916 SPSs, they built 202 Foggy Replicas. The Foggy Replica has performed very well in the UK, but there is no real appetite for them anywhere else in the world, as they were only imported to the UK and are not known about elsewhere. The Foggy is now confined to a very small and parochial market compared to other models, which can create instability with prices. If one dealer has a couple of these machines then prices will drop if that dealer decides to dump out of stock. There is no export market for this motorcycle if the UK hits hard times. But other than that it is a very rare and desirable motorcycle, if it has everything it left the factory with. Between 1999 and 2000 the new 996 SPS arrived on the scene and Ducati produced 1780 units in total. To give you an idea of how few units that is, Vincent produced more Black Shadows than Ducati made 996 SPSs. There was 150 SP2s built, a budget version of the SPS for the German market, and a few other obscure versions. In total Ducati built 4980 of both the 916 and 996 SP/S.
Under-valued investment
Back in 2008 I was buying 916 SPs for £5,000. Now, proper investment grade examples are five times that. But compare that to the scarcity of an F40 and take into account that there are probably less than 500 investment grade examples left from the three year production run and you can see how these quintessential motorcycles are severely under-valued.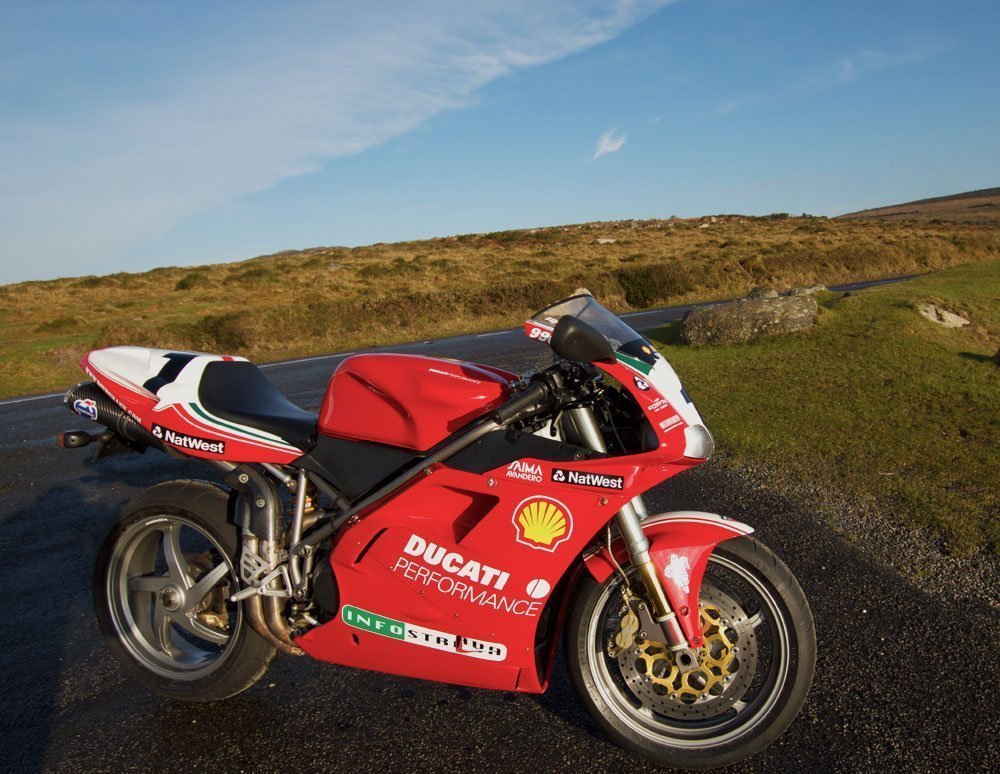 The investment to watch
Proper Foggy Replicas seem to have climbed to the top of the pile price wise, reaching up to £40,000. There are only a handful of genuine new machines which have sold for significantly more than £40,000. But the first series Factory Replica is a rarer machine, with just 150 bikes produced. These are a little less expensive, for now, but they will be one of the most expensive of the SPS series. Why? Because it is the correct specification for the worldwide market and they are one of the rarest of the 916/996 SPS series. They are also known about globally because they were distributed throughout the rest of the world, unlike the Foggy Rep. However, like the Foggy Rep, it is essential that they have all the little pieces they left the factory with. If you can find a complete Series 1 Factory Replica, then you will have sound something very special which will appreciate beautifully. Of the SP series, these are the ones to watch.
916/996 SP/S value increases
Investing in the 916 and 996 SP/S ranges has already proved to be a wise move. There is now more upward pressure on prices for such investment grade classic motorcycles. Prices have climbed steadily for nine years and then took a breather for two years, for both the 916 and 996 SP/S. They're now celebrating their 25th anniversary and have had their two years of rest. Now is the time to buy a great example of one of these historic classics. Prices will start increasing heavily over the coming years, especially in light of all the classic car collectors who are turning to collecting motorcycles. If you've thought about owning one of these machines, then now is the time to buy.
Now is the time to invest in a 916 or 996 SP/S
Investing in a 916 or 996 SP/S is clearly a wise move and timely. To find an investment grade Ducati 916/996 SP/S call The Motorcycle Broker. Only the top 8% of machines are proving to be investment grade. We have a Ducati 916 SP for sale here and a Ducati 996 SPS Series 1 Factory Replica for sale here.
You can read a more detailed and in depth version of this article, with far more detail when you buy the February 2020 issue of Classic Motorcycle Mechanics from your local newsagent.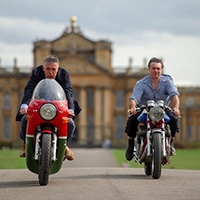 Latest posts by Paul Jayson
(see all)