Allen Millyard's Kawasaki H2 1000 road test is an absolute delight to write. I grin from ear to ear, clutching a thesaurus to work out if there are sufficient superlatives. Allen Millyard built this particular Kawasaki H2 four cylinder 1000cc two stroke in 2016. He used it as his own personal motorcycle until summer 2020 and decided to sell this particular motorcycle. At The Motorcycle Broker we've known Allen Millyard for a few years and our reputation for selling vintage motorcycles, complete motorcycle collections and high value motorcycles was not news to him. We discreetly found a buyer without fuss and made the purchase on behalf of our client. The new owner is delighted with his motorcycle and was thrilled when we asked him if we could do a road, so you can see the video road test of the Millyard 1000 here. But this is the written road test for you to enjoy. If you would also like to see the video road test of this stunning motorcycle, then go to our video page and it's the first road test in the top left hand column.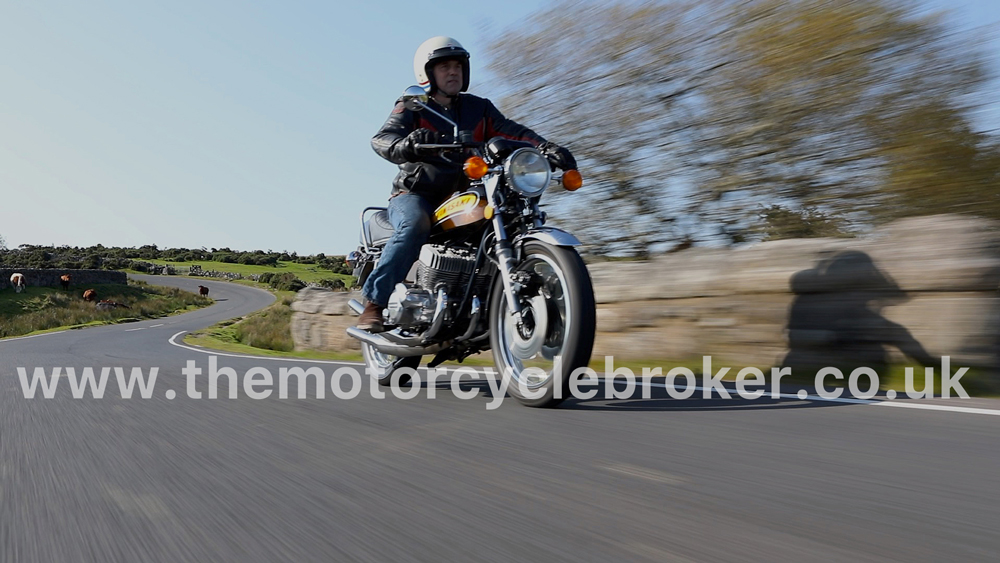 Allen Millyard hand built motorcycles
Allen Millyard hand built motorcycles are really, seriously, properly hand built. This is not his business, it's his passion, so you can't commission him to build you a motorcycle. He doesn't use CAD, doesn't draw anything, he just sees it in his mind and builds it. He cuts the crankcases with hack saw, by hand. Heats the crank cases in his gas barbecue, Makes a jig and welds the cases together. On this motorcycle he cut the cases half way through cylinder number one. He cut another set of cases half way through cylinder two and welded them together. So one and a half and two and a half make four. He then dresses his handy work beautifully, so you can't see any kind of join. In his garage, which is only the size of a family car he has a lathe, a pillar drill and a milling machine. All of his tools were bought from a school during a government asset strip, so they're old. He has an array of beautiful old hand files and a tape measure. That's how he builds his incredible creations. He has a three dimensional imagination and once he can see it in his mind, then he sets to work building it. He just gets on with it. You can see a video interview with Allen Millyard in the Millyard section about half way down the page on this page I recorded in 2016.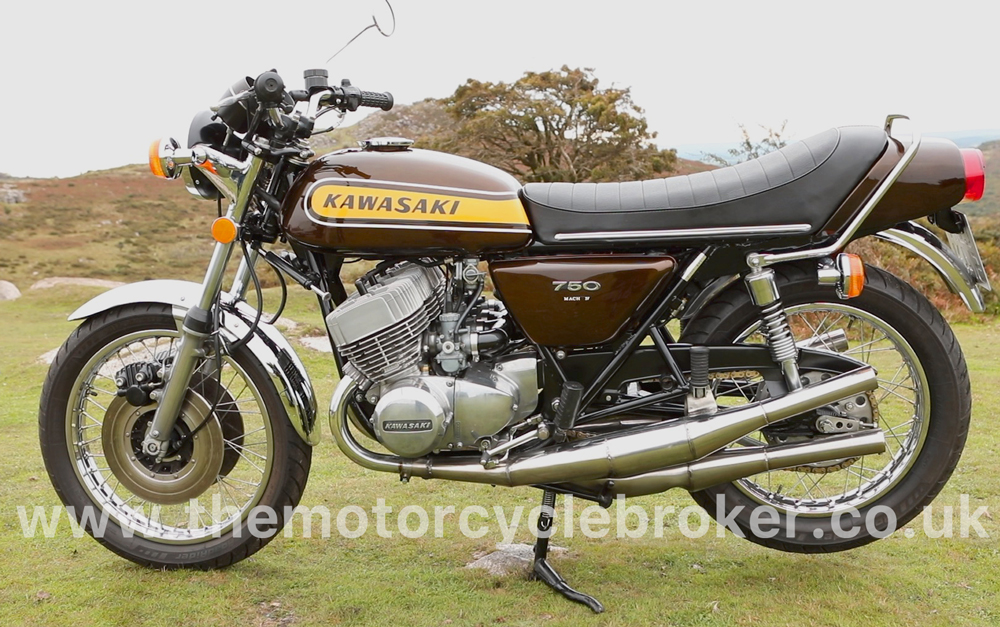 Deceptive
This motorcycle is deceptive in many delightful ways. What is incredible about Allen's motorcycles is that they look just like a standard motorcycle from the factory. Most of his creations are standard, except for the number of cylinders. The bike looks so standard that most people don't notice the fourth cylinder until they hear the motorcycle start. The crackle from the four hand made expansion pipes is reminiscent of the starting grids of the 1970s and early 80s. This piece of motorcycle art is deceptive, as he's built this vintage Japanese motorcycle so beautifully. If this was a straight forward restoration with the standard triple cylinder motor and standard pipes, we would sell it as an investment grade vintage Japanese motorcycle all day long. Even his wheel rims have the correct coded date stamps. The motor is deceptive because it is more than the sum of its parts. The motor produces 121 BHP on the dyne. This makes the motorcycle deceptively fast, as the power delivery is so effortless. H2s were never noted for their great handling, so believing you're doing 50 MPH, when you're doing 80 MPH on the approach to a bend does not help the handling.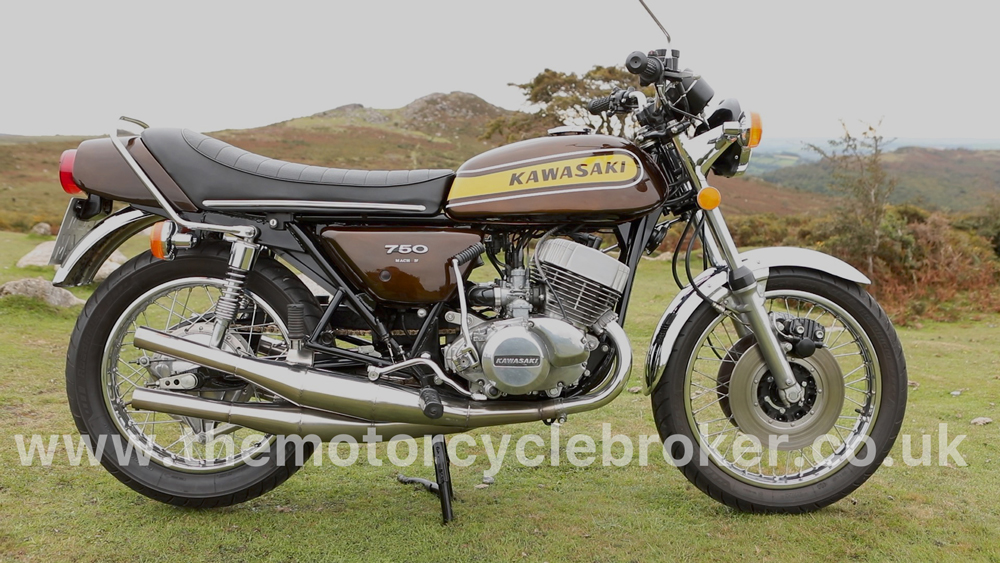 Impressive two stroke torque
The motor offers impressive two stroke torque, instead of a rip sporting, wheel spinning, brutal, harsh and snappy power band. All of the large capacity two strokes, like Suzuki's GT750 offered incredible torque from tick over. I always imagined these machines would be difficult to ride as the power band would make a 1970s Moto cross bike seem tame. These type of power bands were saved for the race circuits, for machines like a Yamaha TZ750. They just would not have worked on a road, they really would have been widow makers if manufacturers had gone down that route and they would not have sold many motorcycles at all. Instead the carbonation and port timing was set up so that these motorcycles pulled cleanly from ticker without a sudden surge of power. Adding the fourth cylinder delivers far more than the sum of the parts involved. Second gear pull aways are a doddle, in spite of the tall gearing. The power delivery is just smooth, linear and progressive from tick over upwards. As you hit 3,000 RPM your wrists feel the handlebars surge away from them and your shoulders start to feel wrenched strongly away from your body. At 5,000 RPM the steady surge becomes a free spinning frenzy to the red line as the crank gains momentum and the carbs come on song, spewing fuel freely through the cylinder ports. It all happens so effortlessly, without the 1970s two stroke frenzy.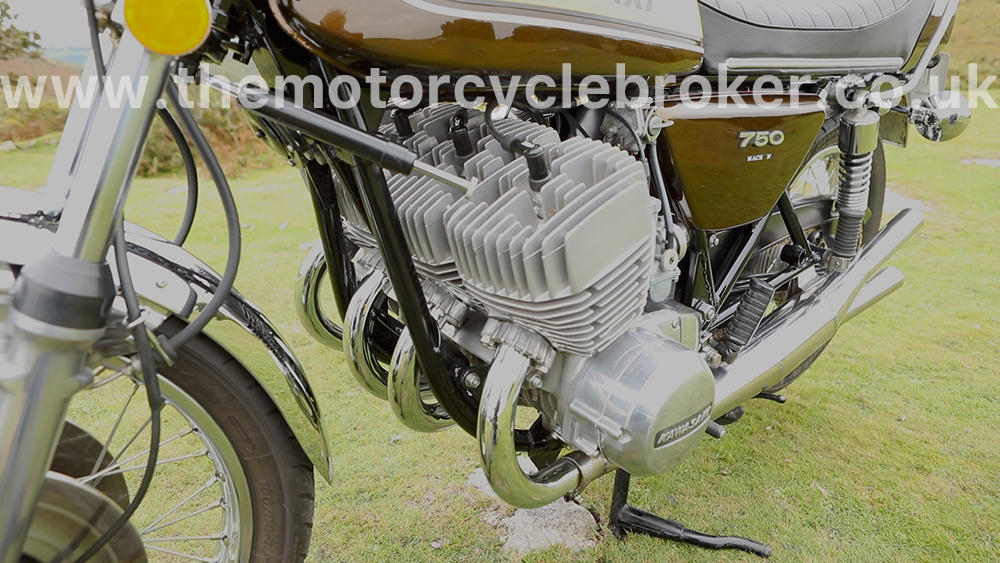 Poor handling
The H2 was crowned the widow maker due to its disgraceful handling and you can see why. The swing arm is way too long and even the brace Kawasaki slung across the swing arm didn't stop it flexing like warm chewing gum on a hot day. These motorcycles were built for drag strips and the straight roads of America. The Japanese just could not figure out handling at this point in motorcycling history. Even cornering at very modest speeds is highly challenging on a standard H@ and Allen's is bog stock when it comes to corners. The twin front discs do help, as they are surprisingly good for the age of the bike. Cornering speeds can be confusing because this motorcycle is deceptively fast because speed is just effortless on it. It's like a modern sports bike in a way, because everything is so effortless from this motor. You really do believe that you're doing 50 MPH when you are in fact doing 80 MPH. Watching the speedo is a must.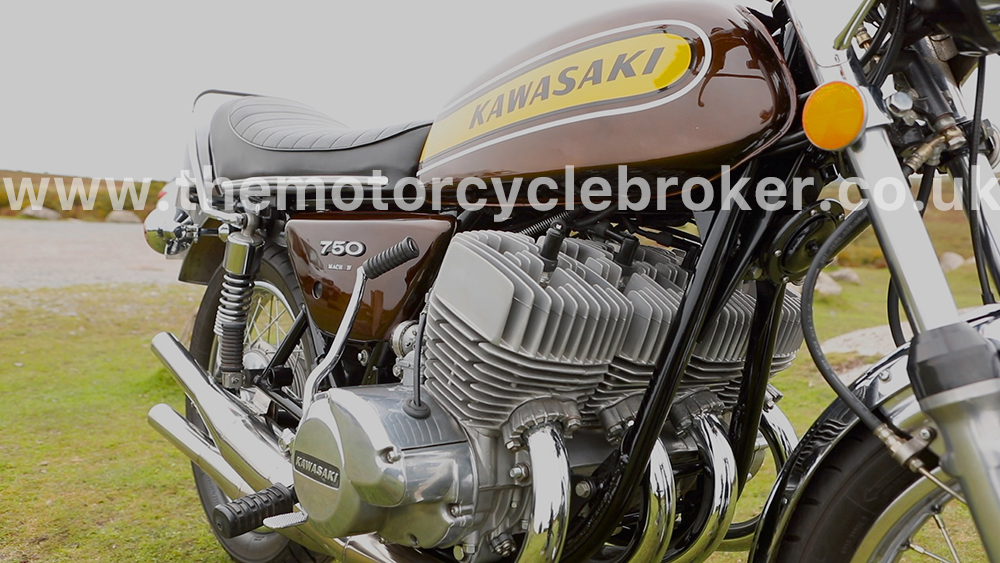 Millyard's H2 demands the rider's attention
This Millyard H2 demands the riders attention in a very subtle way, you don't know how fast you're going until it's too late unless you watch the speedo very carefully. You have to be completely present, in the moment and proactive. At the same time, you have to know what's coming and prepare for the next corner, being wholly aware of your speed. Set yourself up for the corner and it's an absolute joy. Disrespect this vintage motorcycle, or switch off, and things can go wrong very quickly indeed. It demands your respect, like a highly skilled poisoner in the ranks of your own army.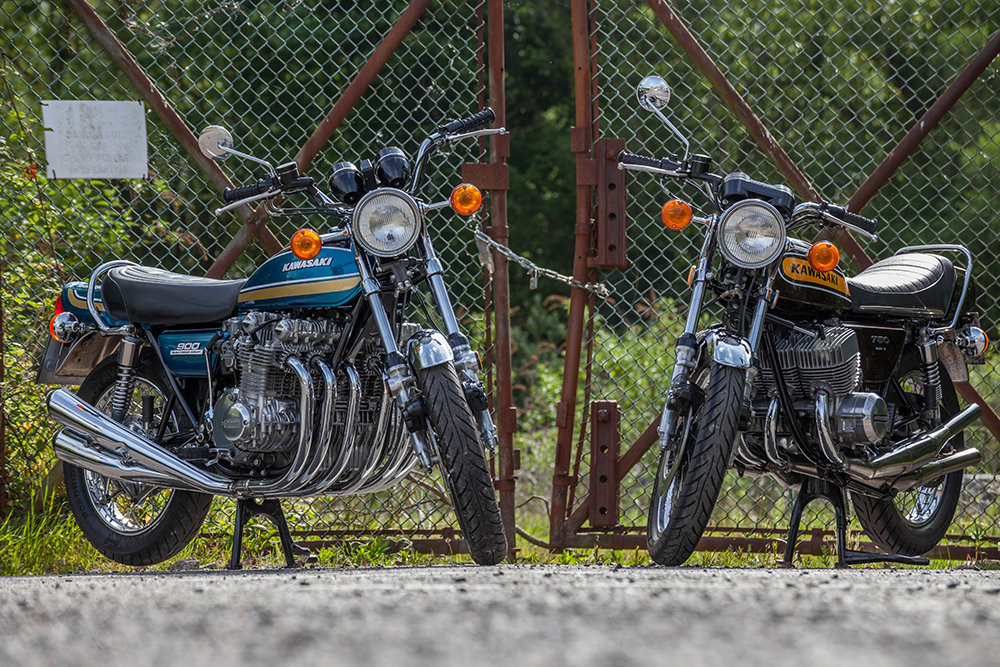 No vintage motorcycle like it
There is no vintage motorcycle like it. Allen Millyard has built the motorcycle Kawasaki should have built in the early 1970s. If Kawasaki had the balls to build such an incredible machine, with that fourth cylinder, then we would probably all still be riding two strokes today. For long journeys this machine is a scream and it's comfortable too. It will eat the miles, effortlessly and reliably, but it's not happy in the city will threaten to oil up unless being given an open throttle for quite a while.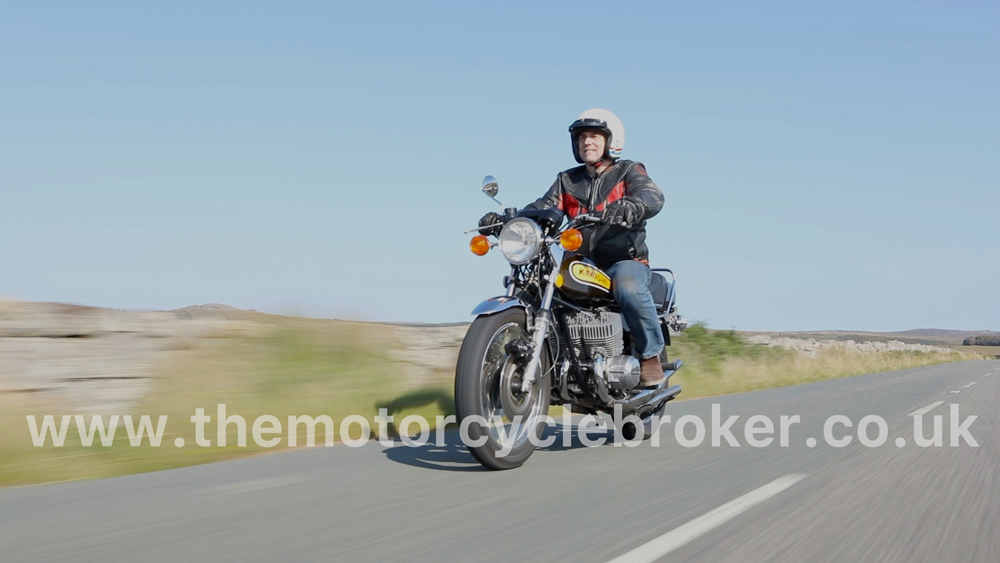 Nostalgic sound
The nostalgic sound of Allen's home made expansion pipes invigorate the souls of people born in the 1960s. It's a cacophony symphony of utter pandemonium with the charming smile of Donny Osmond, but don't be taken in by dear old Donny (I do apologise to all who are too young to understand this reference). This machine offers the smell of the two stroke, a glimpse into what could have been for Kawasaki and is one of the biggest bundles of fun on this planet. There is no other motorcycle, apart from a handful of others built by Mr Millyard, quite like this machine. Once people experience Allen Millyard's incredible motorcycles they will sell their offspring to own them, because they are incredible fun and unique.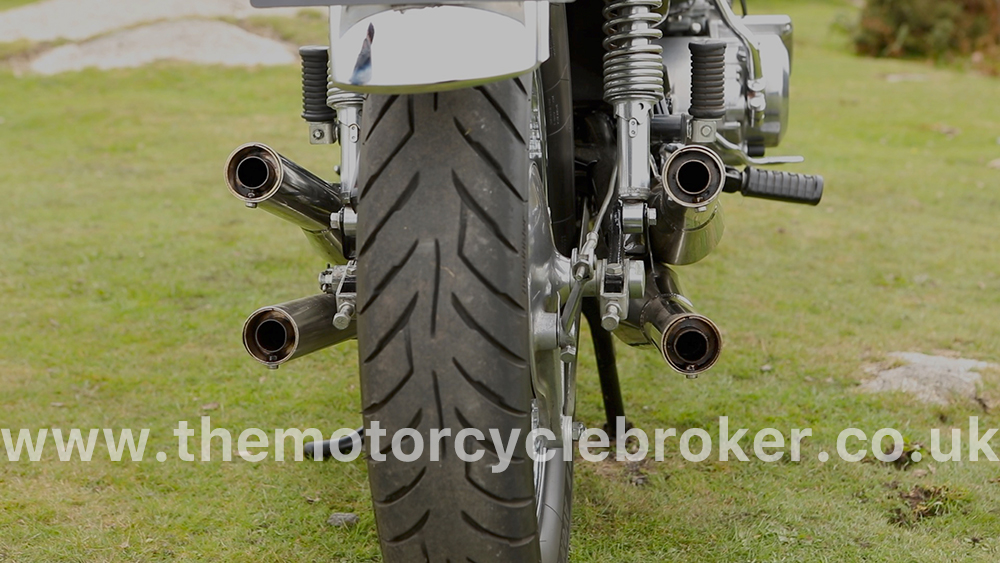 Show winner
Allen Millyard is always a show winner with his incredible motorcycles. He has won Salon Prive, on numerous occasions with his artistic engineering prowess and imaginative creations. Every show he enters he wins and quite deservedly so too. It's no surprise he's always featured on Henry Cole's The Motorbike Show on Channel Four. Allen Millyard's motorcycles have been bought, when he very rarely sells them, by the Barber Museum in America. Don't bother pestering him to buy one, because you will just annoy him, he's not interested. His motorcycles are some of the most desirable motorcycles on earth. Investors are buying them through tender and riding the wheels off them, whenever they do come up for sale, but don't expect to find them on eBay. You can also read a road test we did on Allen Millyard's Kawasaki Super Six here.
Buy your vintage motorcycle through The Motorcycle Broker
Buy your vintage motorcycle through The Motorcycle Broker. Sell your vintage motorcycle, or complete motorcycle collection through The Motorcycle Broker. Allen chose to sell his bikes through us because he doesn't have to deal with people coming to his house, trying to negotiate with him or badgering him. If you want to know more about Allen and his work, then check out his YouTube channel here. He wants to get on with building his masterpieces, not dealing with people. If you are interested in owning a Millyard motorcycle, contact The Motorcycle Broker.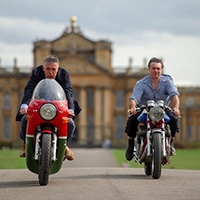 Latest posts by Paul Jayson
(see all)