This Ducati green frame bargain of the century is a unique occurrence and is the best result, for buyers, using auction houses. At The Motorcycle Broker we often advise our existing customers, if they are looking to buy in the open market, including at auction. We advised a few customers against the Bonham's green frame which sold at Stafford for £172,500 last October, for various reasons. An existing customer called me the night before the Gooding and Co auction at Amelia Island in Florida on 2nd of March 2023 to ask about the unrestored 1974 Ducati 750SS green frame. I knew about the machine, the auction and that this was a genuine machine which was unrestored and had no reserve. I knew that the fairing had been repainted, the 8552 kms (5,302 miles) were genuine and that this was one of about twenty unrestored (except the fairing) examples left in the world. The last unrestored example like this sold for US$500,000 and was the machine displayed at the Guggenheim Museum for many years. The client asked me about the bike and I told them that it was genuine, that it was worth buying and how much the last similar example sold for. Should I have any doubts I cannot safely say that a particular bike is worth buying, as these machines are very difficult to buy in investment grade condition, I always state that I cannot recommend buying. This one I thought was certainly a very safe punt and a very rare opportunity.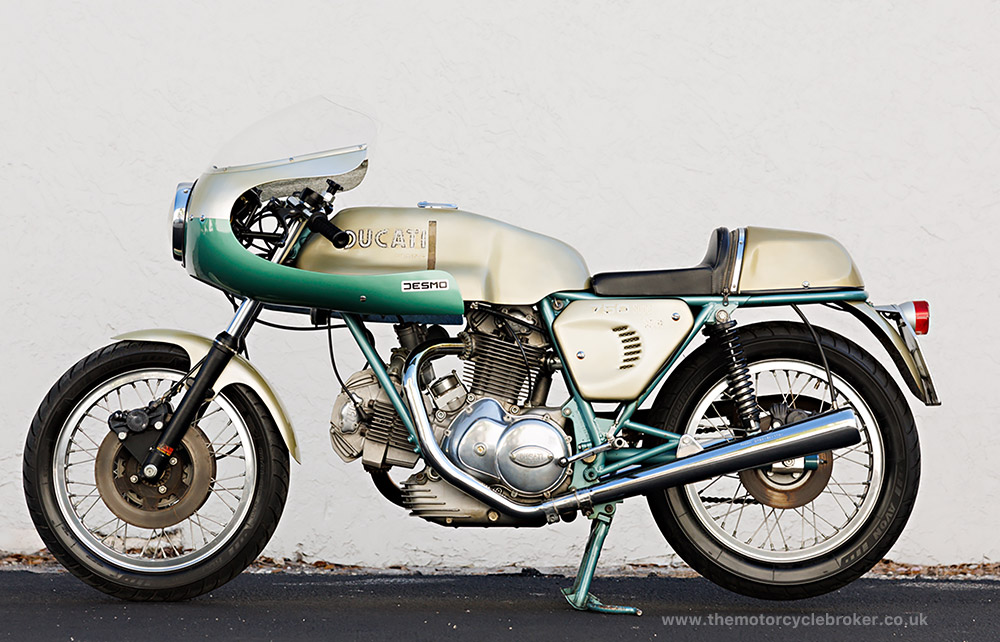 Unrestored 1974 Ducati 750SS
This unrestored 1974 Ducati 750SS had been with the present owner for twenty five years and Ian Falloon also knew the motorcycle well. The patina is delicious, however the motor has not been started for quarter of a decade, but this is a jewel of a green frame. Gooding and Co are very well practised at achieving exceptional prices for classic vehicles, they set a world record for a 1962 Ferrari 250 GT SWB California Spider of US$18,045,000. Most of the vehicles were classic cars, with only a smattering of classic motorcycles, but so much money is now pouring into the bike market from classic cars. My client asked me to bid on their behalf, so I gave them the advice I always offer when buying at auction. I asked them how much they wanted this machine, what is the maximum they want to pay and to set that figure is stone. We removed buyers' fees and set the final bid I would go to and they agreed to forget about the bike until the next day after the auction. Gooding had put a low figure on what they expected it to make and there clearly weren't that many bidders who knew what the motorcycle was. An Indian four made over US100,000 at that auction, but there was very little activity when the green frame came under the hammer. Auctions are always a lottery and this particular time we won the lottery. We got the bike for less than the final bid we had agreed and bought the Ducati green frame bargain of the century.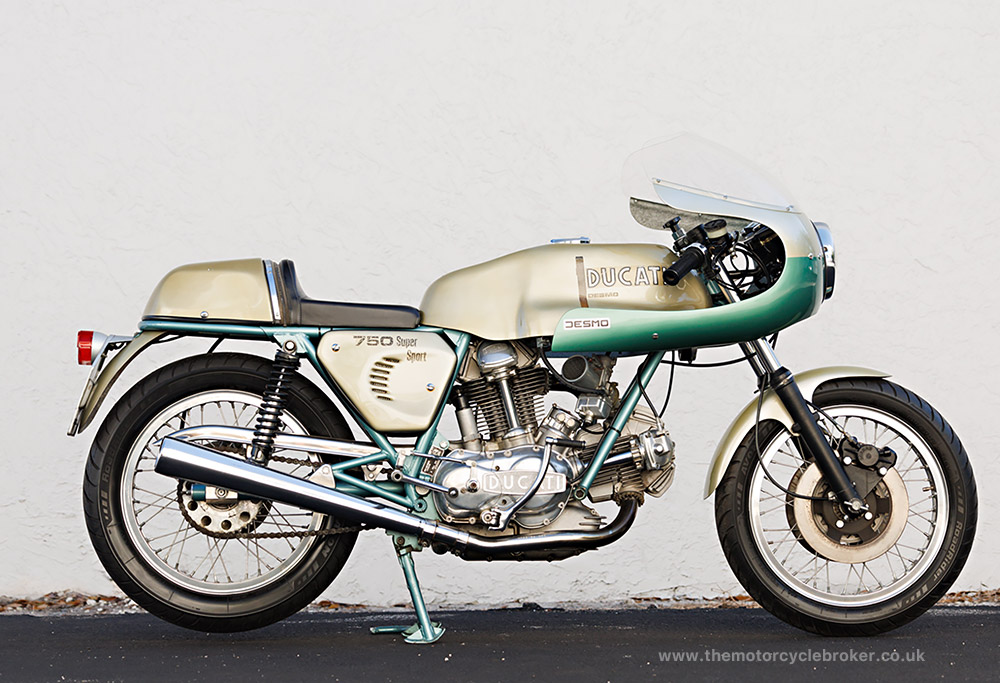 Highly original green frame
This is a highly original green frame and all of those critical, unreplaceable, unique parts are present and correct and all of the nuts and bolts are original Ducati items. The paint is all original, except for the fairing, which has clearly been repainted in the last twenty five years. I asked Gooding and Co if the family selling the bike could tell us why the fairing had been repainted. Unfortunately, it was from a deceased's estate and the family had no information, as it was one of many of their vehicles in the auction. The rest of their vehicles were genuine and the deceased previous owner had a reputation for only buying the best possible classic motorcycles. I suspect the fairing was repainted due to the original fibreglass micro blistering, something afflicting all of these Ducatis of this age. We will know once we get it back to our workshop, as we ned to recommission the bike, set it up and evaluate it. There are so few unrestored examples, only twenty are believed to exist, and the owner wants this machine to be seen so people can understand what these incredibly rare Ducatis are about. Having been static for so long, we will have a lot of conservation work to do once the machine is properly assessed.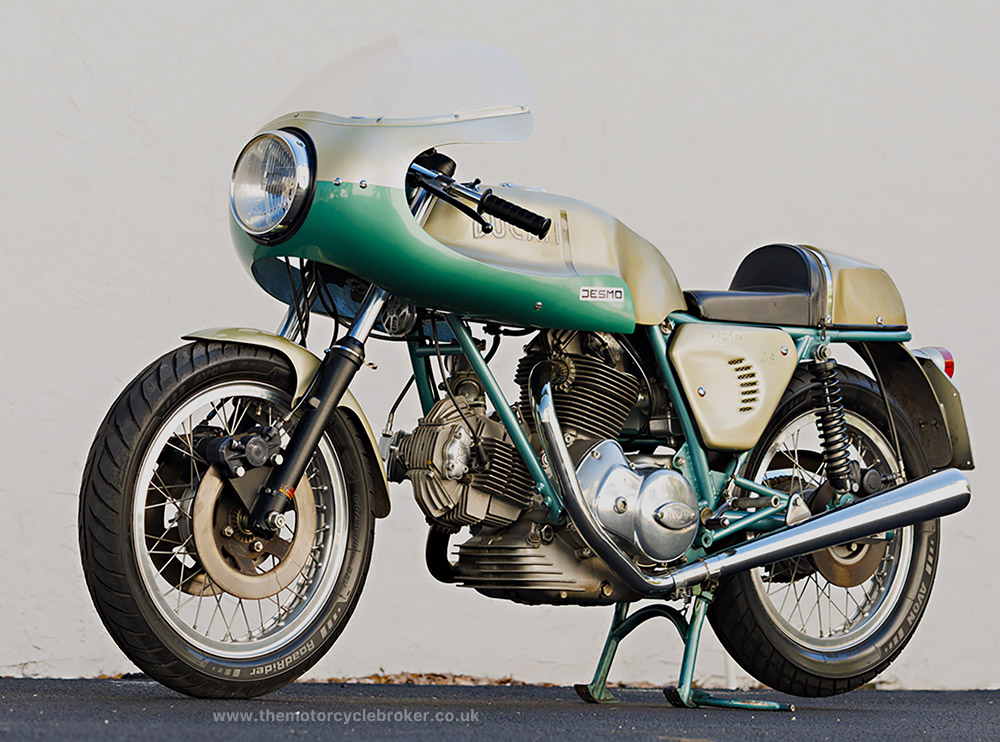 Green frame conservation
This green frame conservation exercise is really exciting, as we can perfectly match the colours of this unrestored example for our records when restoring another example. The body work will all be removed and anywhere we find failing paint, and there will be a many areas that require treatment, we will rub white grease into them. The machine will be thoroughly photographed for our library and to share with Ian Falloon for his records. The original petrol tank can no longer have modern fuel put into it, as it will just disintegrate. A perfect replica tank will be sourced and we will perfectly replicate the original paint, including the patina taken from the original. The fairing will be taken back to the substrate, to establish why it was repainted, and we will repaint it with a matching patina to the rest of the bike. All of this work will be filmed, photographed and thoroughly documented. The motor will have to be very carefully coaxed back into life and flushed out prior to setting up. Wheel bearings will need to be examined, maintained and swing arm bushes will require lubricating, along with the headstock. Brake seals are almost definitely shot, but we are one of the few in the world who carry seals for these old Scarabs, including the master cylinder.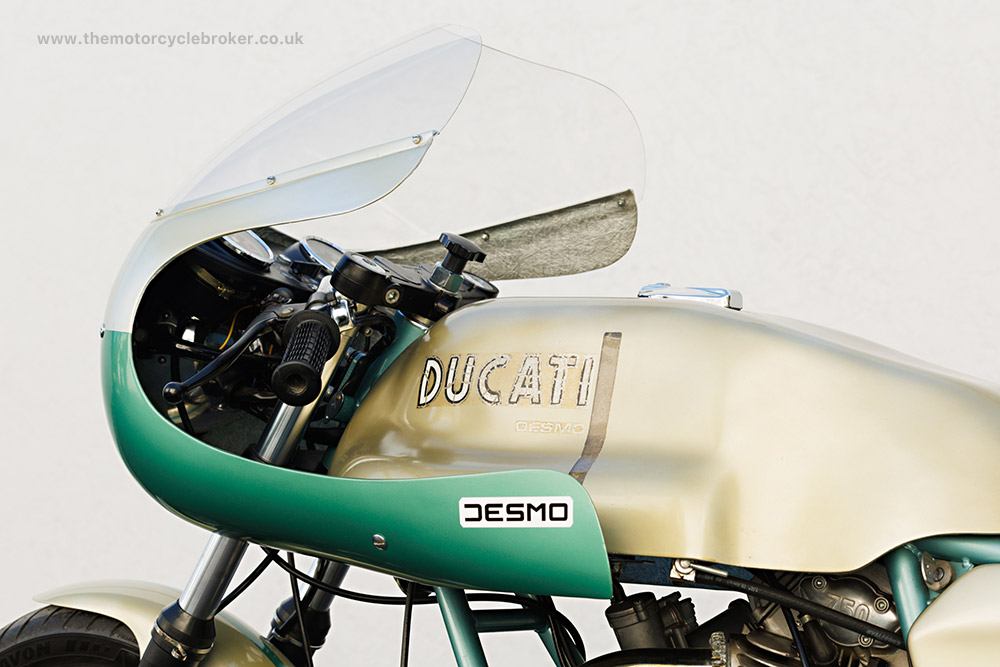 Historic green frame
This historic green frame will give enthusiasts a wonderful insight into unrestored examples, as so many have been over-restored or incorrectly restored. The silver body work paint has yellowed and the frame paint is rather crazed and cracked, you can see why Ducati's paint from this era behaves like this in this article about original paint we wrote last year. Our work will preserve this beautiful old Ducati and it will be set up to ride. Obviously, it is not going to have the mileage racked up, but it will certainly break cover and be the only unrestored example, we know of, to be ridden and exhibited. This particular machine will be filmed, while being ridden, and all of the preservation work will also be filmed. This is a unique opportunity that the owner, Ducati enthusiasts and our company, have been presented with. All of the other unrestored examples have been squirrelled away in private collections and will not be seen by the general public. The preservation work we will do will be available for everyone to see and so will our video road test. This historic green frame will become one of the most famous examples in the world.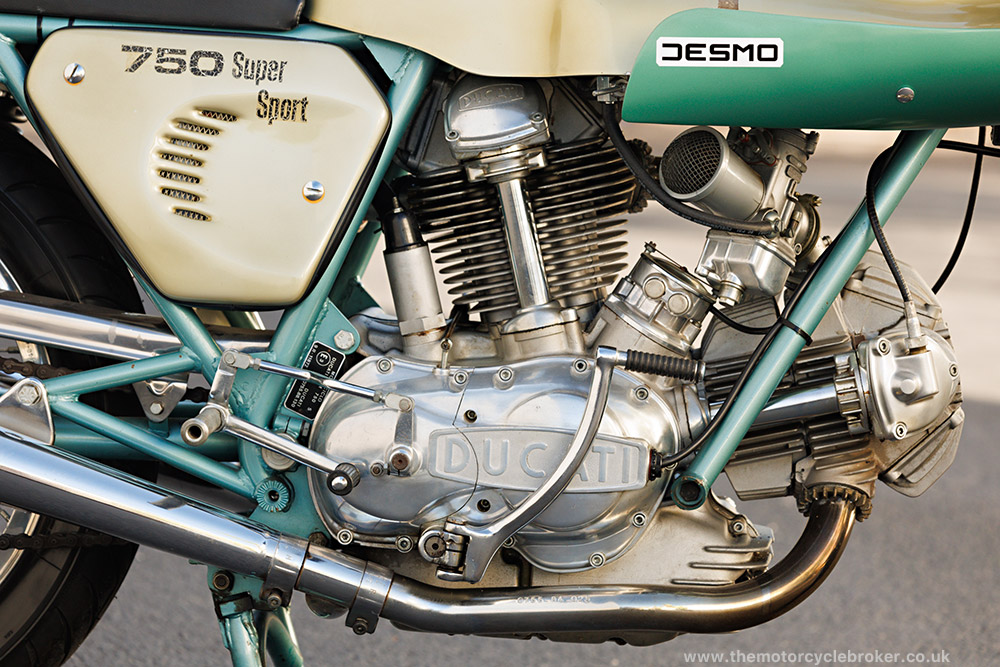 Buy an investment grade 1974 Ducati 750SS
If you want to buy an investment grade 1974 Ducati 750SS green frame then contact The Motorcycle Broker. You can fill out the form below or contact us through the website, call us or book a Zoom call. You can also click the link here and subscribe free to The Inside Line to receive our newsletters. We understand these incredibly rare Italian classic motorcycles and know where most of the genuine machines are. Genuine examples like this hardly ever come to the open market, they're nearly always sold off market. Because a machine is from a deceased's estate doesn't always mean it's an investment grade example, most of them are not. Our customer got extremely lucky with this bike and I'm so pleased we facilitated this sale. We always put the customer at the heart of working with us, so we acted in good faith to get the best possible result for the customer. The importation work we are taking care of, recommissioning work, preservation work and raising the profile of this stunning motorcycle is all part of our service. No other supplier of classic motorcycles offers such a service to their customers and adds value to their customers' motorcycles in this way. We have been a winner of Salon Privé and the Bristol Classic Motorcycle Show, each time adding value to our customer's motorcycles. Our customer is now the proud owner of one of the best classic motorcycle investments and we are so proud to have delivered our customer the green frame bargain of the century.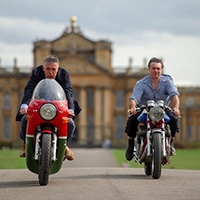 Latest posts by Paul Jayson
(see all)