Ducati 916 all need work due to age and this 1994 example with just 4,000 miles from new and full dealer history was no exception. It looks perfect in every way and good enough for any dealerships showroom floor and this is the unicorn of all the Ducati 916 series, as you can read in our article about Pinnacle of Ducati 916 SP Investment. We bought this through a trusted collector and it was in a dealership ready to be sold. The dealer said it was ready for the road and ran fine, although the battery was flat. Knowing these machines very well, and what dealer history means in reality, I declined starting the motor. The Ducati 916 SP and 996 SPS are all rapidly increasing in value, as you can see in this article I wrote in this article back in 2019.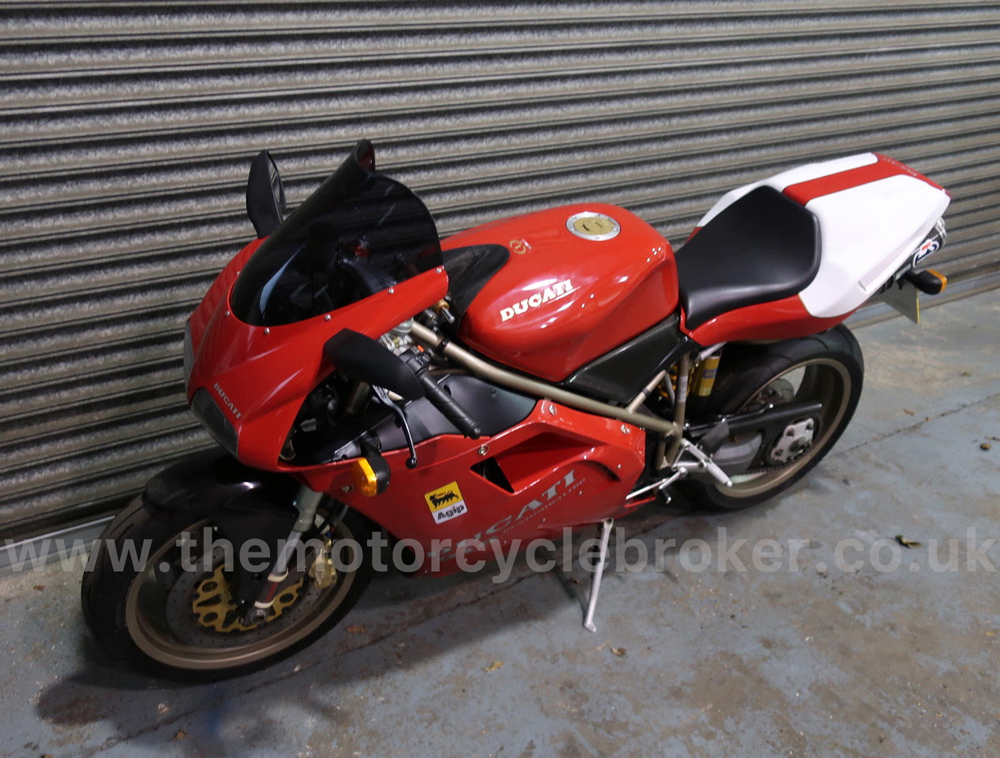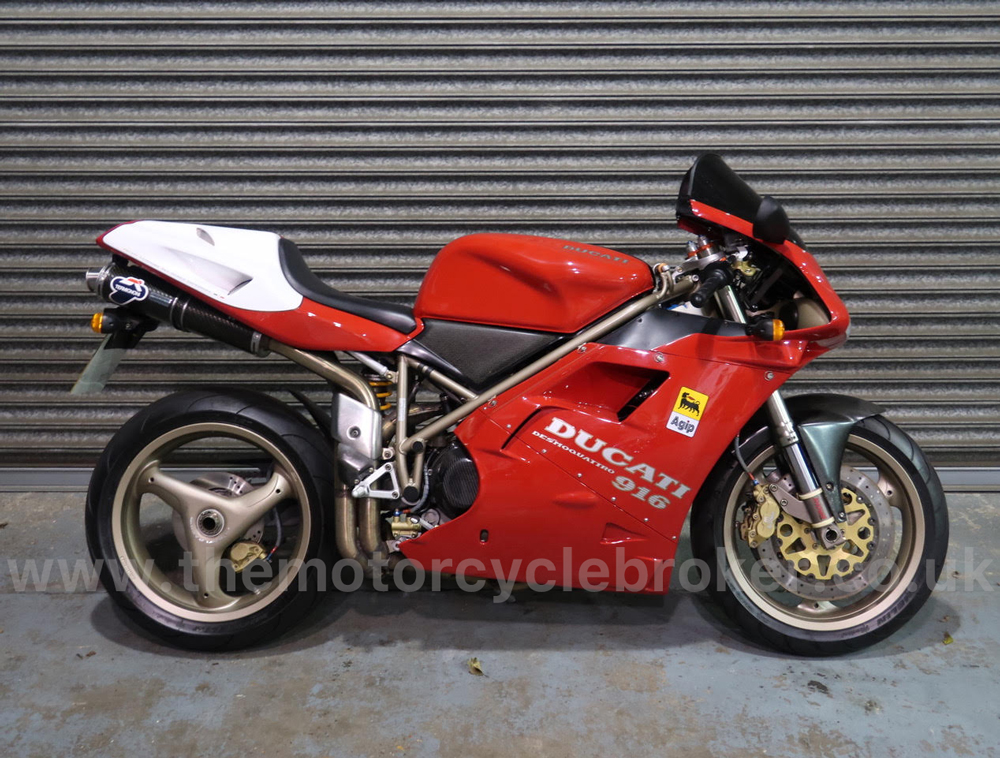 Due diligence
The fairings were all correct date pieces, along with the ancillary parts such as wheels and petrol cap, so the bike was very well preserved and original. Engine and VIN checked out with others I sold of the same year. Ducati's emails don't really mean very much with the SP series, as they have no records that differentiate an SP from a Strada, whatever they tell you at the factory. I have seen SPs declared as Stradas, when they were clearly SPs and had chassis numbers very close to other SPs I had sold which were verified by Ducati. The engine and chassis numbers were within 32 of each other, between two other SP engine and chassis numbers, but declared the bike to be a Strada. They said the frame went to a distributor that never existed at that time and that they had no record of the engine number. Ian Falloon and I discuss this in our short interviews about Ducati's record keeping of the 916 series, you can see this on our video page here. I have also seen emails from Ducati declaring a Biposto as a genuine SP when it clearly only had one injector per cylinder. Go figure. If the bike was imported through the grey market by the importer or the dealer, who were official Ducati dealers or importers at the time, then Ducati will always say it's a Strada.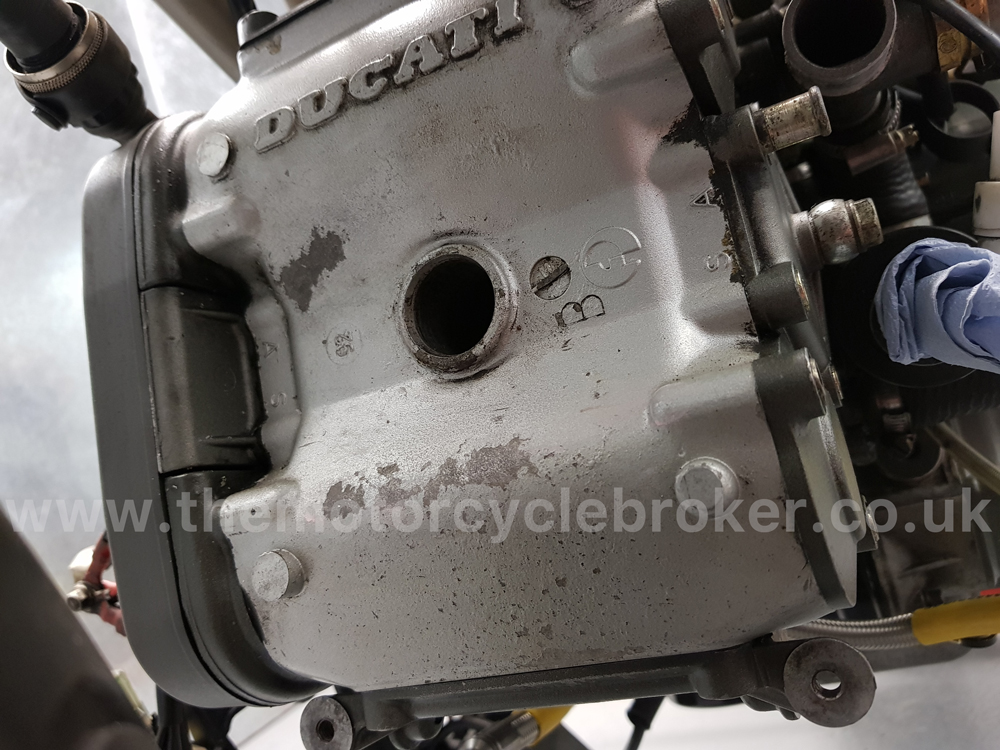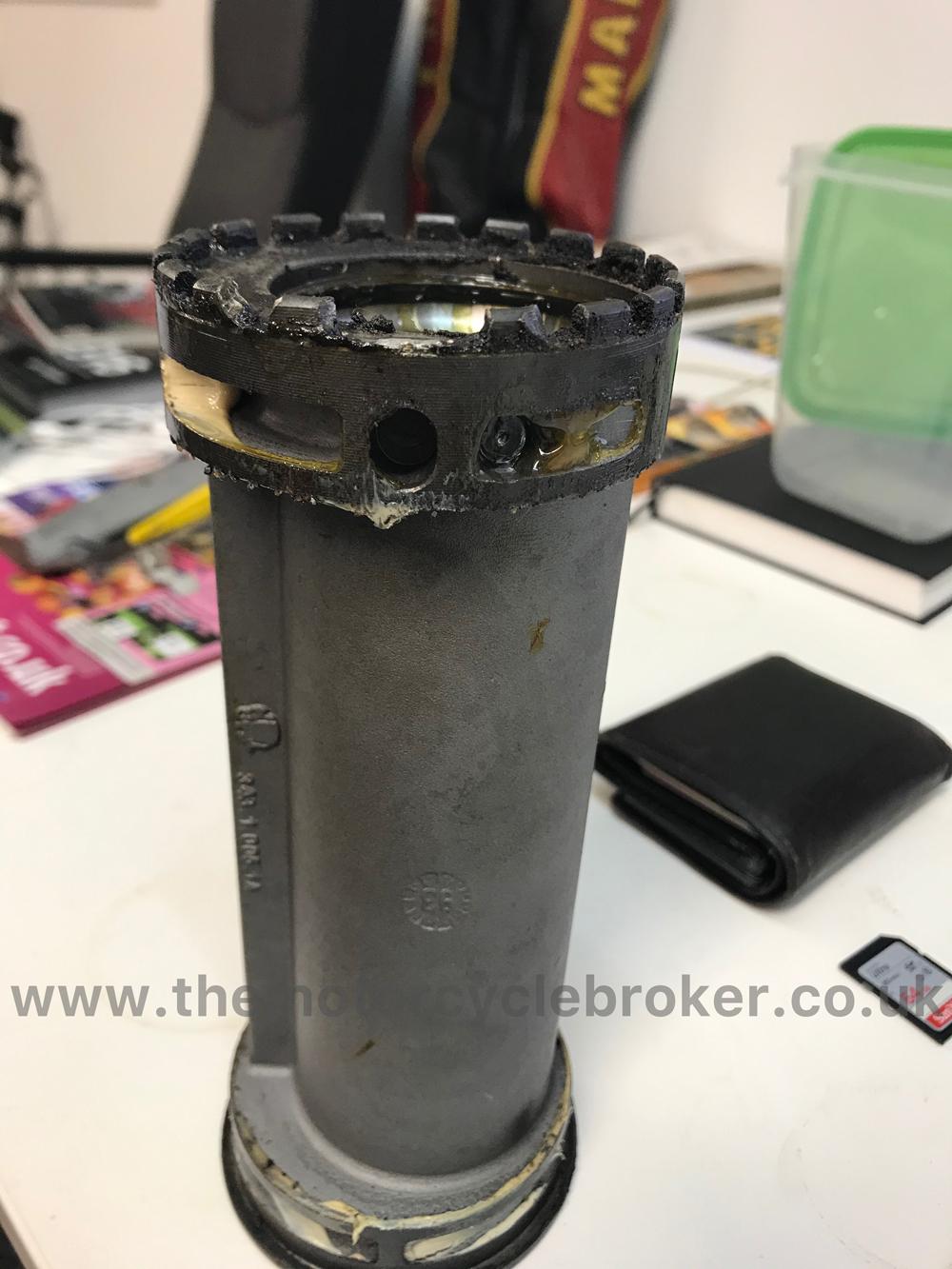 Engine
We got it back to base, drained the oil, which was showing signs of being over ten years old. We removed the belts, which had clearly never been changed since the bike was first delivered, in spite of four different invoices for new belts. We checked the valves and noted that both rocker cover gaskets were missing and the covers were horribly gummed up with bathroom silicone. The air filter was clearly the item it was delivered with when it was brand new, as was the oil filter, which was starting to fall to pieces. There was a bill to replace the headstock bearings and the castleated nut had a tooth knocked off of it as it had been hammered round with a drift. All fairly typical of full dealership history and nothing out of the ordinary there. Belts were changed, along with tensioner bearings, oil, oil filter, fuel filter, breather tube in the tank and petrol pump gasket. We checked the valves and they were in spec so we started it up. The bike hadn't been run a several years, so we also replaced the battery to discover a fault voltage regulator which had packed up because it had been wired incorrectly.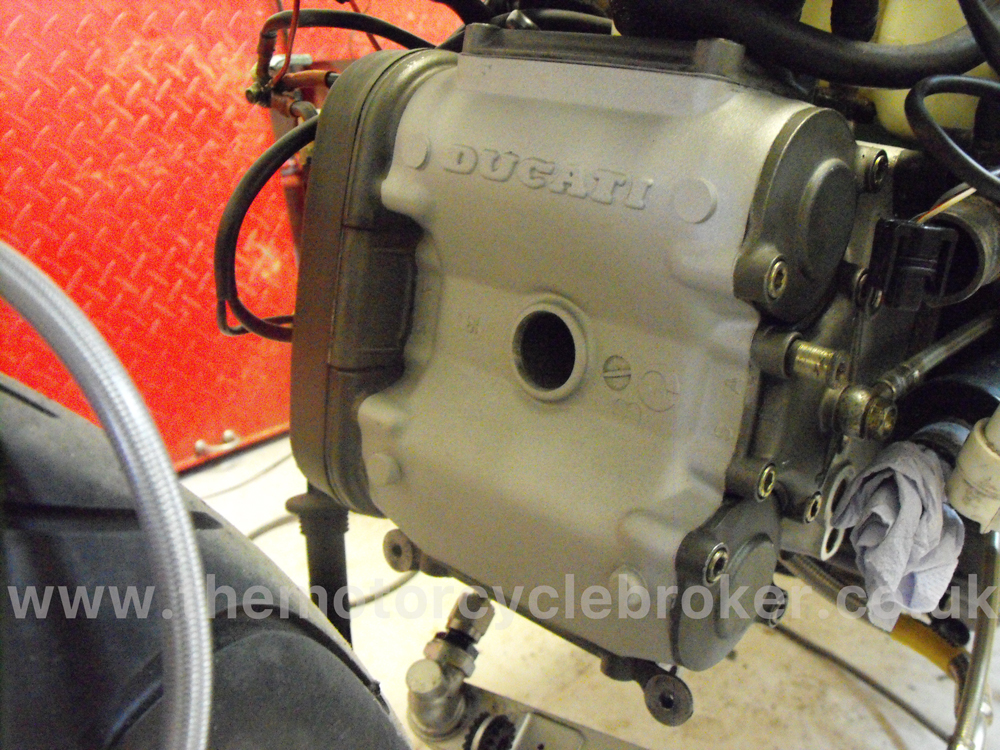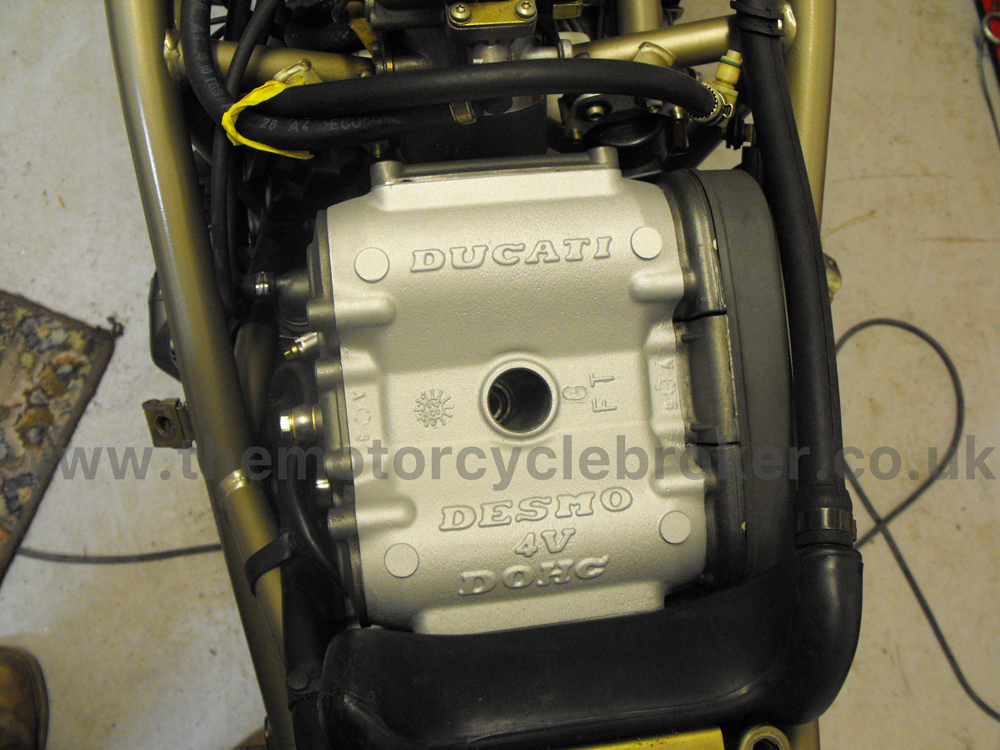 The motor ran sweetly and clearly begged some miles to be clocked yup before a full set up could be undertaken. Compression values were all good, the endoscope revealed healthy bores and oil pressure was very good. We kept the original oil lines in a bag for the owner, as they're unique, and replaced them as the rubber internally was clearly of an age were failure is inevitable. There was plenty of failing paint on the engine and frame underneath the fairing, all of which is typical of a machine, even though it was kept in a heated garage since the day it was bought new.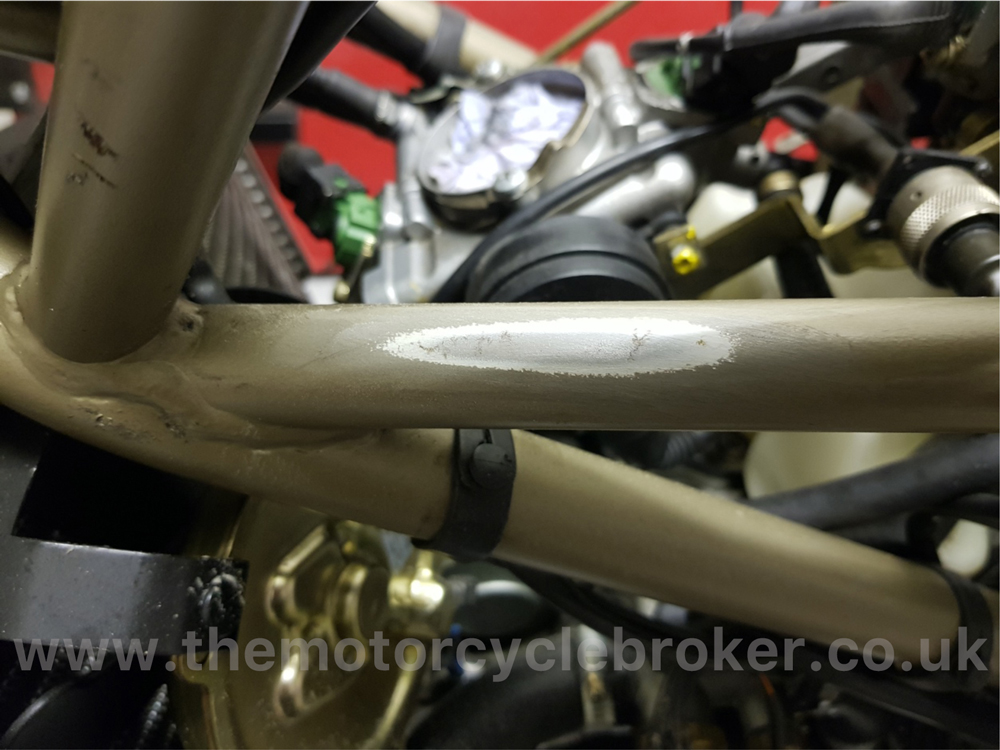 Paint
Once off with the bodywork the true extent of poorly applied paint, when new, is starting to fail now due to the age of the motorcycle. Plenty of areas of the frame are starting to suffer from paint failure which will only degrade further over time. We have developed our own way of dealing with these which retains as much of the original paint as possible, which still has sound integrity. Our way of doing this is not any type of method used by vehicle detailers who set up in a tent on a grade forecourt, this involves vast amounts of work, but it lasts.
The petrol tank required several blow ins and there was a very bad repair on the left side of the fairing where the bike had fallen off its stand in the past, something most 916s suffer from. Around many of the fairing fasteners the plastic had started to crack, as it gets harder with age. We have carefully repaired thee and reinforced them, but our work is invisible and they will now last another twenty five years.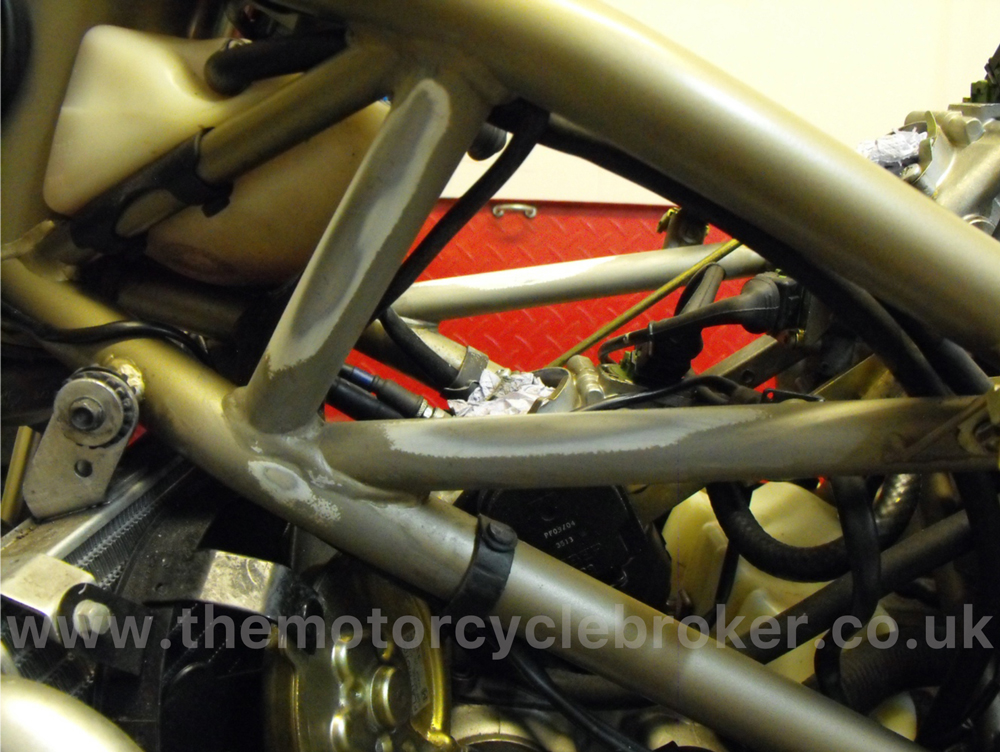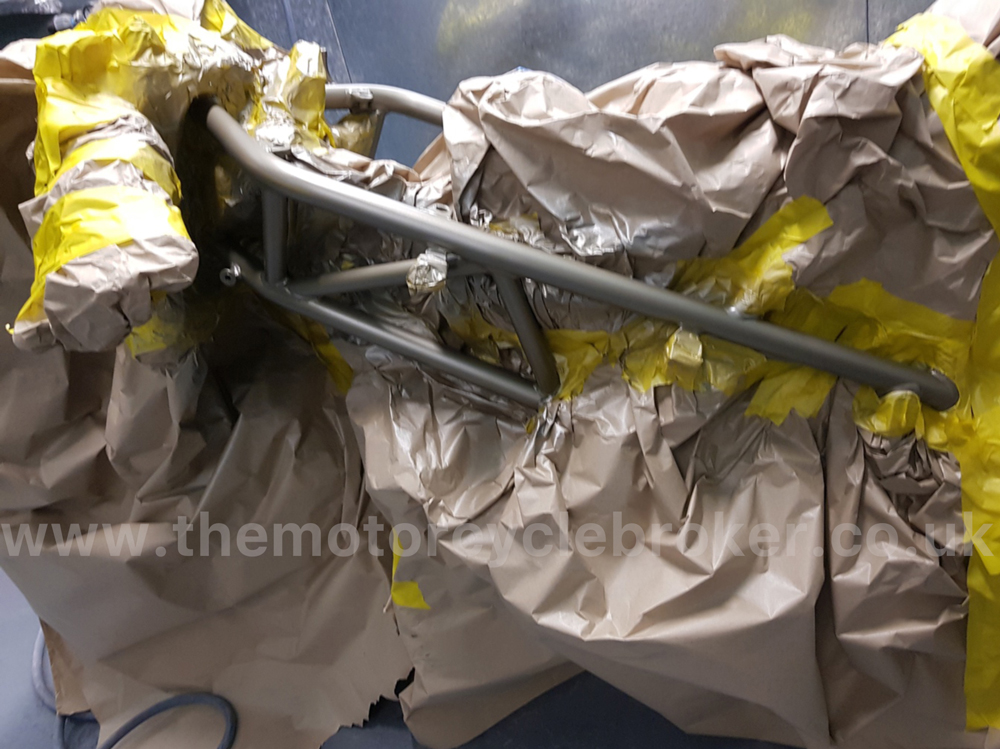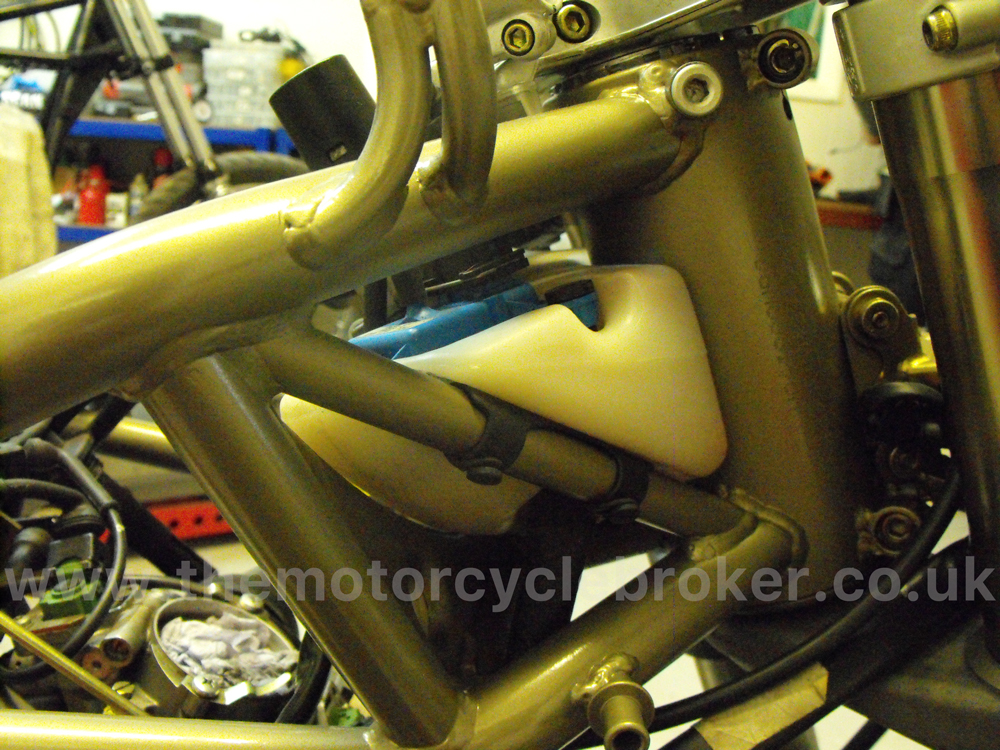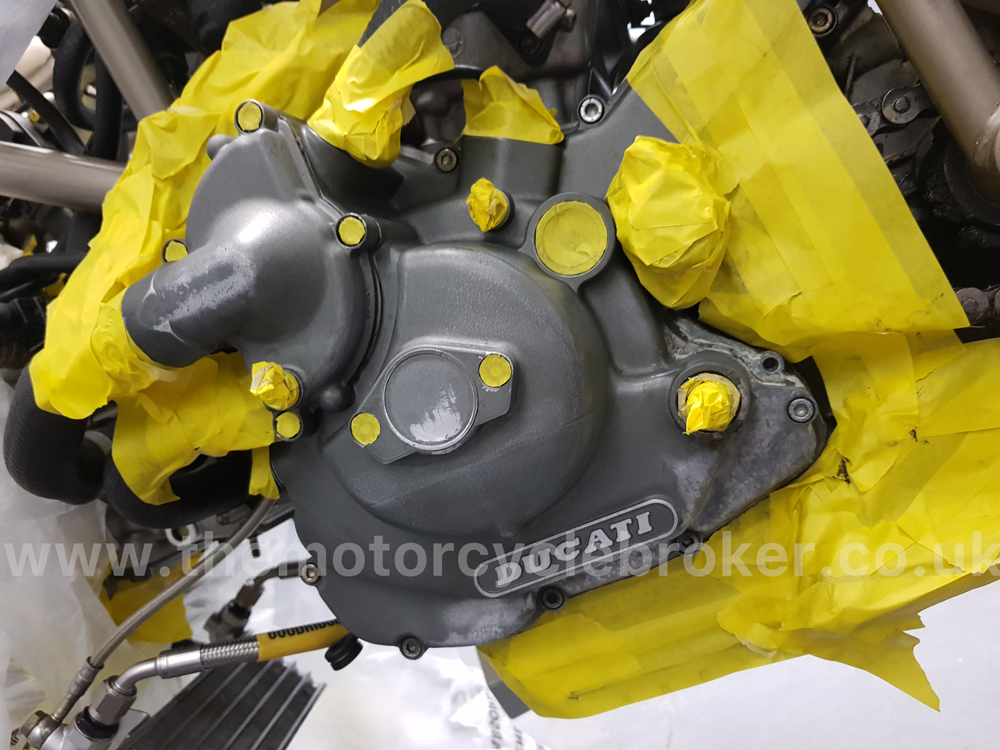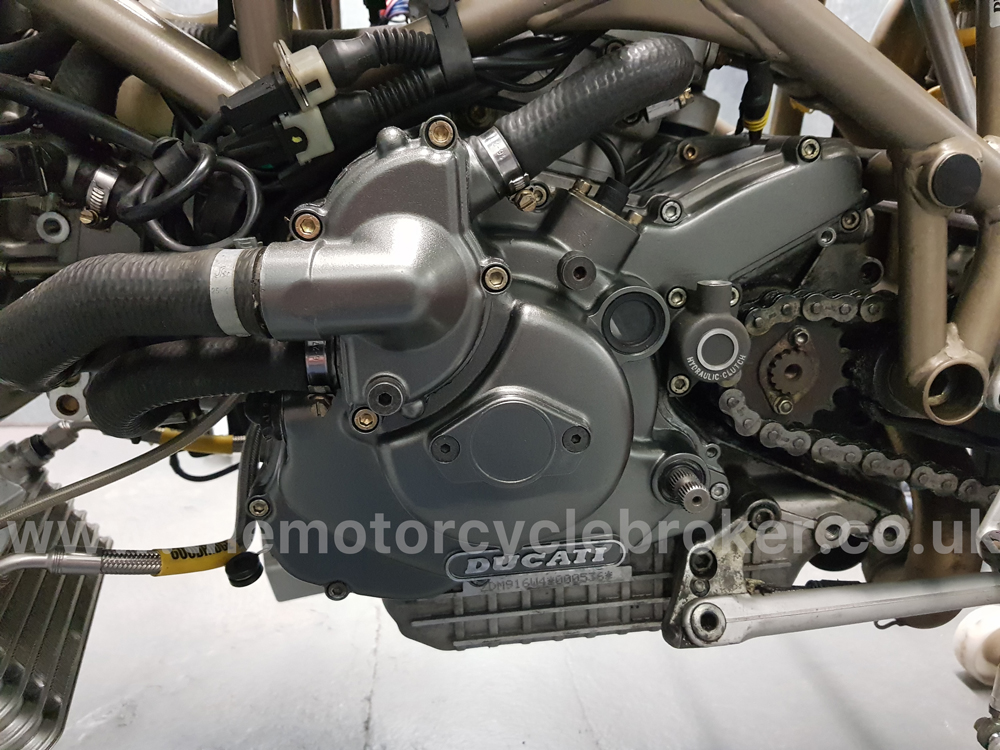 Carbon fibre
The carbon fibre really degrades over time and becomes quite dull. Tiny holes also appear in the weave and it all needs very careful restoration to ensure it lasts well. We strip it all back to raw carbon, carefully polish it and use special lacquers to protect it. Note the quality of the carbon fibre in the picture below after we restored it. We also rebuilt the rear master cylinder as it was leaking brake fluid and the zinc plate was failing. We had it re-plated and then rebuilt it.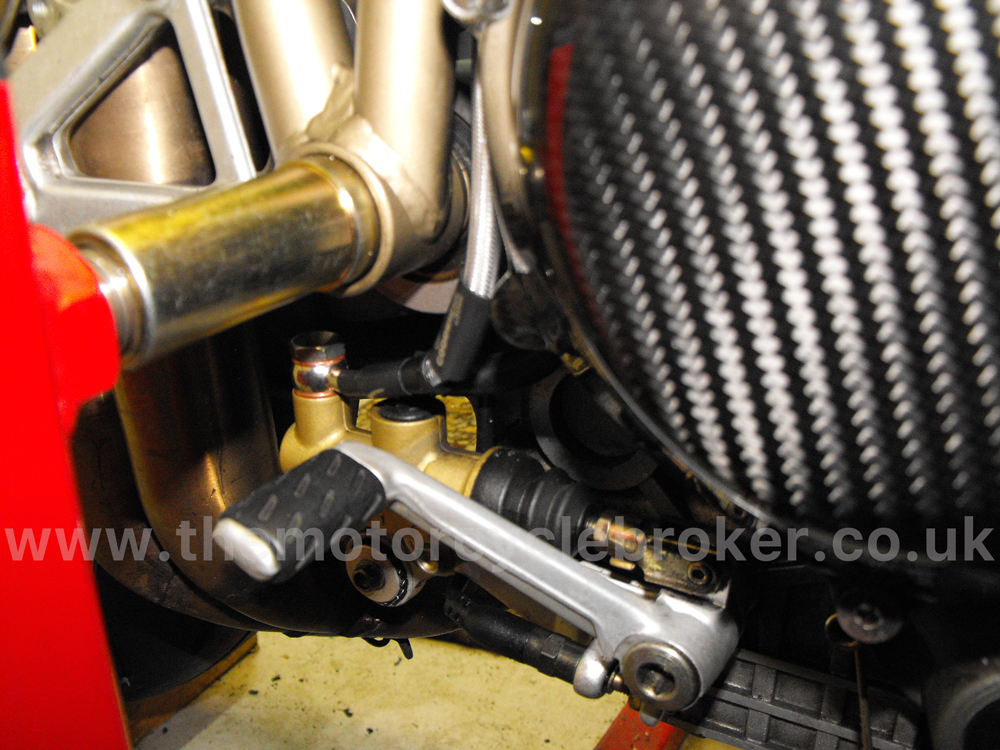 Rear Ohlins
The rear Ohlins are now quarter of a decade old and require restoring properly. The springs need re-finishing and testing to check they're still up to spec. The body of the shock is also starting to show the ravages of time and the wisest move is to rebuild them.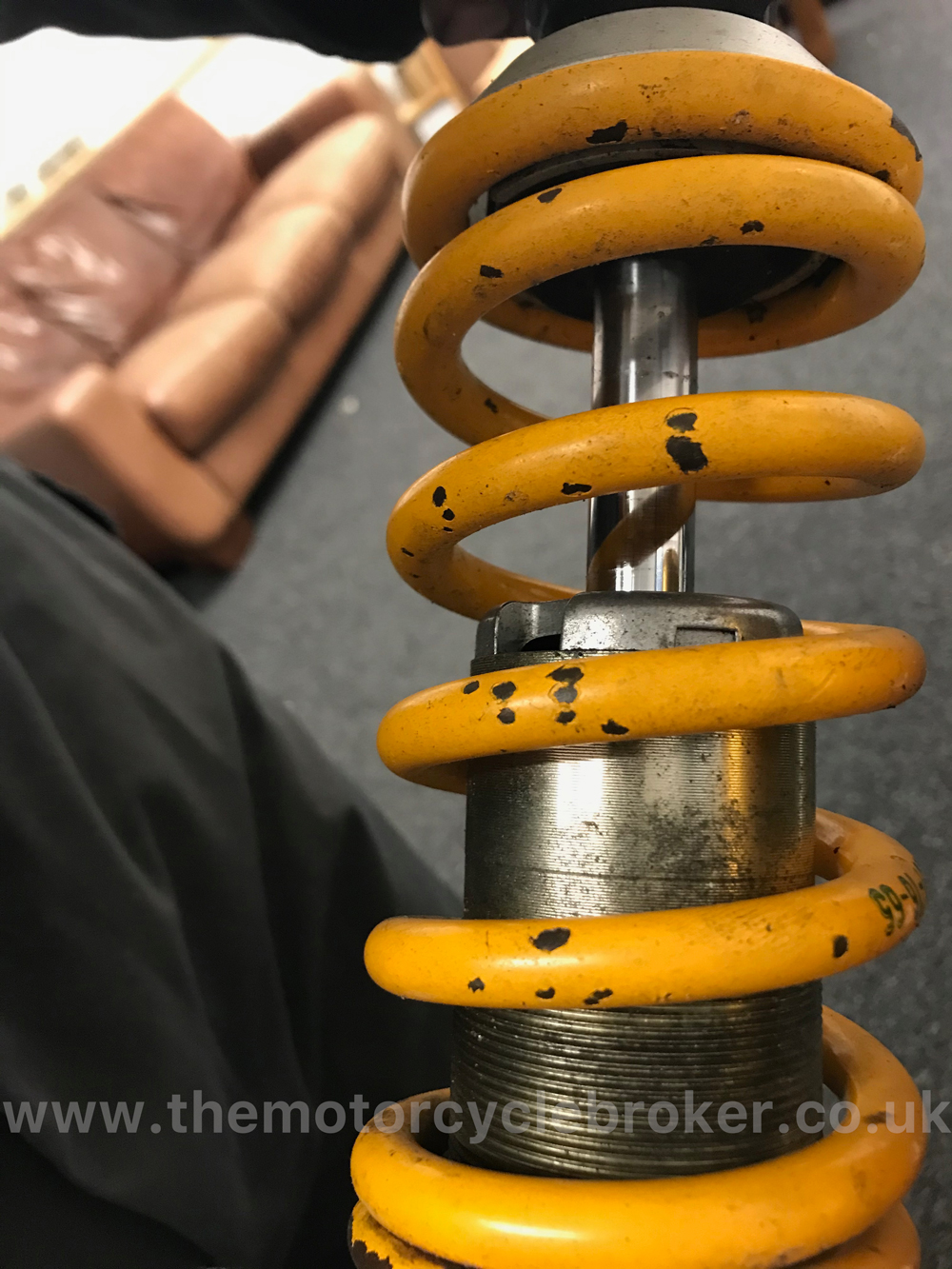 Although this machine spent all of its life in a heated garage, corrosion had its way due to the UK climate, as the moisture is in the air. Once rebuilt, the Ohlins is as good as new.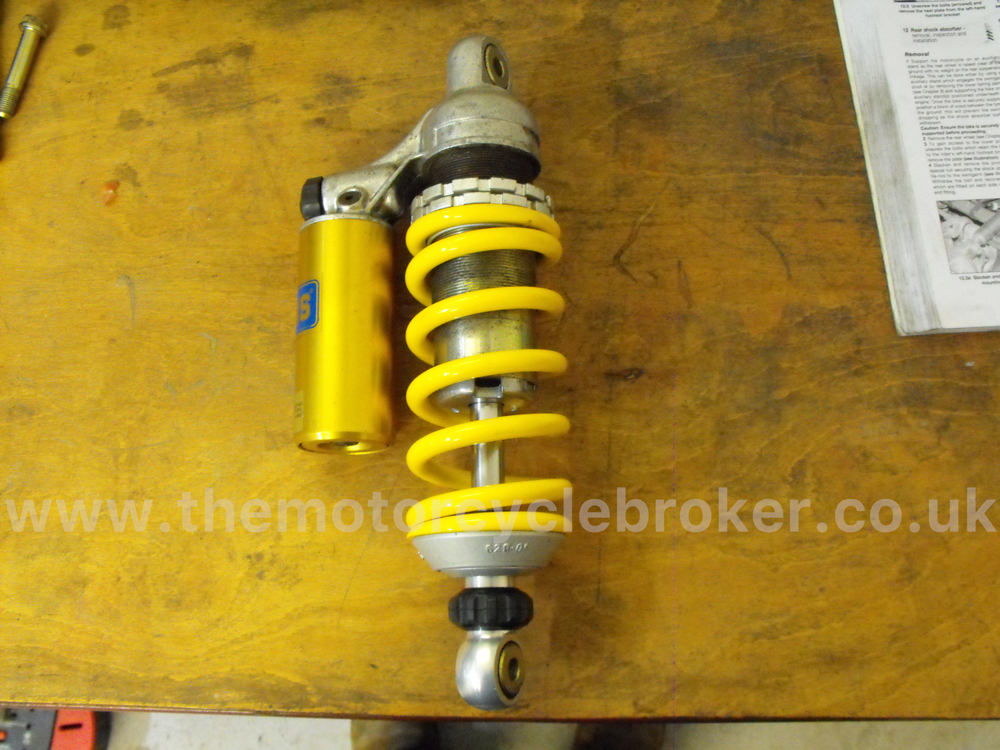 Test riding
We test rode the motorcycle early on to get the motor set up correctly and it settled nicely with some intermittent fettling. We set the suspension up for our mechanic and the machine now rides beautifully. Notice the revived carbon fibre front mudguard compared to when it was stood in the dealership. Any customer would have bought this bike in the state it was in when we got it from the collector. This is the amount of work required to make an original 916 SP investment grade and ready for the next twenty five years at least.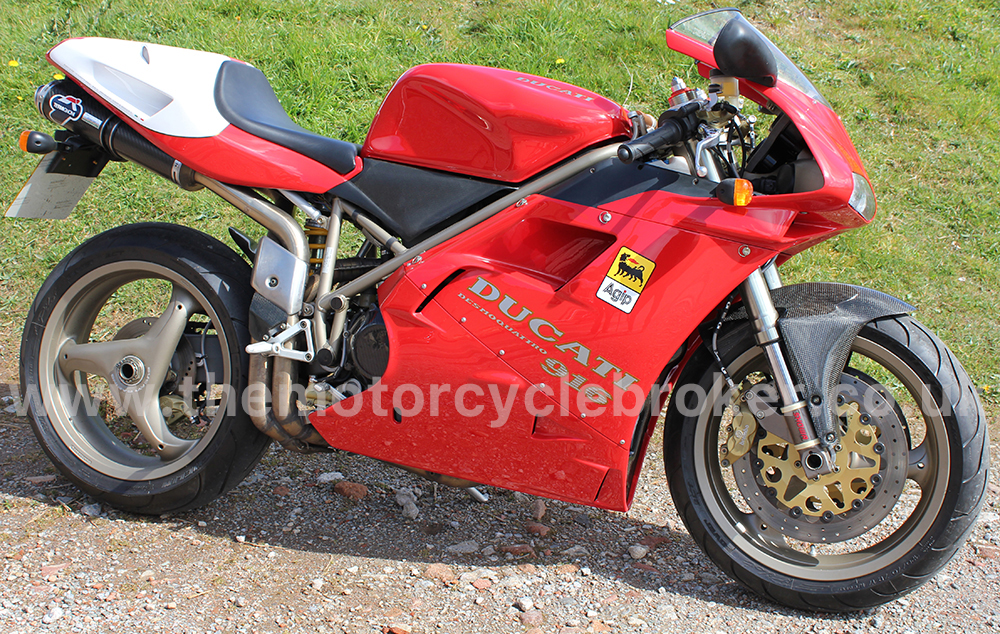 Ducati 916 and age
All of the machines of this age require this level of work, which took four weeks on this bike. Yes people can do it faster, but it won't be done properly and it won't last, quality takes time. There are no shortcuts. The more these machines are stored and ridden in their present condition the more restoration they will require in the coming years. This type of work is preservation, not restoration and it holds back the ravages of time very well. Leaving the machine will only cause further and more thorough degradation.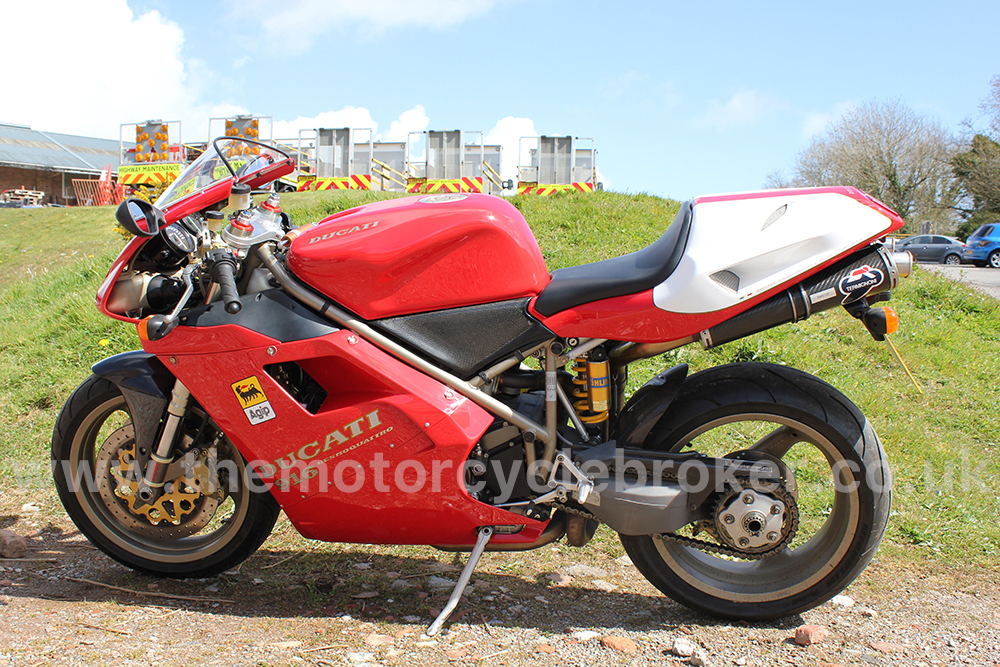 Buying a Ducati 916
You can buy Ducati 916 SPs for under £20,000 and take your chances, but it will require at least as much work as this one, but probably much, much more work. This machine has all of the correct components it left the factory with and is now in as new condition, but not over restored. You pay more for our 916s but all of this work is included in the price and the motorcycle is an investment grade police guaranteed. Buying from eBay or auction, you take your chances and could easily be buying an ex race bike or something which is just not right. Most of the examples we look at, we walk away from. If you want an investment grade Ducati 916 SP, or your own Ducati 916 to 998 motorcycle assessed, restored or taken care of cosmetically or mechanically, call The Motorcycle Broker on 01364 649027 or 07971 497615 or Email [email protected] You can also fill out the contact form below and we will happily answer any questions you may have.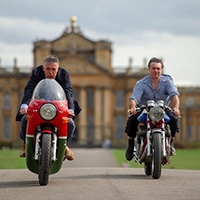 Latest posts by Paul Jayson
(see all)