Two more Ducati 916 SP world record prices were broken last weekend and it seems the record for a 1970s MV Agusta 750 Sport with the incorrect motor broke previous price records too. The Shuttleworth Silverstone Auction last weekend. I spoke to Mark Bryan who reported an 85% sale rate, which is very impressive and clearly demonstrates the continuing demand for classic motorcycles. Only about 5% of the successful sales went abroad, contrary to the growing trend of classic motorcycle export sales I reported on in this article and others over the last few years. Perhaps British buyers are outbidding foreign buyers to avoid having to import these machines at a greater cost later? Silverstone are attracting very good prices for their machines and have already broken another world record for a Ducati 916 SP in the last year, as you can read in this article about Ducati 916 SP prices are rising as predicted. These Ducatis are really enjoying serious price rises and have been since about 2010 and for very good reasons.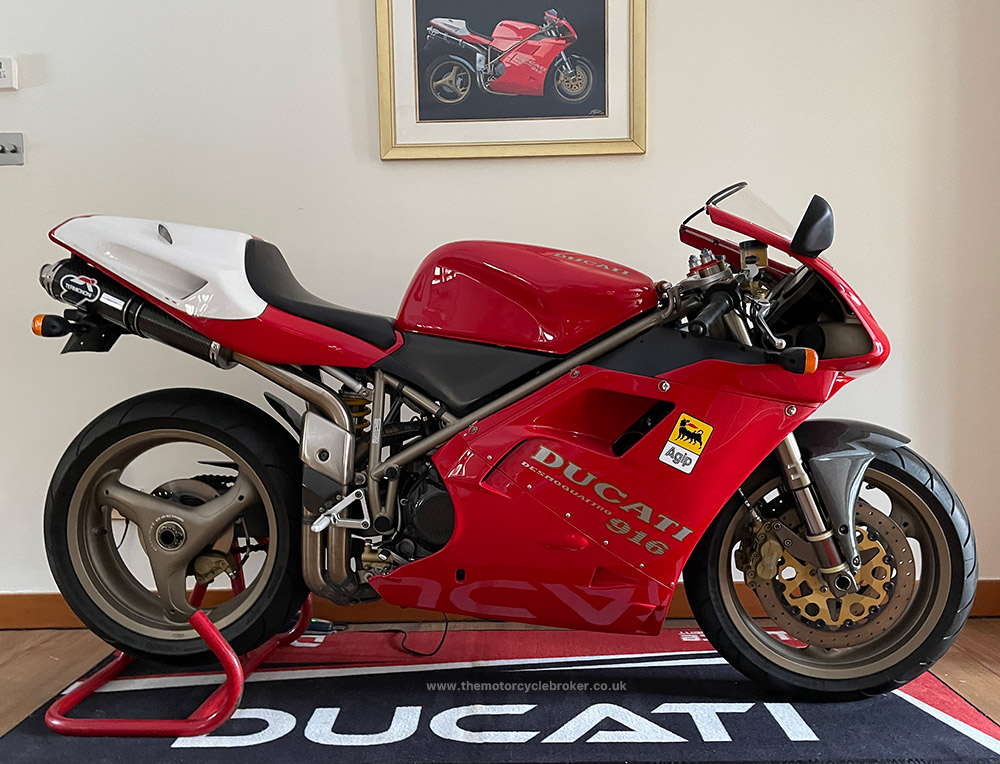 Ducati 916 SPS Foggy Replica price record
The Ducati 916 SPS Foggy Replica price record was smashed at Silverstone Auctions last weekend with a sale price of £61,500 as you can see in this link.The bike was brand new and unregistered and also the number on the plaque was 001 of 202. Although clearly an unrideable museum piece for any collector, these types of sales always foreshadow where future values are rapidly heading for investment grade examples. This is only the second brand new Foggy Rep I know of, but I'm sure there a couple more new examples somewhere in the UK. It is worth remembering that this model was for the UK only and is not more desirable than other 916 SPs anywhere else in the world. As I wrote back in July 2022, the pinnacle of Ducati 916 SP investment is the first year of production and second year of production, which were never numbered on the fork yoke. These are much rarer and have a global demand, so these are the ones to really watch.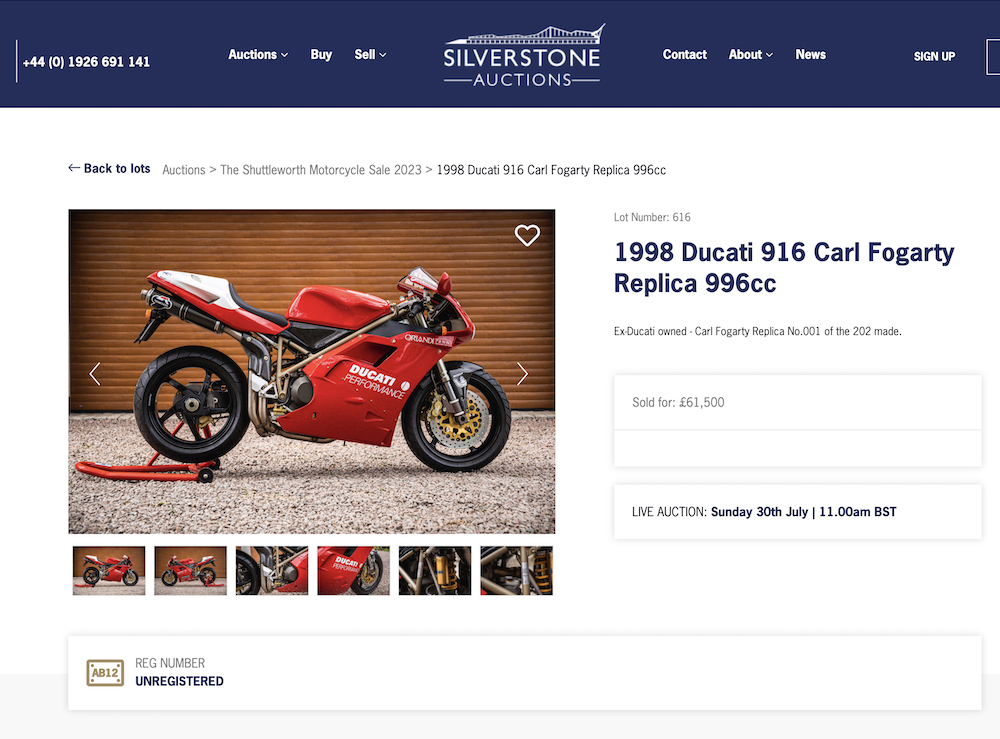 Ducati 916 Senna 1 price record
The Ducati 916 Senna 1 price record was smashed again at the same auction by Silverstone Auctions with a brand new example reaching £45,000. These have the Biposto engine and, although rare, do not have the appeal of the SP series, so another indication of where prices are headed for investment grade examples. The Senna is only a 105 BHP motor and not the 120+ of the SP series, so these are only being collected because they are rare and no other reason. Prices stayed static between2013 and about 2018 and gently moved and have really taken off in the last three years. Like the Foggy, this is another brand new machine so a museum piece rather than a machine to be ridden. Obviously this sale will increase the desirability of the Senna range, but because the 916 SP range is more desirable it will also put further pressure on SP prices.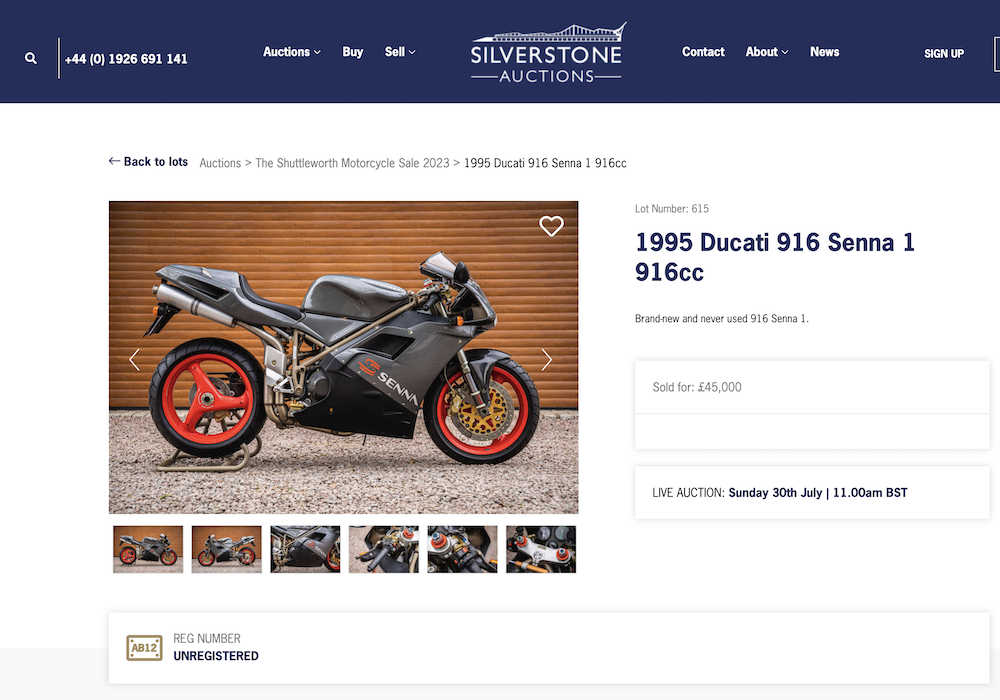 Further pressure on Ducati 916 SP prices
This further pressure on Ducati 916 SP prices will certainly increase values for investment grade examples. These two sales are also an indication of more investment grade classic motorcycles going into strong hands and being removed from the market. This makes investment grade examples harder to find as the best ones are snapped up, leaving only the roughest examples in the market requiring restoration. The cost of proper restoration of these machines, not just temporarily tonsing them up for sale, is far greater than the cost of buying one and restoring it. The cost of the correct parts is increasing weekly and ensuring they have the correct body panels is crucial and very expensive indeed. Ducati are making less and less parts for these bikes and those who have wisely hoarded NOS parts know what they are worth, or they would not have made that investment in the first place. We have just restored a Foggy Replica for a customer and we'll not be capping the cost on these again, as we did on this one. Historically the highest price paid for a new old stock model rapidly becomes the price for an investment grade used example. Timescales vary wildly, but the principle always plays out. Ducati 916 SP prices have seriously risen very quickly and we noticed they were gong to explode in our article Investing in a Ducati 916 SP or 996 SPS back in 2019. How did we know prices would increase and they were so undervalued? How did anyone not know, they have all the ingredients, as do other machines we recommend.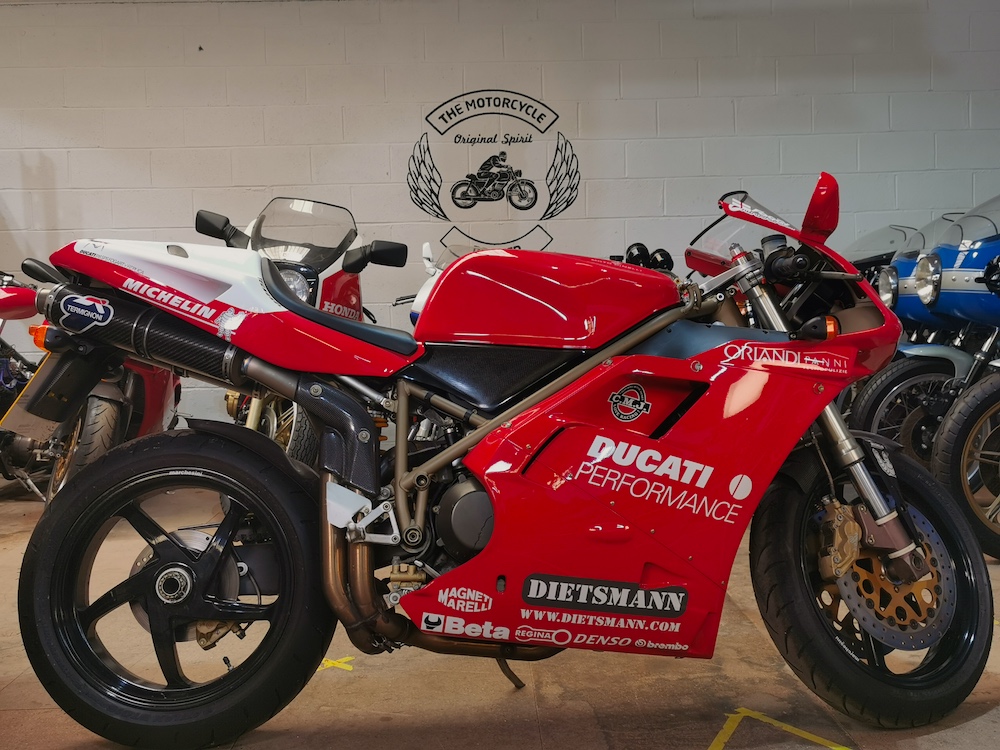 1970s MV Agusta 750 Sport world record
It appears that there's a new 1970s MV Agusta 750 Sport world record for a machine with the incorrect engine number. At Silverstone Auctions the motorcycle made a massive £85,500 on the day. The description clearly declared that it had the wrong engine and the motorcycle clearly had the wrong early type exhausts. I don't know what else was incorrect because the fairing may well have been covering up quite a bit more. It looks lovely, but is clearly quite a Bitsa unless the new owner knows where the correct motor is for it and the correct exhausts. Clearly two bidders were very happy to pay very strong money for a machine which they knew was incorrect with very little chance of ever being put right. Demand for these wonderful machines is clearly increasing by the day and this sale really does prove how difficult it is to find investment grade examples. Even when you find one, the amount of work required to bring them up to spec is quite remarkable, as you can see in this video we made about a beautifully restored 1972 MV Agusta 750 Sport we recently sourced and set up for a customer in Australia. Although the example we acquired for the customer was not just highly original, it was also beautifully restored to start with yet we still had plenty of work to do to ensure it ran correctly and ready for delivery. Other dealers would have delivered the bike as it was and it would have been very difficult to start and over time the engine would have been damaged. When you look at most of these 1970s MV Agusta 750 Sports you'll notice they have the wrong carbs, cylinder heads and many, many other irreplaceable parts too. Finding an investment grade example is becoming much more challenging by the day and seeking out bargains will only cost you dearly. The price of an investment grade example is the price of an investment grade example. Buyer beware!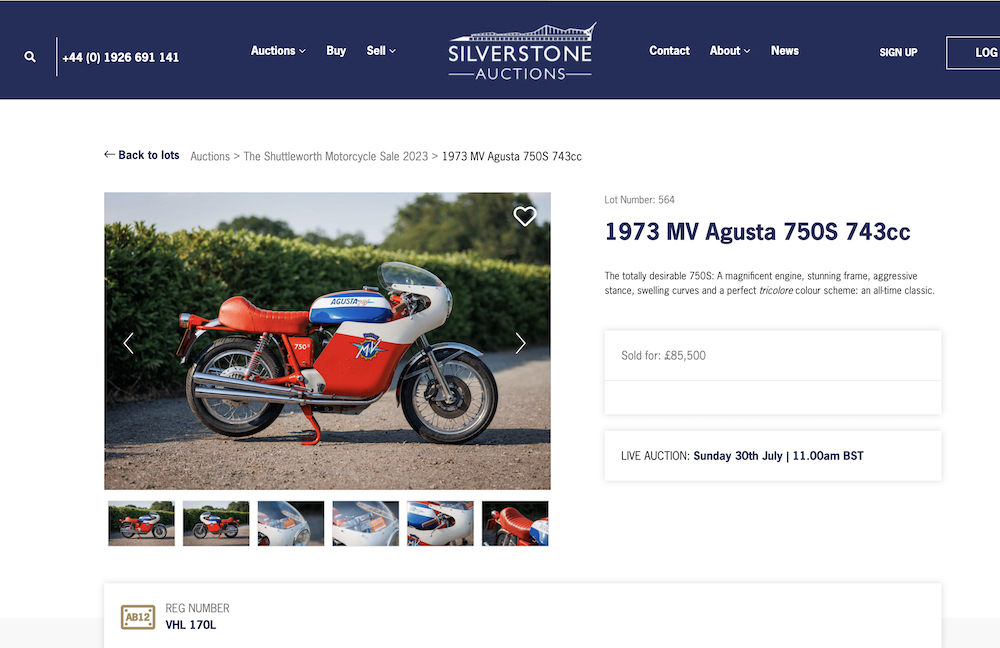 The classic motorcycle market is strong
The classic motorcycle market is strong for investment grade classic motorcycles, although the MV sale does prove that some buyers are prepared to compromise on quality. However, this will only divide the market further as time passes and the best examples will always deliver their owners great profits. Those machines that aren't correct, I believe, will struggle to find homes and will not deliver anywhere near the profits of an investment grade classic motorcycle. As more and more classic car money pours into the classic motorcycle market, prices will continue to increase. Also, the demographic demand, as we wrote in this article about what is driving the prices of classic Japanese and Italian motorcycles back in 2015, is really coming into play now. Export markets are demanding investment grade classic motorcycles and it's a matter of time before Arab nations, China and probably India too will want to get in on the act. The classic motorcycle market follows the classic car market but values are only at a small fraction of the car values and have a long way to go to correctly mature. The bikes will always be less than the equivalent car because you are buying less machinery, but they are certainly worth more than between their current value of less than 1%-4%. The classic car market is much more sophisticated than the classic motorcycle market because it is a lot older as a tangible asset. The bikes have only really started to become taken more seriously since 2012, prior to then it was enthusiasts in their sheds who drove the market. Classic car owners have usually served their time trying to snap up bargains only to find they have lost their shirt buying something they thought was genuine which turned out to be a Bitsa or required a small fortune being spent to bring it up to standard. The classic car buyer is happy to pay for quality rather than try to steal a quality machine at rock bottom price, especially when the motorcycles offer such great value. They understand that if an owner is prepared to be beaten up on price, there's a good reason why.
If you're interested in acquiring an investment-grade classic motorcycle or want to understand the classic motorcycle investment market, contact The Motorcycle Broker using the form below. You can call us during office hours on 01364 649027 or 07971 497615.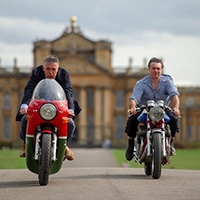 Latest posts by Paul Jayson
(see all)